I was quite excited when the Modor NF-1 arrived at my doorstep. After being intrigued with this synthesizer's futuristic design, I had to find out what it would sound like. I spent a few evenings exploring the NF-1's sound design possibilities and discovered that it's a synth that's capable of creating sounds that are unique as the way it looks. Curious to find out more? Read on...
Overview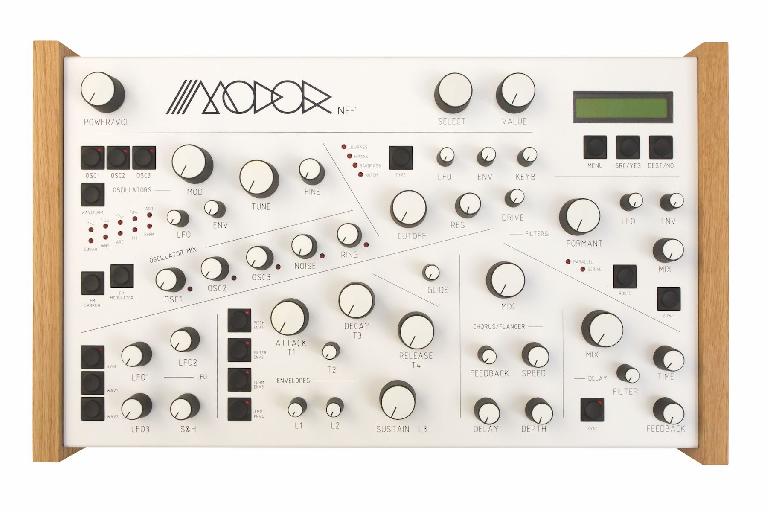 Judging by its hardware, the NF-1 looks like it could be an analog synth but is in fact fully digital. It's an eight-voice DSP-based digital synth that features a futuristic minimal layout design enthusiasts will love. The NF-1 has beveled knob caps that are stylistically interesting and are different than any other knobs I've seen. The round knobs look gorgeous and are delicately slanted, but they do seem like they need to be handled with care. The NF-1's design incorporates keypad-style buttons that feel good to press and seem relatively sturdy. That being said, the knobs and buttons work just fine but are best suited to gentle use.
The back of the synthesizer features MIDI In/Out/Thru ports, Stereo Outputs and Pedal and Sustain 1/4" inputs. The NF-1 includes wooden ends for mounting on either side. One thing that does seem to be missing on this synth is a USB port, which does come as a surprise considering it's a digital synth. This means OS updates are made over the MIDI jacks via SysEx.
Layout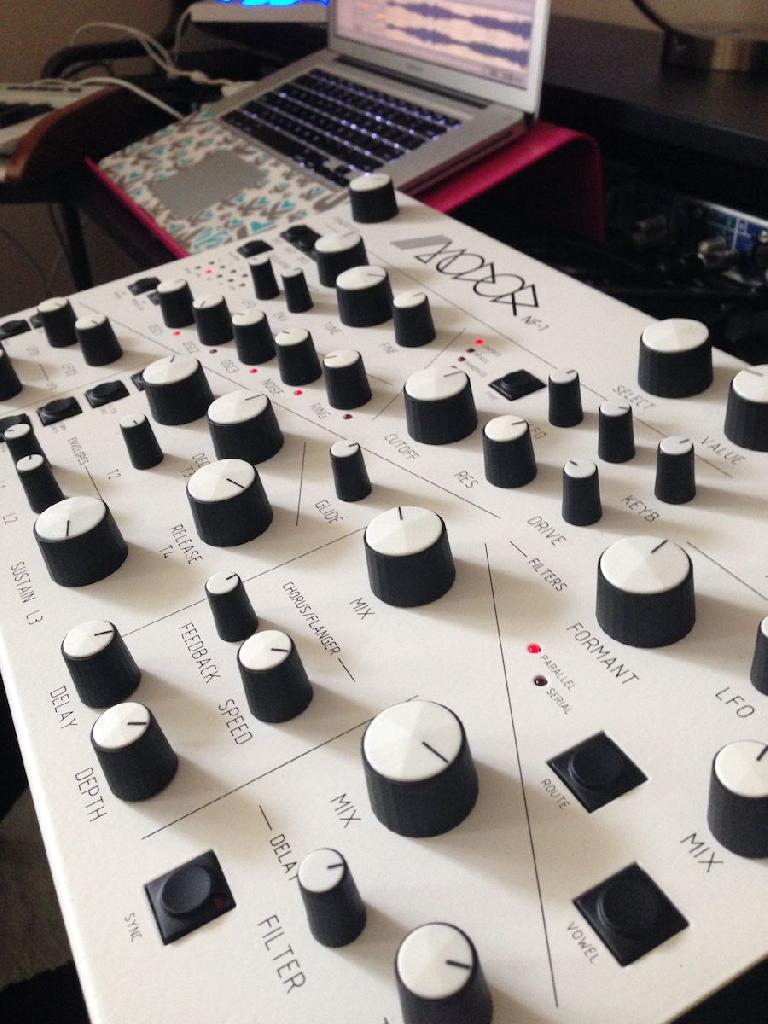 The synth is laid out into sections that are clearly divided and easy to navigate. The NF-1 has three Oscillators and uses a mono-timbral, eight-note polyphonic design. The Oscillators are located in the upper left-hand corner and there's a white noise source and a ring modulator. There are 10 different waveforms available, including a Sawtooth wave, a Square wave, Triangle wave, Sync OSC, Additive Harmonics, Sonar Noise, Wind Noise, Arcade Noise, Sinus FB and Sinus Feedback FM. Each waveform has a modulation parameter that changes the Oscillator's output. The Oscillators can be edited independently and each has their own volume control.
Filter Section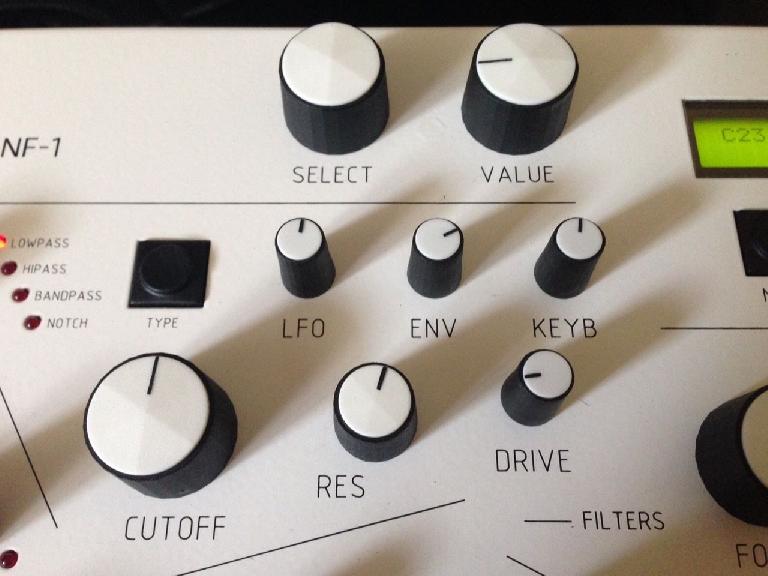 The Filter section on the NF-1 includes a Lowpass, Hipass, Bandpass and Notch filter. The Filter does sound smooth, but it has a characteristic digital sound to it. There are knobs that allow for adjustments of the Filter cutoff, Resonance, Drive, LFO, ENV and Keyboard. I found that some interesting sounds could be generated if the Resonance was turned up and the Cutoff point was changed. It's definitely easy to lose track of time tweaking this synth!
Included in the Filter section is a very unique Formant filter, which makes the Filter sound like the vowels of the human voice. It can be used to make 'talking' sounds and there's a Vowel button can be changed to emulate the sound of different vowels. The Mix knob controls how present the Formants are in the overall sound and this control can be used to adjust the Filter's effect.
Envelope Section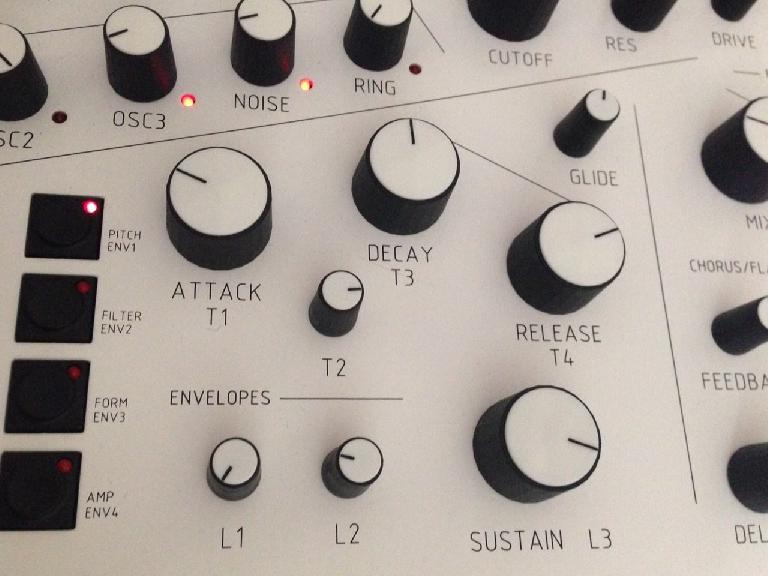 In the bottom middle of the synth is the Envelope section; the NF-1 features four Envelopes that can be edited separately or individually. This section features a slightly unconventional layout, with the Sustain located almost below the Release. There's a T2 switch that allows users to transition between Attack and Decay. The Envelopes can be set to looping or non-looping mode; looping mode means that the Envelopes automatically release and drop back to zero; allowing the Envelopes to further shape the sound.
Menu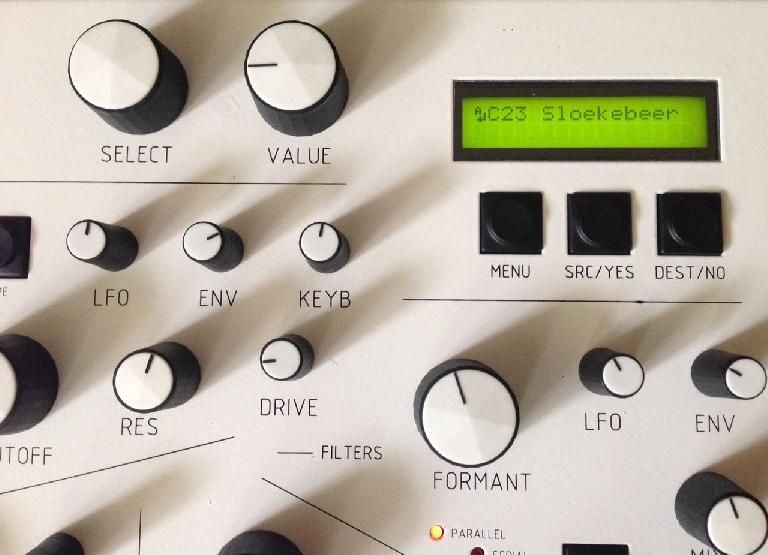 In the upper right-hand side of the synth is the Menu section. There's a small screen that can be scrolled through to access different functions such as Load, Save, Name, Patch Init, Parameter and System Settings. The hefty library of presets can be loaded up via the screen and Menu buttons. It's worth noting that the Modor NF-1 includes a large library of presets that range from airy pads to aggressive bass tones to quirkier retro sounds. I was impressed with the quality and variety of the on-board sounds; there's more than enough arsenal to inspire producers to get busy creating new tracks. The NF-1 has a large internal storage memory meaning any edits that are made to the presets or original patches can be saved into one of the 448 user-writable memory slots.
Here's an example of one of the NF-1's presets (Acid Bass):
Effects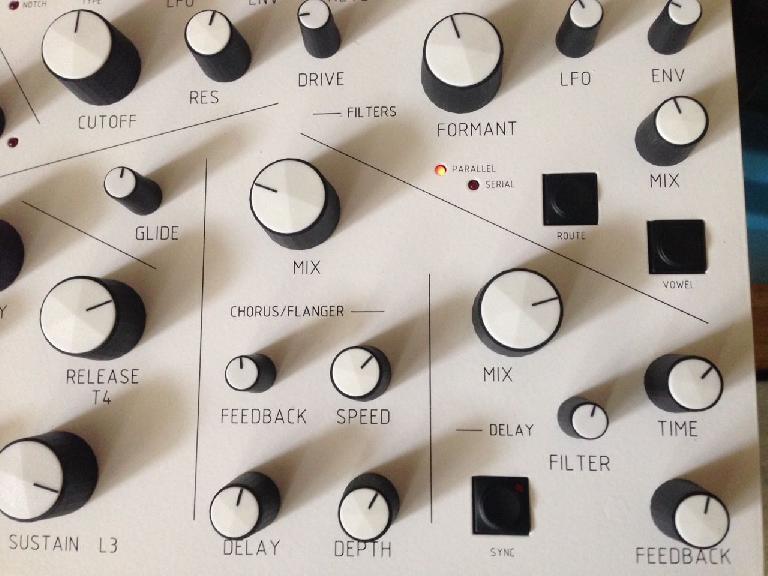 One of the other features that makes the NF-1 a unique synth is its Effects section. The Chorus/Flanger section gives you the ability to really tweak the sounds and add original flavor and character. There's also a Delay, with controls for Mix, Time and Feedback and a Sync button. The Chorus/Flanger and Delay are great for creating tripped out, digital sound effects and transform the NF-1 into a synthesizer that's really special.
Here are a few examples of the NF-1's effects:
Acid bass with Chorus:
Acid bass with Delay:
Acid bass with Formant Filter:
Effects:
More Effects:
Even more Effects:
Wires
For those who like to route their synths, there's a Wires feature where you can select the Modulation Source and Route it to a destination via the screen. There's a modulation matrix of seven different Wires that can be used and it's fun to experiment with sound using the Wires. If you want to go further with customizing sound design on the NF-1, routing the Wires can be a fun way to work or play.
LFO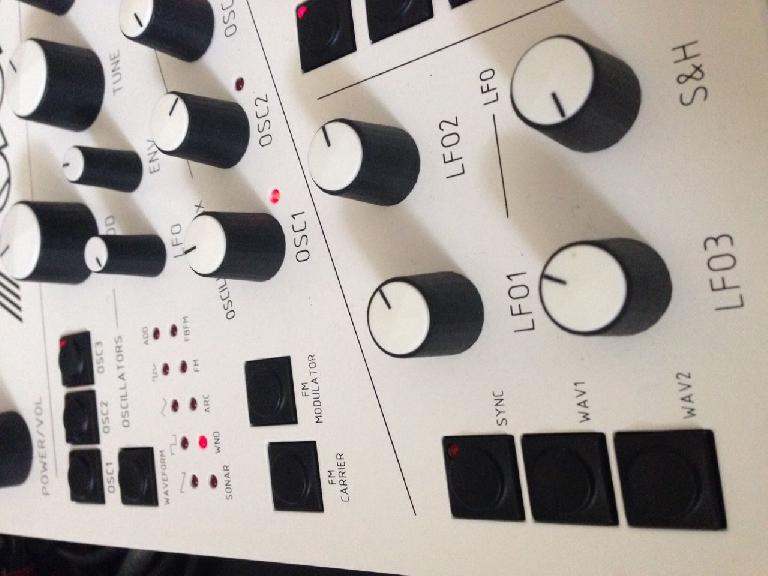 The NF-1 has two LFOs, or Low Frequency Oscillators which can be used to modulate the synth's sound parameters. LFO 1 is hardwired to the oscillator section, LFO 2 is hardwired to the filter section and LFO 3 is a global triangle LFO that depends on the setting of the Modwheel. There's also a Sample&Hold modulator is not hardwired to any parameter, but when the patch is initialized it is selected as the source for pitch modulation.
Verdict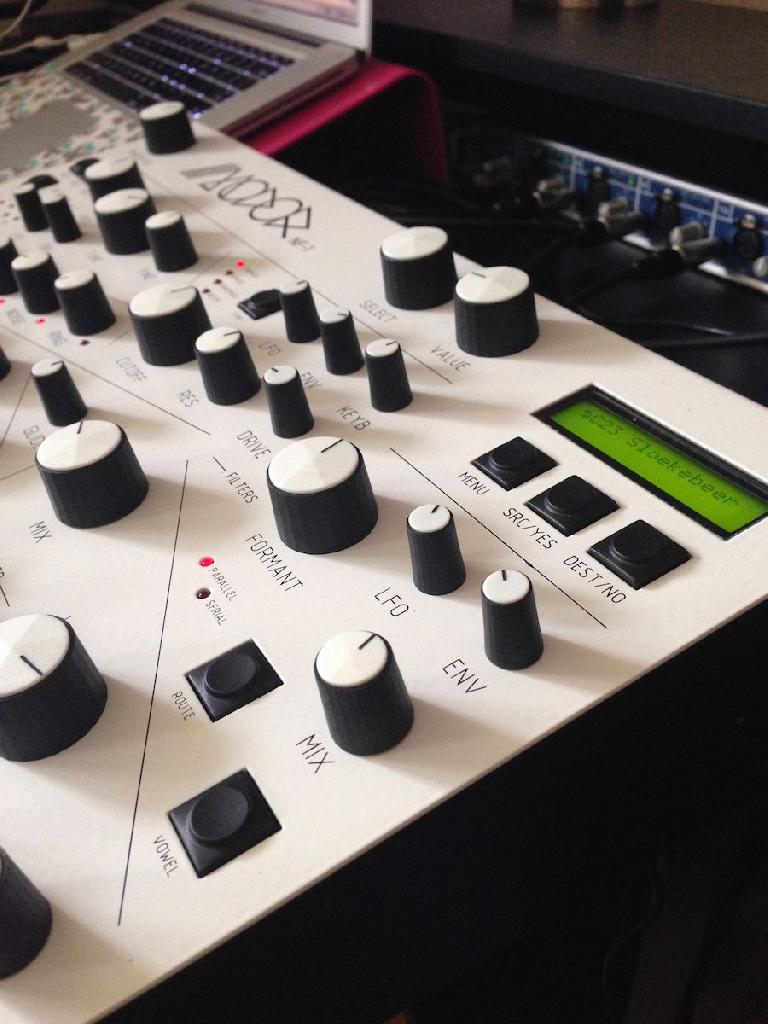 I found the Modor NF-1 very easy to use and program. It's a breathtakingly beautiful synthesizer and has a gorgeous design. The layout is clear and the synth offers a wide range of digital sounds. Its strength is not analog emulation, as most of the sounds are quite digital in nature. I think that the NF-1 offers many possibilities for creating interesting ambiences, tones and sound effects. The Chorus/Flanger and Delay do a lot for the sound and can change the tones of the NF-1 into otherwordly ambient atmospheres. The Formant filter is also a unique addition, something that's not commonly included on a synth.
The Modor NF-1 does have a slightly larger footprint, so you'll need to have space in your studio for it. Given the delicate nature of the knobs, it's a synth that seems more suited to the studio than to the road. It's a more costly synth that may be seen by some as more of an extravagance than a necessity. The Modor NF-1 is capable of creating truly unique sounds and has a stylish and futuristic design. Those who are drawn to this synthesizer will appreciate Modor NF-1 for its look, feel and unique sound design capabilities. Highly recommended!