There are a lot of sound designers rolling out Massive presets these days! This makes sense, as Massive, from Native Instruments, is a powerhouse of a synth. Recently, I got a chance to hear how powerful Massive really could be by reviewing a very big sounding drum bank from ModeAudio, known as Critical Mass. Let me tell you all about it!
Drums a-plenty!
Critical Mass is aN extremely competitively priced drum bank featuring a large supply of kicks, snares, hi-hats and cymbals. To test and taste the delectable platter of goodness that ModeAudio had prepared, I employed the Drum Rack in Ableton Live to build up a few patterns of beats that I could tweak and apply FX, as needed.
Once I was set up, and as I got my initial beats going, I began looking for the Macros. After all, just getting some presets is great, but I want to be able to tweak and customize what I've done, right? ModeAudio, with each drum preset did not fail. The Macros in Critical Mass are intelligently thought out and really go far in giving you not just a bunch of sounds, but an intelligent '˜drum-builder' style set that you could use for a long time. Hi-hats, like Hat Zinc let you customize the Click Color (the simulated tap of the drum stick, as it hits the cymbal), the Length of the hi-hat, Reverb mix, and several other intelligent adjustments that you would hope for.

It's all about the Kick...
Out of all of the drums included in Critical Mass, I'd have to say that the 25 kicks are the highlight of the package. They are big, they punch through, but they also sit well. Dialing the kicks in is no problem, either. Again, the intelligent macro assignments set up by the sounds designers at ModeAudio. These assignments are not always generically repeated for each drum patch, either. Even as you move between kicks, you'll discover tweaks that are set up custom, in several cases, for kick patches that make sense and add to the fun. If you're doing any genre of EDM, I would highly encourage spending some time with the kick patches, in general. They offer some amazing depth and polish.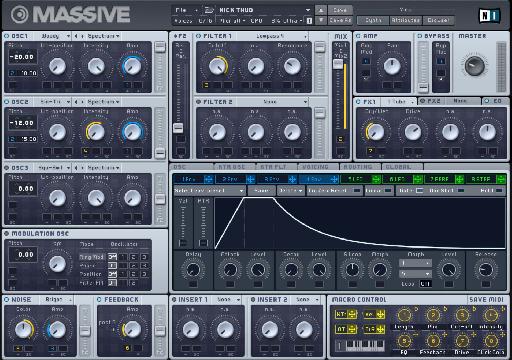 Cymbals a-plenty...
As in most drum patch banks, the cymbals are the smallest in actual patch count. However, don't underestimate their sound, or what they bring to the table. It's hard to create a hi-hat, or a cymbal that can compete with what's out there, included in the DAWs. ModeAudio have succeeded in creating a small suite of very unique hi-hats, rides and crashes that fit in well for dubstep, house, hip-hop and jungle, with no problem. And, I did find myself automating the macros quite a bit, in this area, as they greatly change the character and do it smoothly within a pattern.
Is it all Perfect?
While I enjoyed the whole package of Critical Mass, I wouldn't say that everything was perfect. The Snares available in Critical Mass took a little time to dial in, over the other patches that are available. As a sound designer, I can overlook this, snares are deeply personal to producers and everyone has an idea of what a good snare drum should be. Aside from this, everything else is really nicely done and well worth the $20 price tag.
Price: $19.96

Pros: A decent sized drum library that delivers on big sound at a highly competitive price.
Cons: The snares included are a little weak, at times.
Conclusion: If drums are lacking in your life, this would be a good investment.