Review: Modal CRAFTsynth 2.0
Modal's new CRAFTsynth 2.0 brings a totally new design and an infinite world of sonic possibility in an almost unbelievably compact package. Hollin Jones took it on the road.
Modal's first CRAFTsynth was a DIY synthesist's dream with a home build feel and a great sound. But with CRAFTsynth 2.0, the UK-based developer has gone in a very different design direction, more in line with its popular SKULPT synth, which we reviewed here. Gone are the sharp edges and visible circuits, and say hello to smooth lines and curves, an altogether more ergonomic experience.
Look And Feel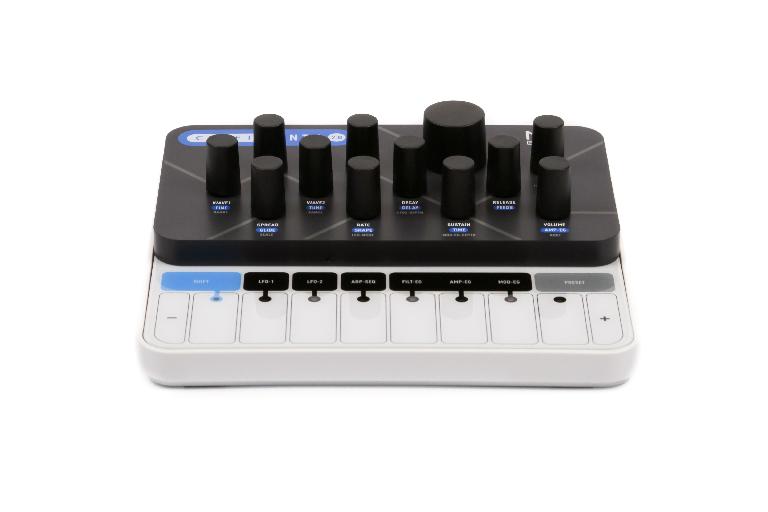 CRAFTsynth 2.0 is ridiculously portable but feels well built, and powers via 3xAA batteries or over micro USB, so it can be used pretty much anywhere. On the rear panel you get full size 1x1 MIDI DIN in and out - perhaps surprising on such a compact unit - as well as analog clock sync in and out (to Teenage Engineering / Korg spec), line out and headphones, all of which use mini jack ports. It's class compliant so connecting it to a Mac, tablet or PC will enable the transfer of MIDI. The batteries live in the "foot" of the casing, with the added benefit of making the synth's main panel face towards you rather than sitting completely flat which helps usability.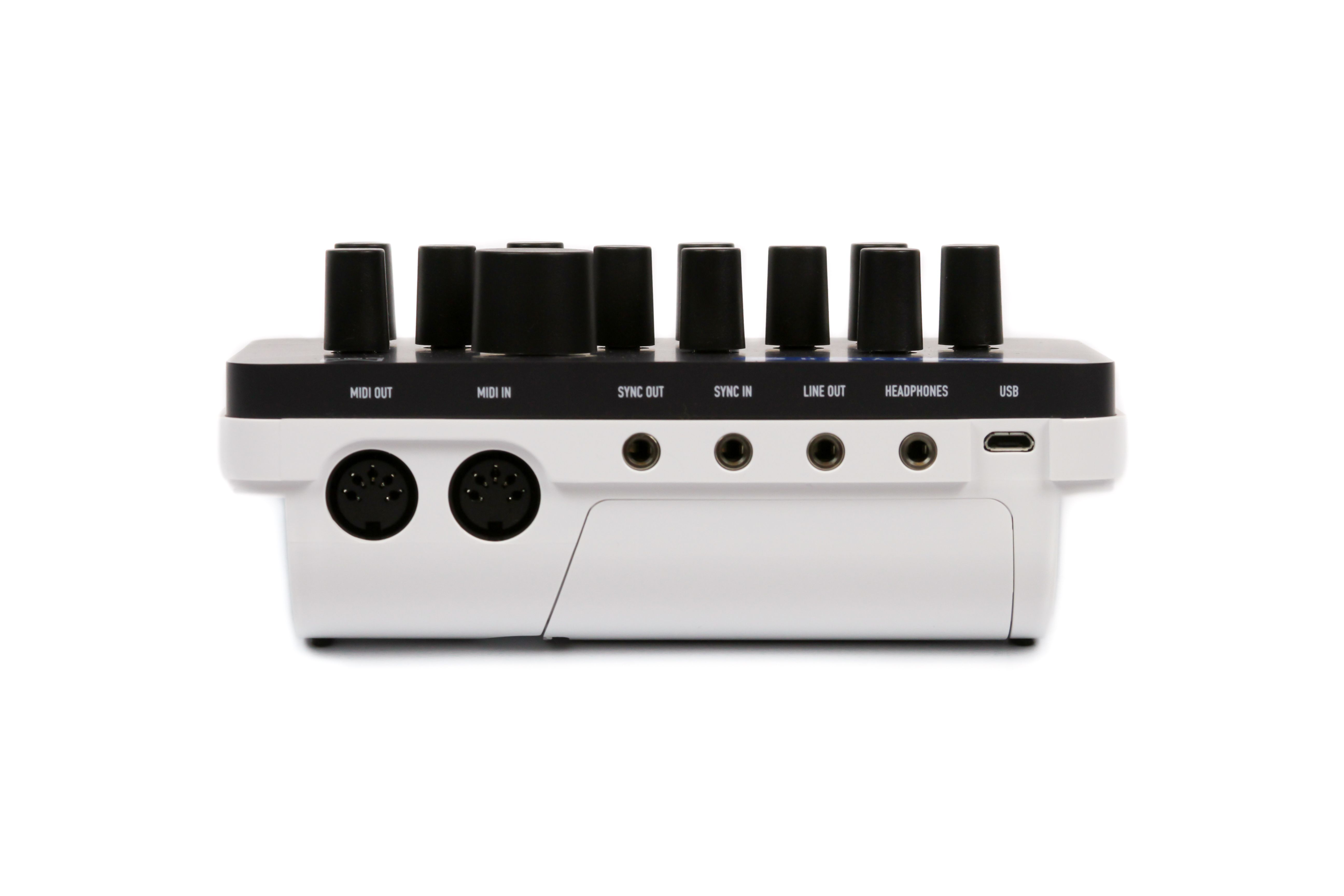 CRAFTy
CRAFTsynth 2 is a monophonic wavetable synth with 8 oscillators, 2 selectable waveforms and a total of 40 waveforms split into 8 banks of 5 which can be morphed together. These contain digital, generative and VA waves as well as some from the Modal 002 and you can modify waveforms with a choice of 16 oscillator modifiers. It's a wealth of sound generation options in such a tiny package and sounds amazing, as we will see a little later.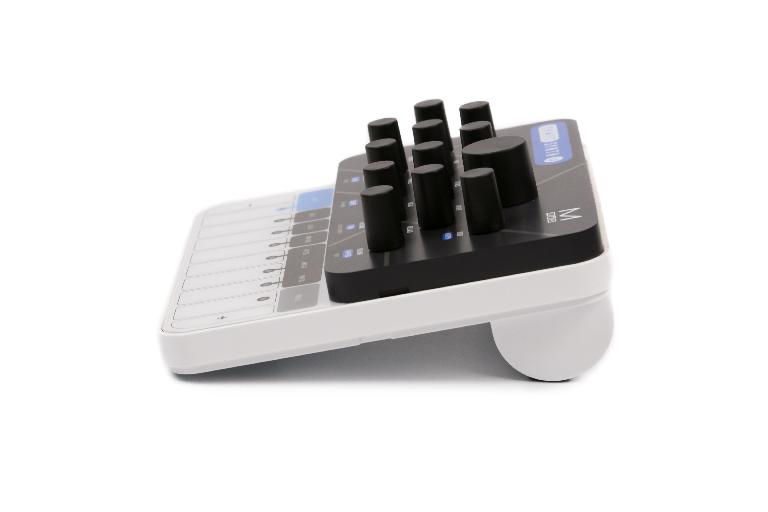 Before we get into that though, there's the interesting touch keyboard to discuss. This has 8 keys with 8 custom scales and root note selection. So it's not a regular chromatic keyboard but rather follows whatever custom scale you select. For performance on the synth itself this is obviously slightly limiting but actually works pretty well in terms of where it guides your music-making. And many people will opt to connect a MIDI keyboard, either directly to the synth or via a computer, for more regular and full-range MIDI input.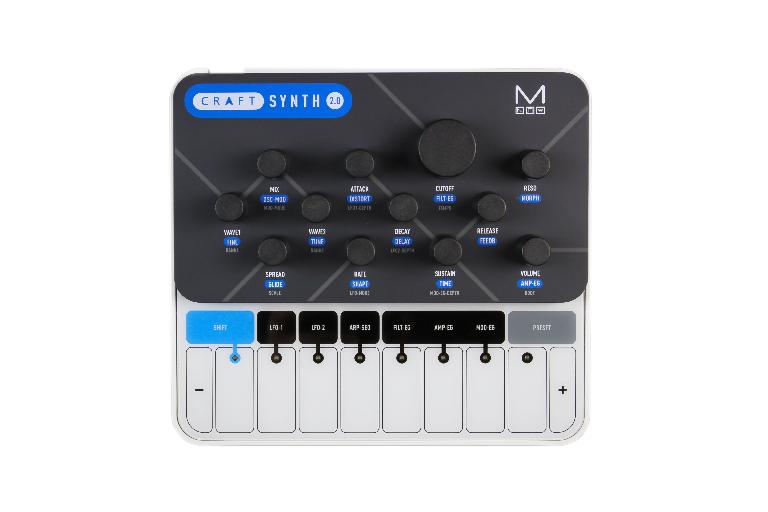 As you can see from the picture above, the keyboard doubles up as a function keyboard when you use the modifier Shift key. The blue colour coding helps here, and mitigates the lack of any screen-based feedback on the hardware itself. The LEDs light up in a sort of horizontal level meter fashion to denote levels and amounts when changing certain settings, which is a nice touch, then return to normal once you release the control. Of course the synth can both transmit and accept MIDI so you're not limited to playing its own keys. It takes a little getting used to but works really well once you are comfortable with it.
Portable Powerhouse
There's a ton of synthesis features built into this tiny powerhouse of a synth and after familiarising yourself with how it works you will start to unlock more and more power. There's an 8-slot modulation matrix with 8 sources, three envelope generators, two LFOs and a 2-pole resonant filter with multiple modes. Patterns can be programmed into the onboard sequenced arpeggiator, which again takes a little getting used to when programming purely using the hardware itself - largely due to the non-standard keyboard - but works well. You even get onboard delay and distortion effects to add even more character.

Sonically it's a powerful beast, and capable of an incredible range of tones and textures. The immediacy of the top-panel controls really invite experimentation and creativity and I found it to be tremendous fun to play and tweak. It definitely has its own character and feel, the wavefolding, filter and effects in particular providing endless enjoyment when working with the synth. It's capable of everything from retro bleeps and squeaks to tones and textures, arps and stabs, fat basses, swirling textures and much more. It's hard to believe that such a variety of sounds can come out of such a compact unit, but it's truly versatile and quite something to behold.
Software Add-Ons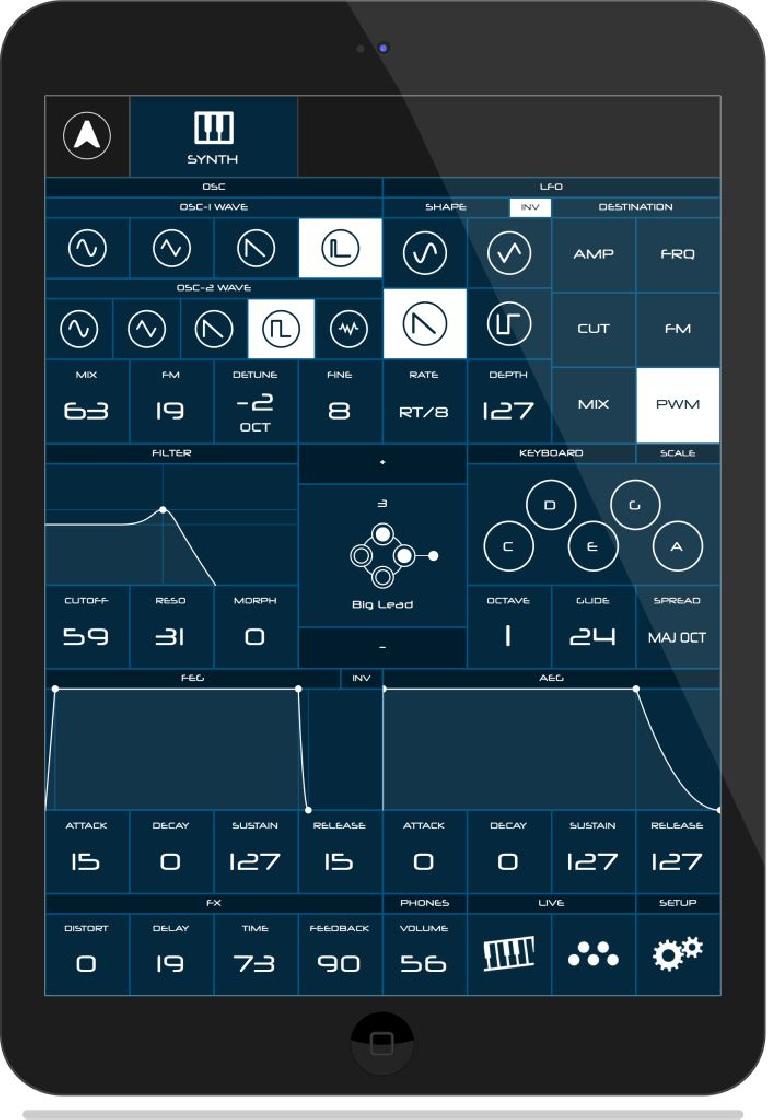 As is relatively common, the synth has a partner software app that enables you to delve further into its capabilities and go beyond the physical controls for which the hardware has space. What's unusual here is how cool the app is. The MODAL app running on iOS, Mac OS, Windows or Android provides a deep dive into every corner of the synth's workings, adding more assignable controls including velocity, note, mod wheel, aftertouch and expression. Essentially it allows you to access all parameters from a single page, manage patches and banks and also configure master MIDI settings and update the unit's firmware. Using it alongside the synth is easy, especially on an iPad, since the footprint of both devices is quite small. And it really opens up the synth in terms of creativity and understanding what's going on. It's a brilliant way to get even more out of the instrument for no added cost. There's also a VST / AU plug-in for Mac and PC to bring editing into your DAW.
Conclusion
CRAFTsynth 2.0 is a huge update - in fact it's a whole new machine. Despite its small size and crazy portability it's a powerful and great-sounding synth with more features and complexity - should you want them - than meet the eye. For the price it's a really good deal for anyone wanting a cool, tweakable and serious-sounding synth they can use anywhere. For those willing to delve deeper into its workings via the software app, it offers a wealth of sound design opportunities as well. And you can't say fairer than that. At this price point it's almost an impulse purchase and yet it's so much more than that. Check out CRAFTsynth 2 and you'll be pleasantly surprised.
Price: £129/$149/€149
Pros: Affordable. Very portable. Sounds amazing. Great fun to play. Good connectivity with other instruments and systems. Great depth of sound design available via the software app.

Cons: Initial learning curve for less experienced users.
Web: https://www.modalelectronics.com/craft/
Learn everything you need to know about sound design with hardware synths: https://ask.audio/academy?nleloc=new-releases