Mixed In Key has been one of my favourite software programs for a long time and I was happy to hear that they'd updated to version 7. I thought the software was already perfect, but it seems Mixed In Key has outdone themselves again and added some features that will be useful for the world's best DJs. One of the biggest updates to their software is that is gives Djs the option to add up to eight cue points to their tracks. That's just the beginning of the long list of helpful features that have been updated in Version 7. Want to find out what else is new? Read on…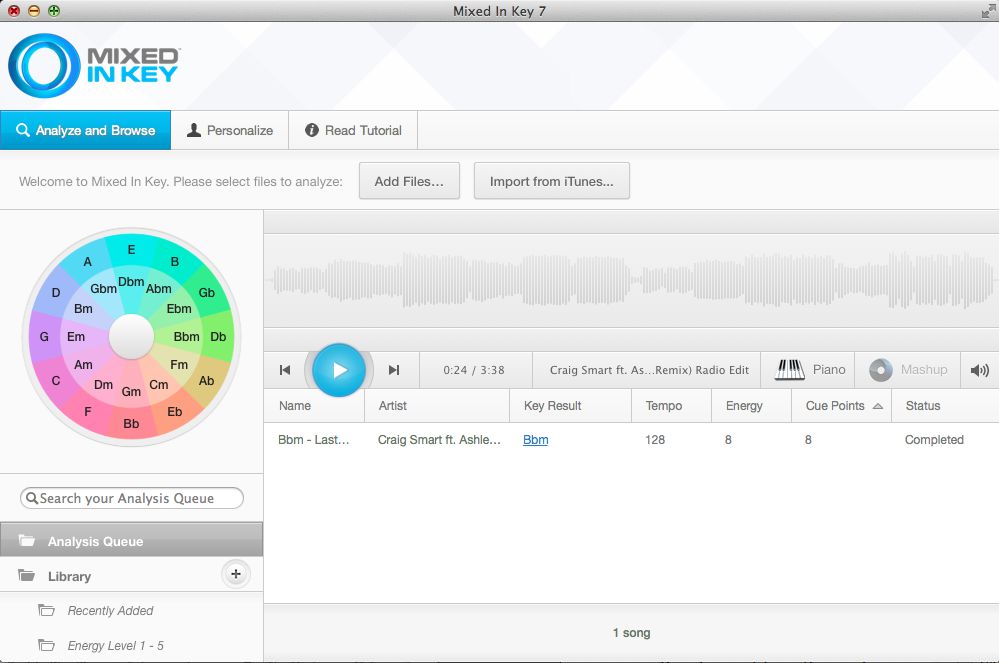 A Short History
For those of you who are completely new to Mixed In Key, this is a great software program that analyzes the keys of your tracks and the Energy Level. Once you know the keys of all your songs, this will allow you to mix harmonically using the Camelot Wheel. Mixed In Key analyzes tracks accurately and makes it easy for DJs to create mixes that are in harmony with each other. It's an amazing program for Djs of all genres and the new Version 7 is packed with useful features.
Cue Points
One of the biggest features of the new Mixed In Key 7 program is its ability to create up to eight cue points in each track. This feature is very innovative and can save Djs a lot of preparation time. When new tracks are loaded into Mixed In Key, the software automatically analyzes the tracks and inserts up to eight cue points on each song. It's quite simple to export your cue points; simply navigate to the Personalize tab and click on Export Cue Points.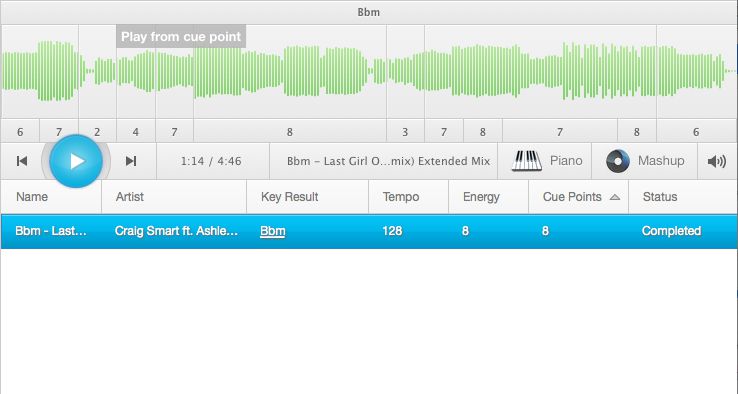 You can choose to export cue points either for Serato or Traktor and MIK gives DJs the option to overwrite cue points that are already in your collection.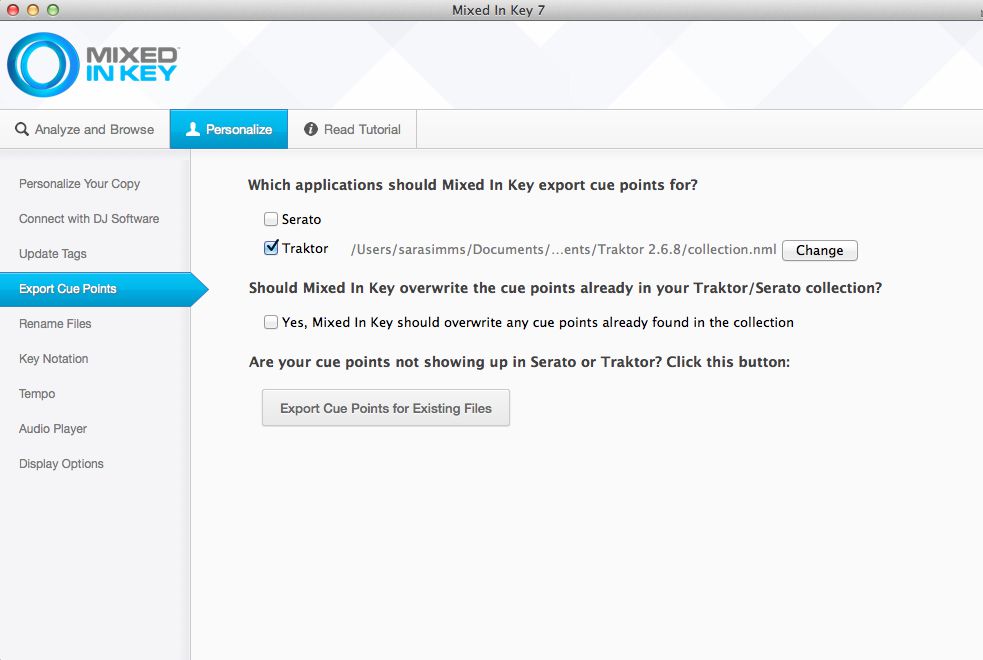 All of the cue points are also visible in Mixed In Key; if you click on each song file, a waveform of the track is created. MIK gives you the ability to play each track from each of the eight individual cue points.
New Interface
MIK has created a brand new interface, with the Analyze songs and Browse collection in one tab. This feature makes it easier to import songs, and scroll through your collection on the same page. There's also a built-in audio player, which makes it easy to listen to and preview your tracks in the audio window.
MIK has included a piano, which allows DJs to double check the keys of their tracks and potentially improve their ear training.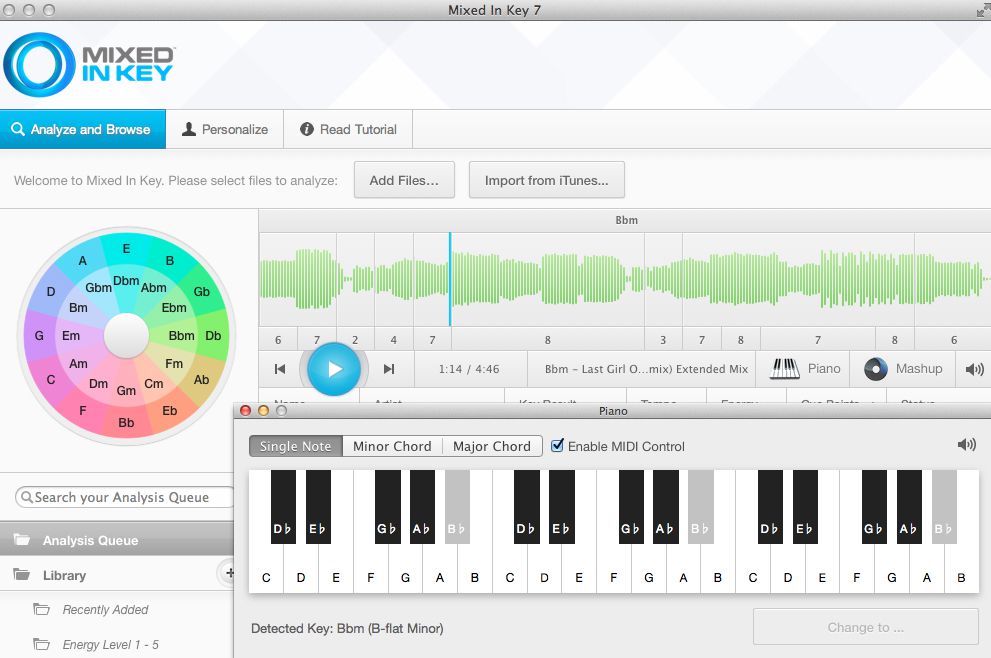 Other Key Features
The new version 7 has added improved support for ID3 tagging, so that Mixed In Key analyses results can be displayed in Traktor, Serato, Pioneer CDJs, rekordbox and every other DJ software program.
There's also multi-core support for faster processing, retina support on Mac OS X and better new integration with iTunes.
Camelot Wheel
Lastly, there's a clickable Camelot wheel feature that I believe a lot of Djs will appreciate. As you click on the different sections of the wheel, MIK will display all of the tracks that are in that key. This provides an easy way to search through your collection and find tracks that are in the same key.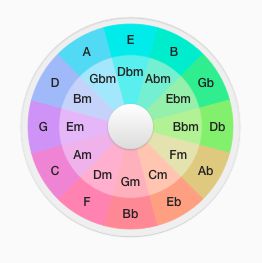 Overall, Version 7 provides many new innovative and useful features for Djs. The cue point analyzes will save Djs precious time, and may inspire some creative new mixes! The new version looks great and I believe it will be valuable tool for both pro and aspiring Djs. Djs, if you're not using MIK already this is definitely the perfect time to hop on board and start harmonic mixing.
Price: $58
Pros: You can now create up to eight cue points in each track. Improved interface. Multi-core and retina support. Affordable.
Cons: None.