When the Apple Watch first appeared in 2015, I rushed to buy one. I loved my series zero, and couldn't wait to see what audio developers built for it. The answer, sadly, was not much. The 0 was painfully slow and despite software updates, never felt like it was up to running serious apps. Skip forward a couple of years and my head was turned again by the Apple Watch 4 - a bigger screen and a serious speed boost even over the 3 - and a different galaxy compared to the original. Finally it seemed, more serious music apps could come to the Watch platform.
Flick Of The Wrist
MidiWrist is an iOS and WatchOS app developed by Geert Bevin, who in addition to founding Uwyn is a lead software engineer at Moog Music Inc and Roger Linn Design. Seeing the potential in the new series 4 with all its power (the app actually works on every Watch model except the 0), he set about building an app that would let your Watch talk to your iPhone or iPad, and through it, any MIDI software or hardware.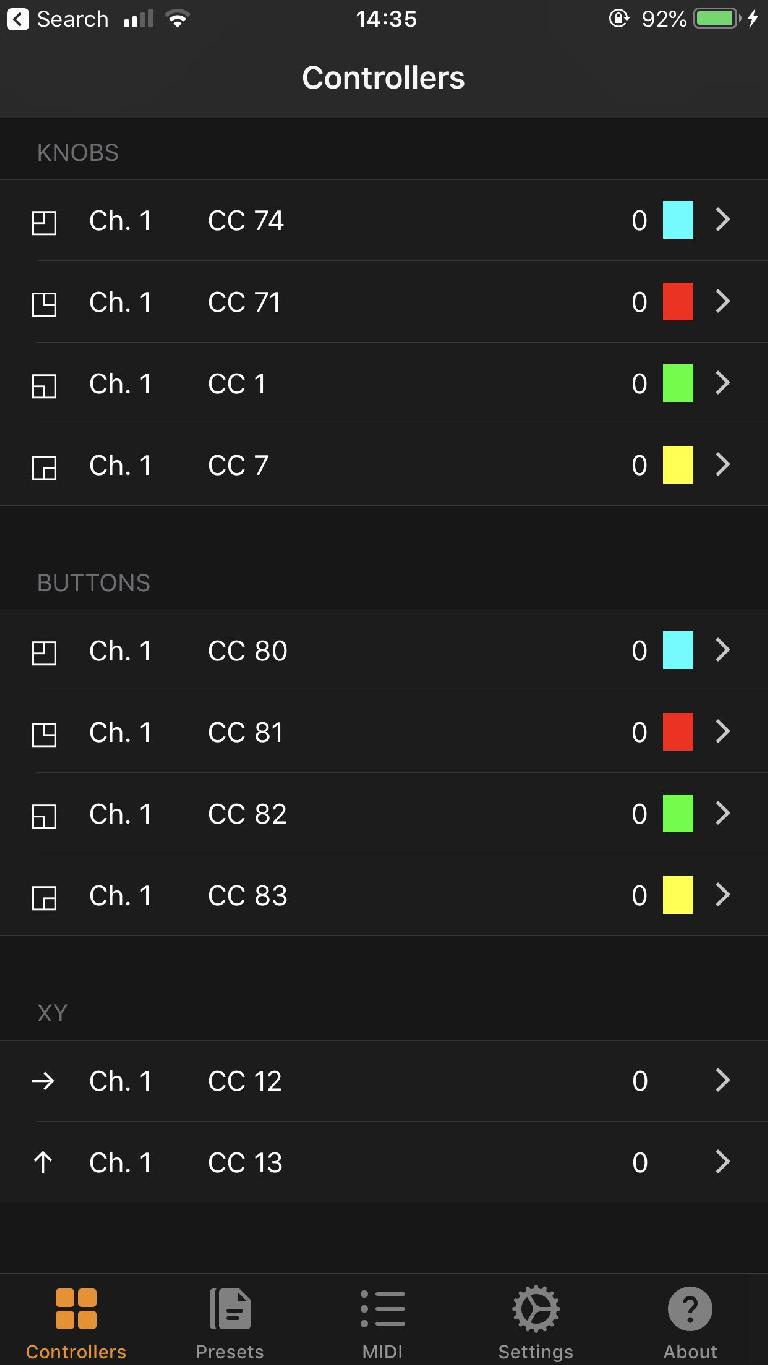 The development of MidiWrist has been rapid, and several major new features have been added in the short time since release. To use it, you set up a preset using the iOS app to configure the various sections: transport, programs, knobs, buttons and X/Y. Typically a preset would control a specific synth, instrument or DAW, and you can switch between presets easily. In the iOS app you can specify which MIDI channel is in use, and which CC (continuous controller) is assigned to any control. It's easy to configure the appearance and behaviour of the app, and the learning curve is more gentle than you might expect.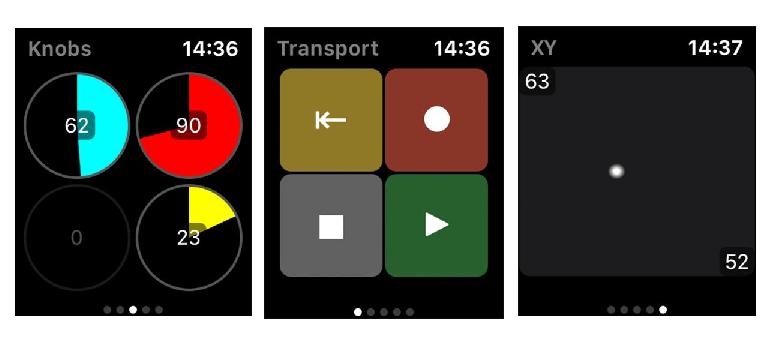 The Concept
The idea is that the Watch acts as a remote control for the MidiWrist app running on your phone or iPad, which is either running its own audio app or is connected to a hardware instrument. A computer running a DAW or instrument is another possible destination, via cable, Bluetooth or wi-fi. With network MIDI, this can all be done wirelessly, the exception being connecting to a hardware synth when no computer is present, which will still require a physical MIDI connection.

Flipping between pages on the Watch is smooth, and the combination of touch and Digital Crown as a means of entering values works flawlessly. Set up your preset to suit to your instrument and you're off. There's some really nice touches, too. Knobs can be linked and changed relative to one another or independently. Buttons can be temporary or permanent in their operation. There's MIDI learn. The website even shows you how to set things up, clearly, in all major DAWs. Optional haptic feedback on the Watch reassures you that your commands have been registered. (For an exhaustive feature list, see the base of this page.)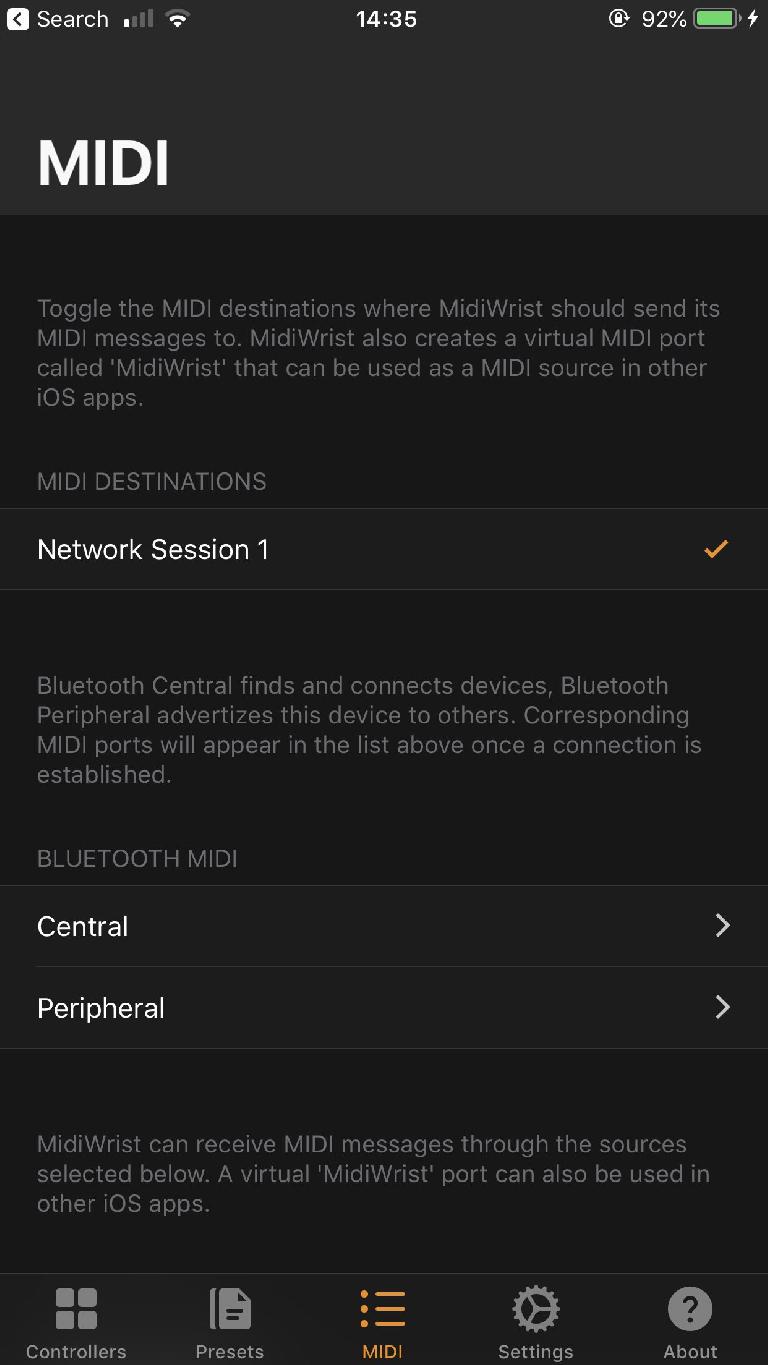 A feature that was added not so long ago is Siri voice commands, using Apple's new Siri shortcuts. These are amazing, and you can choose which ones you want to use. The one I can no longer imagine living without is transport controls - just say "hey Siri" and then tell the app to play, record or stop your DAW. This is invaluable especially for drummers or guitarists, or anyone not sitting by a computer as they record. It even works on the iOS device if you don't have an Apple Watch. Although I don't use Siri so much in real life - I find it a bit odd talking to my phone rather than through it - here, it's the perfect use of Apple's voice assistant.
Transport control in the app, incidentally, can use either the MMC or MCU protocols, depending on your DAW. Thankfully the standardised nature of these protocols means that setting up transport control is simple, and takes just a few minutes. It also helps that the things you're controlling (play, stop, record etc) are fairly simple, so there's not much fiddling about to do.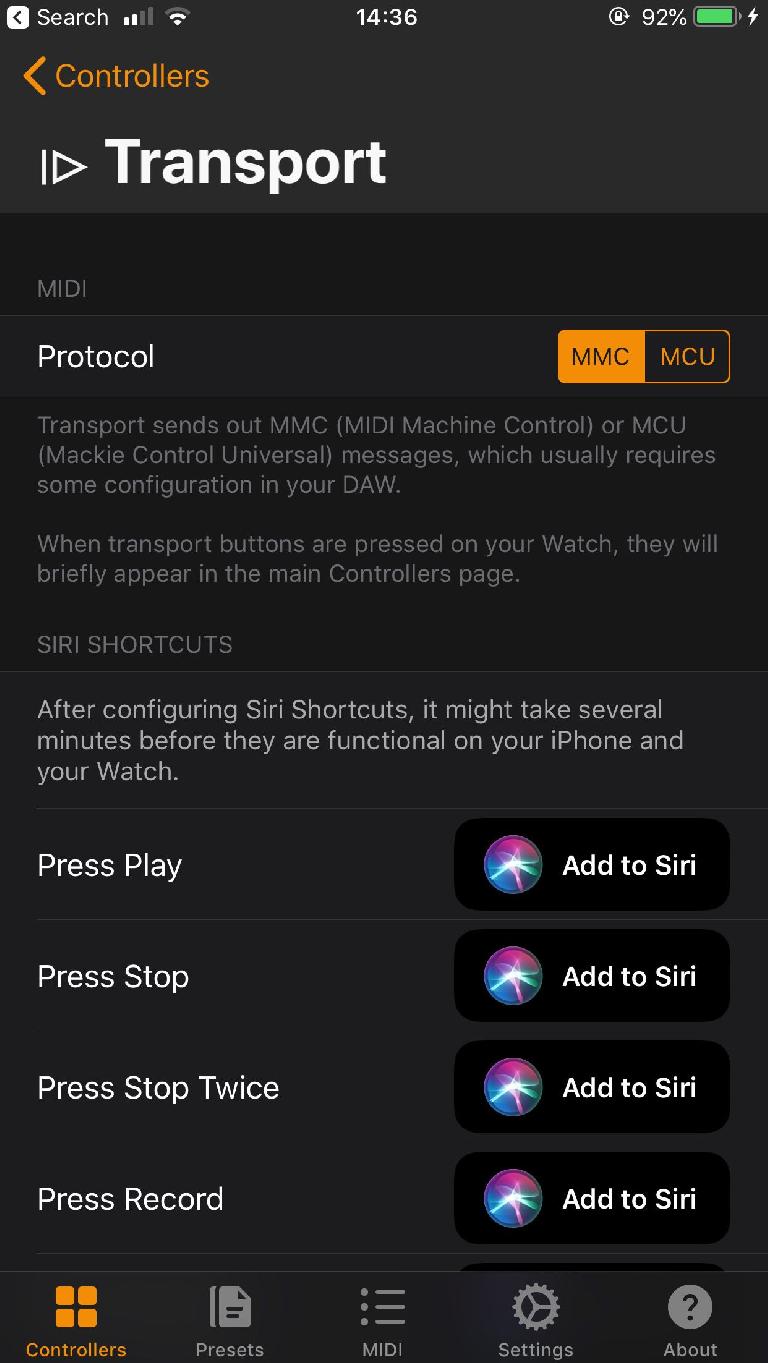 Conclusion
For $4.99, MidiWrist is an absolute no-brainer. Even if you only use a few of its features (and you'll likely use many more than that), it's a fantastic way to interact with and control MIDI hardware and software from your wrist. It's simple but powerful, well-designed and absolutely fills a gap in your workflow. The transport controls alone would be worth the price of admission, but it's so much more than that. Anyone with an Apple Watch who makes music needs MidiWrist.
NOTE - I wouldn't normally do this in a review but there are so many things this app can do that it makes more sense to list them than to write each one out long form. So here goes.
Four knobs can be controlled with the Digital Crown
Macro control over multiple synth parameters from the Digital Crown
Remotely Play / Stop / Record / Rewind your DAW from your Watch
Knobs can be controlled individually or simultaneously
Knobs can be linked to preserve their offsets
Four buttons can be toggled by tapping the Watch
Buttons can either be stateful or momentary
Siri voice control over the buttons
Program changes through the digital crown or by tapping the Watch
Transport control MIDI Machine Control (MMC) or Mackie Control Universal (MCU)
Scrub transport with the digital crown
Save / Undo / Toggle Cycle / Toggle Click through MCU
Siri support for all Transport commands
XY pad with individual messages for each axis
Optional haptic feedback for all Watch interactions
Optional value display on the Watch
Configurable colors for all knobs and buttons
Configurable labels for knobs and buttons
Configurable MIDI channels and CC numbers
Hide the Watch pages that aren't needed
Save your configurations to presets for easy retrieval
MIDI learn for easy controller configuration
MIDI input to sync the state of the controllers with the controlled synths
Advertise as a Bluetooth MIDI device
Connect to other Bluetooth MIDI devices
Monitor the last MIDI values on the iPhone
Low latency and fast response
Pros:
Incredibly useful app. Runs on every Apple Watch bar the series 0. Very well designed and easy to learn and use. Super fast on series 4, no latency. Very affordable. Siri voice control of transport commands. A whole new way to control your music gear.
Cons:
Nothing really - what's not to like?
Price:
$4.99
Web:
http://uwyn.com/midiwrist/