One of the great things about purchasing apps from the App Store is the contact you can have with the developers. Have a question about an app? Just contact them. In most cases the developers, often a small team of no more than three or four people, will respond promptly. They are more than willing to help and are very open to hearing your feedback about their product.

I have had several first hand experiences with this. In one case, I had the privilege of meeting Josh Ott and Morgan Packard, the creators of the very popular Thicket app. I actually met Josh at "The Future of Music V: The Craft of iPad Music-making". He performed with Steve that night. And, as a result of a conversation we had after that performance, he and Morgan found the time to come to my school to observe my students using Thicket and other apps. Since then, Josh has teamed up with Morton Subotnick to create Pitch Painter, and Morgan has just released Mesa Sequencer in conjunction with Jay Ahern.
A Perfect Marriage of Loop and Landscape
Mesa Sequencer takes you on a 360 degree panoramic journey through the American Southwest. The panorama is in perfect sync with the underlying loops that accompany the scenery; they crossfade subtly as you scroll through every degree of the 360 degree panorama. The loops are taken from the 'Mesa Sequences' EP, a 25 minute improvised techno-jam by Morgan and Jay. They go perfectly with the app's desert landscape, evoking the heat, dryness, and rugged terrain of the region.
Sweet Sixteen
The fun really begins with Mesa Sequencer when you start using the sequencer over the provided loops. This is a very simple, sequencer that is purposely designed to easily yield positive results. Tapping any one of the sixteen large squares turns that particular sixteenth note on or off. The three sliders that accompany the sixteenth note grid control pitch, gating, and modulation. A slider for Background Loop Volume is provided for controlling balance between the loops and sequencer.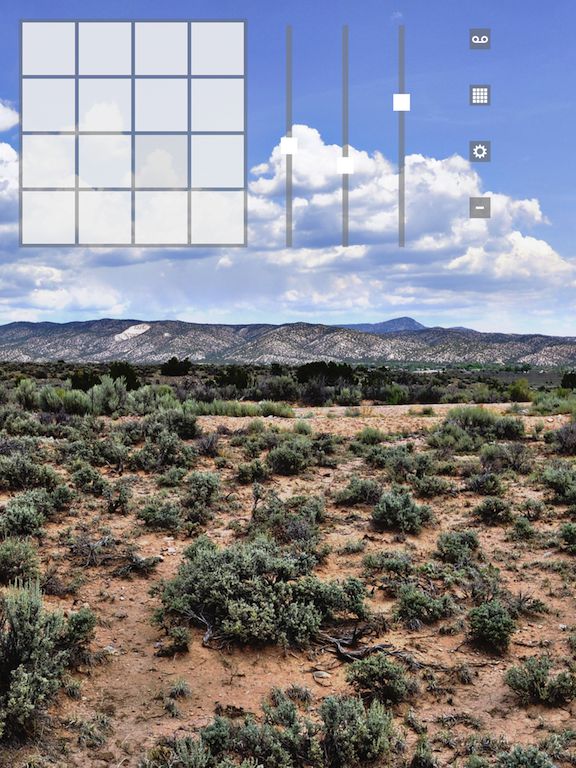 Fingertip Automation
The three sliders can all be automated simply by holding your finger down until the slider area turns orange, then moving them to create the desired effect. The automation cycles every four beats. Taping the slider will stop automation.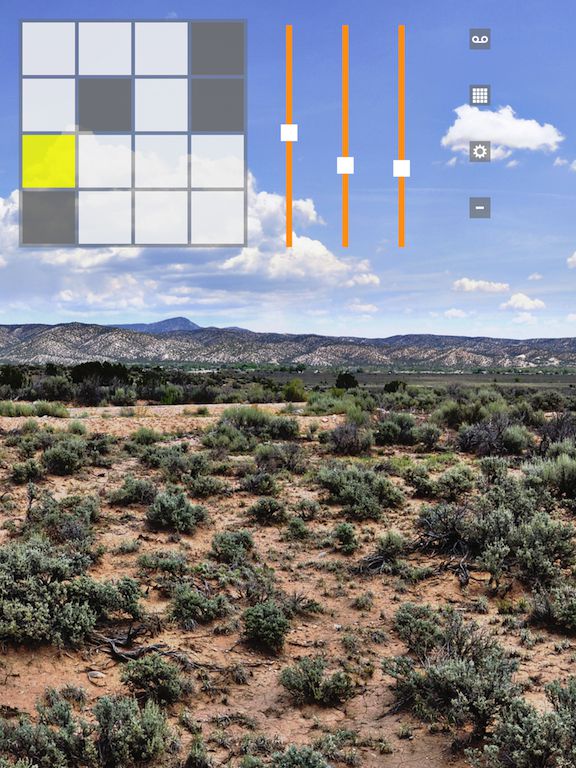 Sharing a la 'Mesa'
Sequencer patterns can be shared and/or saved. Audio can be recorded and sent to SoundCloud or emailed. Check out Mesa Sequencer on SoundCloud.
As of this writing, Mesa Sequencer is a free app for iPad and iPhone - you can't go wrong!
Download the Mesa Sequencer app here.