If you're looking for a hardware delay and modulation pedal that's as good with synths, beats and vocals as guitars, the Meris Polymoon might be just the ticket. Rounik Sethi puts it to the test.
There are some effect pedals that make sense used on a desktop even more than being close to a foot. For me, the Polymoon 24-bit digital delay pedal from Meris is one such box. It's a digital delay with head-spinning possibilities thanks to its extensive modulation options.
If you want intense but short delays, then Polymoon has you covered through its six multi‑tap delays. Likewise should you need thick, pulsing and flanging stereo streams processing your source audio, Polymoon is happy to oblige. It's an innocent looking box full of wonderful sonic potential, bursting with inspiration and versatility. If you're already familiar with the offerings from Meris like the Mercury 7 reverb unit and Ottobit bitcrusher, then you'll likely be aware that sound quality from the Californian-based company is high on their list, and Polymoon is no exception.
Watch our demo of the Meris Polymoon processing the Arturia DrumBrute Impact. Skip to 1:30 to avoid the talking (mostly):
Promise The Moon
Polymoon is housed in a pristine, compact white solid steel case. Aside from the six rotary controls which draw the eye there are two footswitches, tap and bypass respectively and two LED buttons - alt (for alternative functions) and Phaser which lets you set the sync and speed of the barberpole phaser between four settings.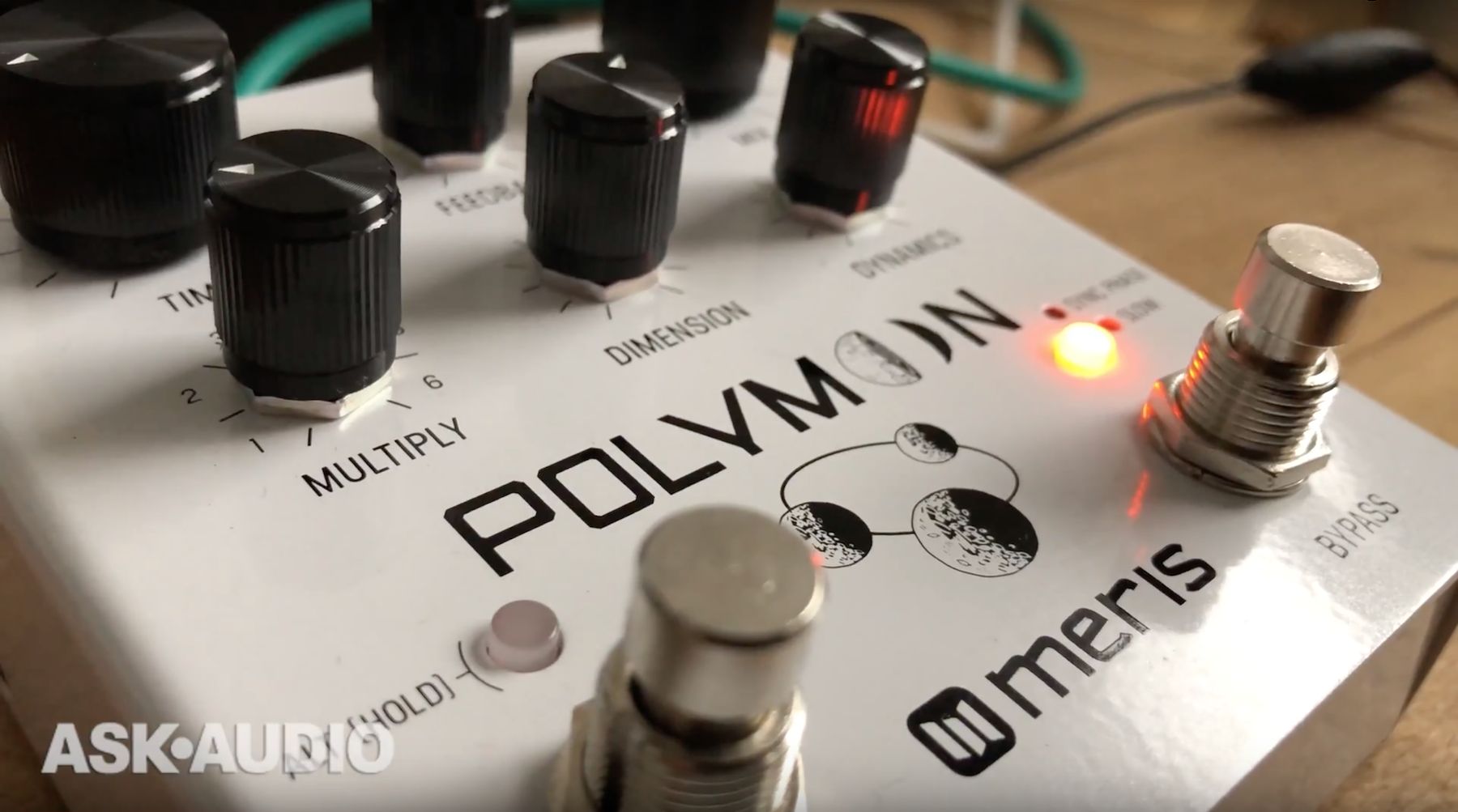 The basic signal flow of this digital delay pedal begins with a parallel mix of a pair of Dynamic Flangers which lead to the heart of the Polymoon, the multi-tap modulated delay section. The final section are a pair of Barberpole Phasers.
The rear of the Polymoon reveals a TRS stereo input, mono left and right outputs, 9V DC power socket and the place to plug in an expression pedal which allows you to morph between different settings. The same EXP jack supports MIDI in and out. Not only can Polymoon support up to 16 presets (selectable via MIDI) but it also can receive program change messages and sync to MIDI Beat Clock too. The short manual features a MIDI CC table with full details on the control changes and their related Polymoon physical controls.
Lunar-tic
Polymoon looks simple on the surface and indeed does the simple things well. We tested out processing a guitar, vocals, a synth and an analog drum machine (Arturia DumBrute Impact) with this super-modulated delay pedal. The top three control proved easy access to the delay and phaser time, feedback and the wet/dry mix. The sound is clean, clear and immediately adds interest to the source audio.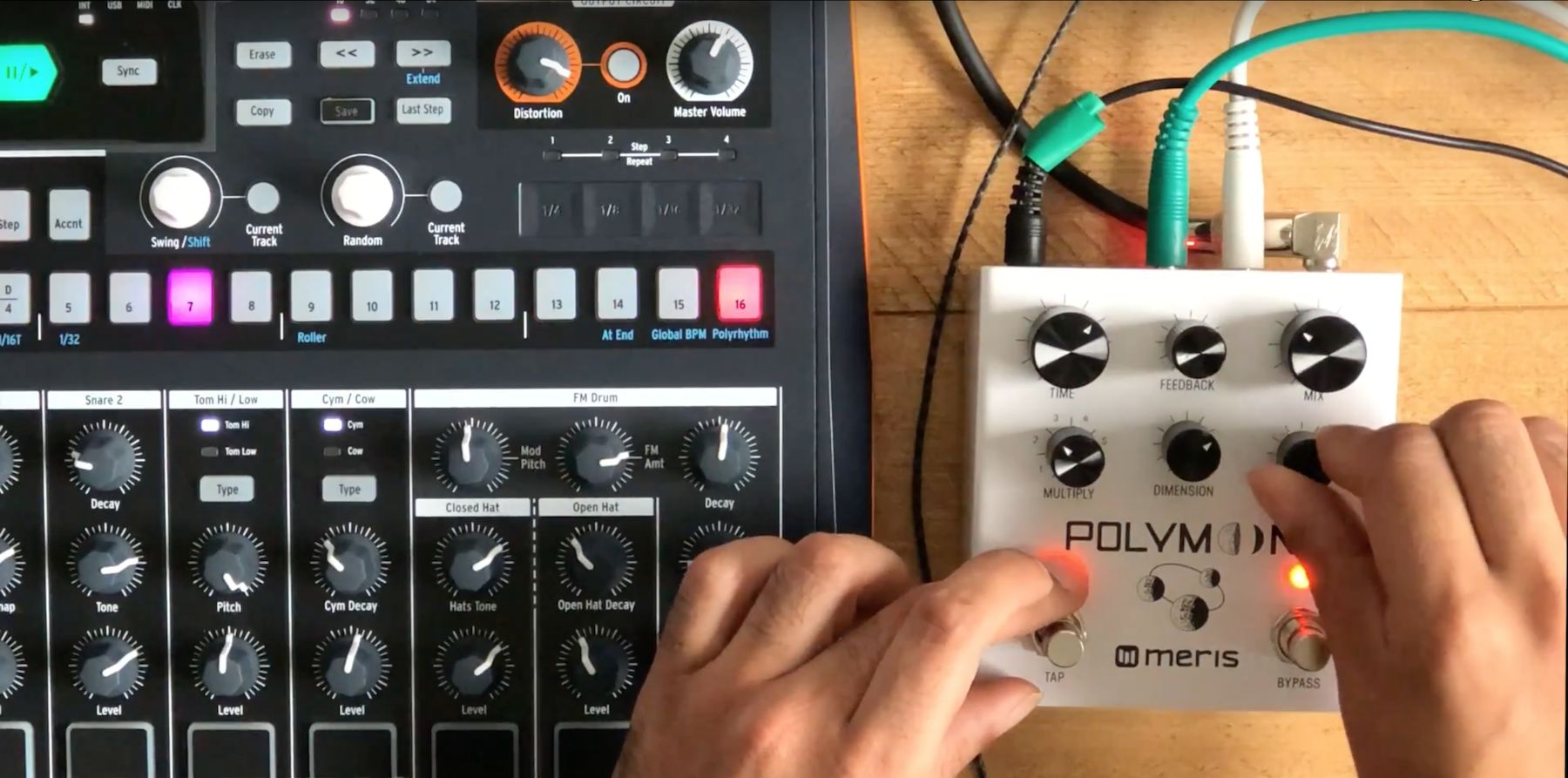 It's when you explore the secondary three main controls, Multiply, Dimension and Dynamics, that things start to become more interesting. Smooth sonic textures, super long feedback, murky releases, warm, thumping modulated delays and crazy, quirky sounds all become apparent. Even then there's much more to explore. Each of the six rotary controls has a secondary (alt) function, accessible by holding down the "alt" button. They aren't labeled on the faceplate so consulting the manual is advisable unless you particularly enjoy experimenting and very happy accidents.
Over The Moon
It's often discovering sounds you didn't expect to create that can bring the most satisfaction. While it's very possible to create simple tap delays, it's being able to modulate every parameter, being able to create sonic landscapes you wouldn't have imagined that take the Meris Polymoon into a world of its own. There isn't anything else quite like this pedal and everybody from the complete newbie guitarist to the most hardened synth nerd is likely to find a multitude of uses for it. I particularly enjoyed using it to breathe life into rhythms from the Arturia DrumBrute Impact analog drum machine.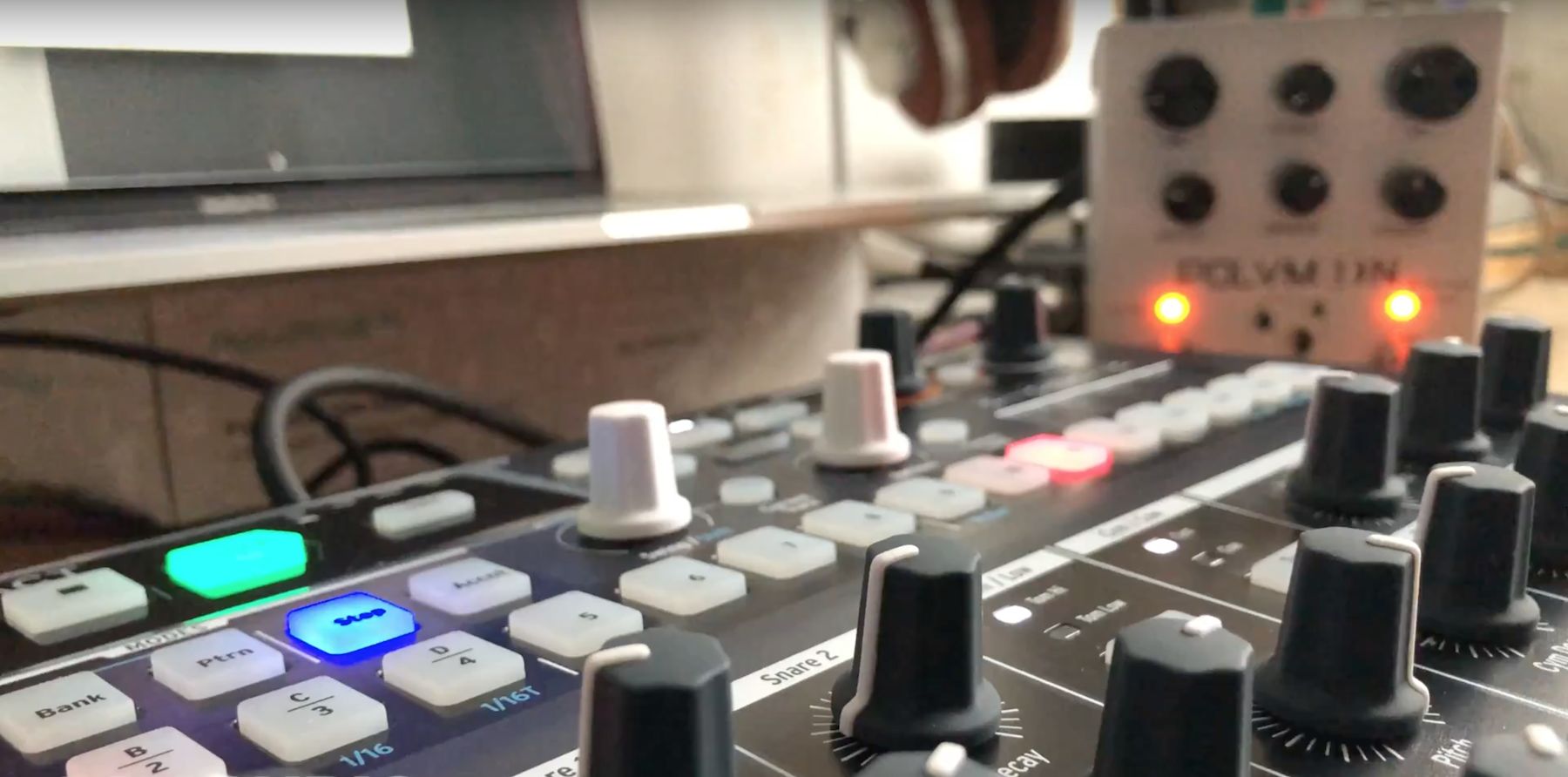 Polymoon doesn't just add some delay or modulation to sounds - it transports them into a whole new dimension. It sounds pristine and is capable of producing quality and detail I simply wasn't expecting. With Polymoon, Meris have once again delivered an inspiring effect pedal that is a "must-check out" for studio producers and musicians alike.
Price: $299 USD
Pros: excellent delay. Marvelous modulation options. Sounds incredibly good. Useful for multiple sources - not just guitars. Presets controllable via MIDI. Maybe the only delay pedal you'll need?

Cons: An LED display or labels for alt functions could be useful.
Web: https://www.meris.us/product/polymoon-pedal/
Learn more mixing techniques using softare and hardware in the Ask.Audio Academy: https://ask.audio/academy?nleloc=new-releases