The good folks at Meris are wasting no time in continuing their string of hits in the 500 series market. I liked the 440 mic preamp, I really liked the Ottobit effect processor, and… (spoiler alert) I loved the Mercury7. This reverb could be the reason you pick up a 500 series chassis and jump deep down the rabbit hole that is 'lunchbox processing'. It's a truly creative tool and I'm ready to tell you all about it.
The Build
The Mercury7 is solidly built, just like the other two offerings from Meris. This is actually quite important, as I have found that even some of the 'big boys' of the audio world have been guilty of slacking off a bit on build quality of 500 series module controls. While many studio owners have their 500 series processors in a rack, the spirit of these units is that they are meant to be moved around. Part of the whole appeal of the 'lunchbox' aspect is that you can take a high quality channel strip around with you and have your 'signature sound' at whatever studio or venue you work in.
The font is easily readable, even from a respectable distance, and the indicator lights are bright. From an ergonomic standpoint, there's nothing more I could ask for. Every parameter is reachable and adjustable without fear of accidentally adjusting another parameter. Again, this can be an issue with some 500 series units as the 'real estate' available for controls is less than your typical rack unit.
The Sound
Oh. My. God. This thing sounds unbelievable. I'm going to be honest with you, at first I was quite skeptical about reviewing yet another reverb. I also couldn't think of why I would want a reverb in my 500 series rack. I mean, I have a ton of reverbs I like in plugin format, and the thought of committing to one in the initial tracking process didn't make too much sense to me. Then I got to hear the sound of the Mercury7, and I felt like an idiot.
The Mercury7 sounds wonderfully diverse. It can range from ambient to ethereal, and even downright ghostly. At some of its more modest settings, it reminds me of an AKG BX20. You can play it 'conservatively' and have an extremely nice reverb that sits perfectly in your mix… but you can also get wild with the Mercury7 and have a creative tool in reverb that you've never had before.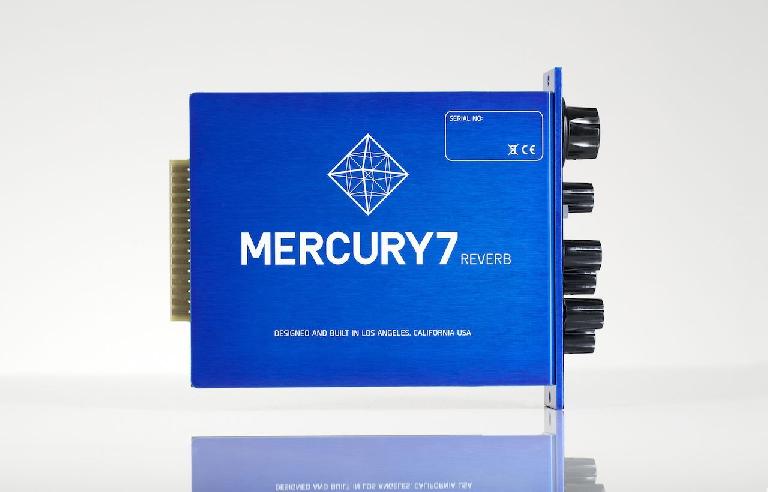 It's by adjusting some of the more wild parameters that I finally understood that this reverb was as much of a creative effect as the Ottobit or a modulation effect. By using the pitch vector and the modulate knobs, you can achieve some sounds that truly make your sound source sound like it was lifted off a launchpad and sent into outer space. Wait a minute… I think I just understood why they called it a 'Mercury'. (facepalm)
Conclusion
For me, the Mercury7 is going to sit right next to my Moog Sub37. It's the perfect companion to a synth or a guitar to allow you to get really nuts with sound design. I like it so much that I'm likely going to pick up a second one to use in my recording channel strip just so I can keep the first one right next to my synth at all times. It's a home run from Meris, and I can't wait to see the next 500 series unit they make (Can it be a boutique EQ that doesn't cost more than a thousand dollars? Please? Fingers crossed!).
Price: $549
Pros: Absolutely gorgeous sound, diverse sonic possibilities, creative controls, well designed, ergonomic.
Cons: 500 series units are addicting and typically expensive. $549 is at the medium to low end of the price spectrum for a typical 500 series unit… though I do wish it were priced a tiny bit lower.