El formato de la lonchera de la serie 500 está ganando terreno rápidamente como la forma de go-to para la construcción de un canal. Los productores son capaces de tomar su sonido con ellos y crear una ruta de audio personalizado de preamplificadores, EQ, compresores y similares. Meris es el último en unirse a la revolución con sus 440 mic preamp. Camino que probó en una variedad de fuentes y quedó impresionado por el sonido.

El Build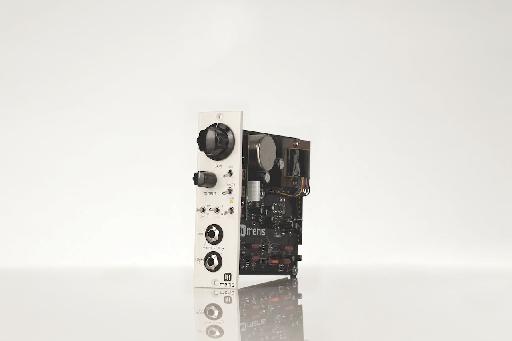 La Meris 440 está bien construida y encaja en el chasis de la serie 500 comodamente.
El 440 es extremadamente bien construido. Los mandos estaban apretados y todos los interruptores sentían resistente. Los jacks de envío y de retorno (que también doble como inputmore inyección directa sobre esto más adelante!) También eran firmes y libres de cualquier ruido cuando los usé. De hecho, una de las primeras cosas que noté acerca de la 440 es que el nivel de ruido es increíblemente bajo. Tuve la oportunidad de obtener una señal muy limpia y salir a través de la entrada de micrófono, así como la entrada DI completamente libre de ruido derecha desde cero.
"One of the first things I noticed about the 440 is that the noise level is incredibly low."
En el panel frontal, usted encontrará conmutadores de pad y fase estándar. Hay controles de ganancia y salida independientes, lo que le permite marcar en la cantidad de saturación de la señal al mismo tiempo mantener el control de salida dentro de la sección de propulsión híbrido-discreto del transformador. Hay un filtro de paso alto, así como filtros de alta estantería que le ayudará a domar rápidamente amplificadores de guitarra woofy y añadir brillo a su señal.
El bucle de pedal de efecto cumple una doble función como entrada de DI para grabar directamente instrumentos. Aunque el 440 está diseñado principalmente como un previo para el registro de un amplificador de guitarra, la entrada DI funciona increíblemente bien para la grabación directa de guitarra, así como el bajo.
Echa un vistazo a esto 440 consejos y trucos de video de la buena gente de Meris:
El Sonido
Los transformadores de 440 Cinemag deportes y utiliza muchos elementos de diseño de engranajes API clásico. Con su descripción luciendo el clásico tono previo de micro americana palabras está bastante claro qué sonido ayúdales tratando de ayudarnos a lograr aquí. El 440 está diseñado principalmente para ayudar a obtener grandes tonos de guitarra nada más sacarlo de la caja, si bien hay una gran cantidad de funciones versátiles que lo hacen ideal para otras fuentes.
"The 440 is primarily designed to help you get great guitar tones right out of the box, although there are a lot of versatile features that make it great for other sources."
Empecé grabando mi Mesa Boogie exprés 50 con el filtro de paso alto en el ajuste de 80 Hz, como mi Mesa tiende a inclinarse hacia el lado woofy cuando Mic para arriba. Me quedé agradablemente sorprendido con el sonido y, definitivamente, estoy de acuerdo con Meris que este previo ahorrará marcación tiempo en su sonido de guitarra. Suena derecho claro y nítido desde el principio, lo que requiere poco o ningún EQ.
La Meris 440 manejó mi impulsada Mesa Boogie exprés 50 como un campeón:
[Id audio = "27483"]

Luego pasé a la adición de una pista de bajo utilizando la entrada de DI. En este punto, tenía que usar un poco de fe. Me di cuenta de que tenía que girar la ganancia hasta el final con el fin de obtener una buena signalbut no había ruido y el bajo sonaba definido y claro. Es un poco como la grabación con un micrófono RE20. Usted realmente tiene que darle una gran cantidad de ganancia, es un poco incómodo para convertirlo tan alto, pero cierra los ojos y confiar en el sonido. La Meris realmente está bien diseñado, e incluso a altos niveles de volumen del ruido no es sólo allí. Rápidamente añadí en una pista de guitarra acústica sólo por diversión, y aunque yo no considero que mi Taylor para ser retumbante, contraté el interruptor de 200 Hz para ver si me podría ahorrar algún tiempo EQ.
"The Meris really is well-designed, and even at high volume levels the noise just isn't there."
He probado el 440 sobre Bass a través de la DI, así como los tonos eléctricos acústicos y limpios:
[Id audio = "27482"]

Conclusión
Realmente disfruté mi tiempo con el Meris 440. Si youre creando una costumbre 500 canal serie para la grabación de guitarra, que realmente no puedes equivocarte aquí. Es un precio bien y sería una gran adición a cualquier estudio.
Precio: $ 549 USD
Pros: Bien construido, gran diseño, los filtros y EQ plataforma son bastante usable y hacen lo que deben, gran precio.
Contras: El uso de la DI requieren una gran cantidad de ganancia, pero aún era libre de ruido, así que realmente no era un problema.
Web: