Since you're probably online right now, try this: Go to images.google.com and search the name of any classic guitar hero like Angus Young, Jimi Hendrix, Stevie Ray Vaughan and include the word "amp". You will very likely find at least a handful, if not wheelbarrows full of images of Marshall products. The Marshall sound has been an integral part of rock music ever since Pete Townshend and John Entwistle of The Who asked Jim Marshall to build bigger and louder amps. Mercuriall has now modeled four legendary Marshall amplifiers and put them in their new Spark plugin.
The Heads
Spark has head models for the JMP Super Bass and Super Lead (both with master volume 'mods' added), the JCM 800 and the Slash-inspired AFD (Appetite for Destruction, complete with '#34' switch.) Each model has I and II inputs for different tones and gain levels, and you can switch preamp tubes (RCA or RSD) and power tubes (EL34 or 6L6GC).
The Cabinets
The four speaker cabinets consist of the 1960B wth either Greenback (Celestion) or K120 (JBL) speakers, and the Bogner Ubercab with either Celestion G12T-75 or Vintage 30 speakers. You can mix and match any cabinet to any head.
The Mics
The modeled speaker cabinets can be virtually mic'ed by up to two different microphones with a choice of the Shure SM57, Royer R121 and Sennheiser MD441. Each microphone can be individually positioned at the cap, the edge, and anywhere in between and can be placed anywhere from 0 to 7 feet from the speaker. There's also a mix control to adjust the balance between each microphone. You can invert the phase of either microphone, and the entire cabinet/microphone section can be bypassed for use with any cabinet emulation plugin or hardware.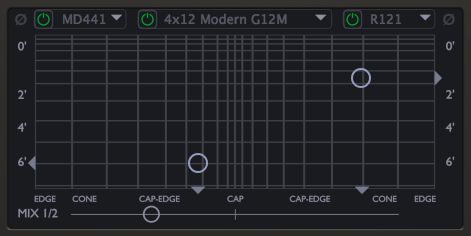 The cabinet/microphone section.
The Effects
For extreme high-gain settings, you may need to use the noise gate, which has a Hysteresis control to balance the open and closed threshold. The Stomp section has four different overdrive pedals including the Ibanez TS-808 (original Tube Screamer), TS-808 Mod (lower gain), TS7 and the Mesa/Boogie Grid Slammer. There are Chorus, Delay, and Reverb with 8 different environments effects, all of which are stereo and the delay can be synced to the tempo of your host application. The delay has a very analog-style sound.
Note: There's a mono/stereo switch in the master section that has nothing to do with the effects being mono or stereo. Instead, the stereo setting gives the plugin two inputs, which allows plugins placed earlier in the signal flow to retain their stereo image. However, stereo mode will double the CPU processing power requirements.
The Sound
When I first starting listening to Spark, I was inspired to play the music that epitomizes the sounds of the original Marshall amps. Whether it was Overdose by AC/DC, Manic Depression by Jimi Hendrix, or Mr. Brownstone by Guns N' Roses, it was very easy to get each tone up and running and everything sounds extremely authentic. When I bypassed all the effects, the plugin truly sounds like a mic'ed-up Marshall being monitored in a control room. There's no harshness in the top end, and the overdrives are thick and lush. Spark's response to varied guitar volume knob settings is amazing, and playing with a light touch will make you believe you're playing through a real Marshall amp. Just like their U530 plugin, I really appreciate how much time and attention Mercuriall pays to both the sound and feel of their products.
Conclusion
At the very reasonable price of $120, Spark is a must-have for any (AAX, AU, and VST) DAW user who wants the classic Marshall sound in a plugin. While I wish it had MIDI control and a JCM900 model, there's very little not to love about Spark. You can even download a demo from www.mercuriall.com to try before you buy… but I'm quite sure you'll buy.
Price: $120
Pros: Amazingly authentic Marshall models, multiple microphone options and great sounding effects.
Cons: No MIDI and no JCM900 model.
Web: www.mercuriall.com