Some have claimed it's a cheat, some have claimed that is a god send. Me, personally, I am just a humble reviewer. But, I will say that MelodicFlow, from feelyoursound.com adds a particular level of liberation to song creation, especially dance music, that I've scarcely experienced. In this review, let's determine if MelodicFlow really can change your music creation experience.
The MelodicFlow Experience
Despite being a deceptively simple device to use, once you get it set up as a plug-in within your DAW, and get the MIDI routings setup, MelodicFlow is changing your entire workflow. Like a Vocoder, you supply chords, in MelodicFlow's case, in a certain octave range. However, unlike a vocoder, MelodicFlow outputs MIDI. In a different octave of the keyboard, you can trigger notes in various octaves, with your own patterns. And, you can even rapid fire chords, by just triggering single keys.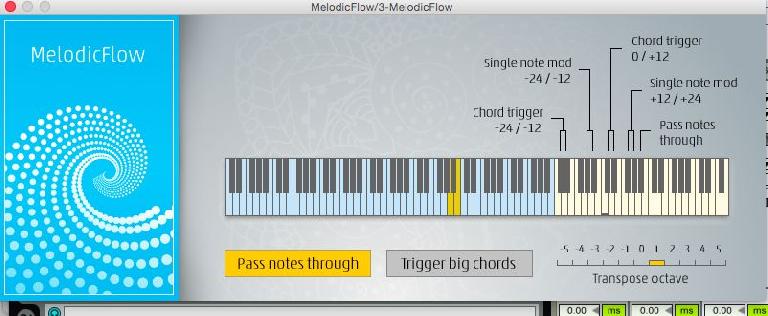 I started by setting up MelodicFlow as a plug-in, on one instrument track, within Ableton. And then, I created a virtual instrument (SynthMaster 2), with MIDI input coming in from the MelodicFlow track, I'd set up previously. I'll leave this first SynthMaster track in Monitor Mode, so that I can hear the MIDI coming through it.

With MelodicFlow's 'Pass notes Through' button enabled, I go ahead and play the chords which will make up the meat of this particular section of the song. This allows me to hear fully what I'm playing, as without this function enabled, I would have no idea how what I'm playing sounds.

Once I have a chord progression I really like, I'll deselect the 'Pass Through Notes' button on my original MelodicFlow track, and record enable my SynthMaster track, which is receiving MIDI from MelodicFlow. While recording is going on, I'll be playing in another octave within MelodicFlow, which is assigned to actually triggering the chords being played through MelodicFlow.

This is where things get really fun, as I can randomly select notes, and they always sound good. I can trigger chords on two sets of the C#, and D# keys, which trigger chords that will always be right in multiple octaves. I can also toggle between the octaves of any of the play through keys when I use the keys mapped to the Single Note Mod functions, as well.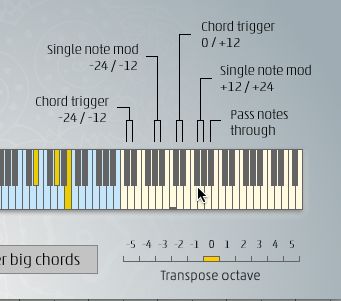 One Instance Does a Lot
Where things get even more exciting, amazing, and eerie would be when you just start having MelodicFlow sit in your session, and have it build up multiple instrument tracks with amazing MIDI.While the steps we went through to set things up may seem like a lot. Once MelodicFlow is happy and situated in your session, you can always route it to more and more MIDI tracks, like bass synths, plucks, leads and even more pads.
It doesn't matter what you play, if you're playing through MelodicFlow, it's always going to match whatever chord progression is running through it. What makes it so valuable to me, already is that the patterns that I am creating with MelodicFlow are always MIDI, and they are always original. This makes it an incredible tool for people who aren't really great players, but are definitely great at programming and at rhythm.
Here's an example of the chords I input:
And, here's an example of the same chords after sending MIDI from MelodicFlow, over several tracks, with my own MIDI modulation, if you will... Minus the drums, of course!
Conclusion
I had a great time working with MelodicFlow. It makes generating material quickly extremely easy. And, with its single note mod functionality, the chord triggers and the ability to have MelodicFlow generate even bigger versions of the chords you're inputting, I can't even imagine a better tool for inspiration.
Price: $32
Pros: An affordable tool for generating amazing MIDI very easily and very quickly. Lots of performance modifiers.
Cons: The interface could use a lot of polish. The setup and initial usage might be difficult for new users.