Review: M-Audio M-Track 8X4M Audio Interface
With 8 ins and 4 outs, dual independent headphones and a generous software bundle, M-Audio's M-Track 8X4M Audio Interface has something for every kind of producer, as Hollin Jones discovered.
Producers working in home, project or broadcast studios or on the move are better catered for today than they have ever been. Advances in technology have seen ever-more capable interfaces becoming increasingly affordable, and the innovation shows no signs of slowing. M-Audio has a long history of making audio interfaces (I was using them at the turn of the millennium) and the company's latest is the M-Track 8X4M, an 8-in, 4-out box that supports 24-bit, 192kHz recording and also has MIDI capability. It's competitively priced and comes with a decent software bundle too, so could it provide everything you need?
Look And Feel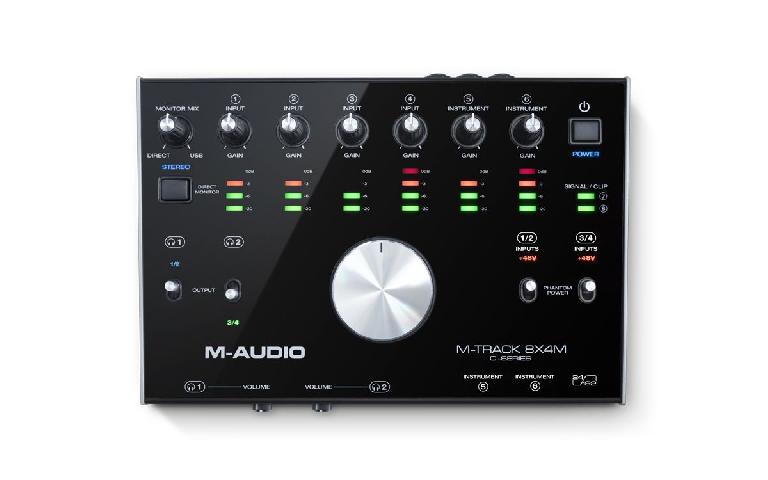 The build quality is great and the footprint admirably small - manufacturers know that a lot of producers are working on smaller desks, not in big studios these days. It needs to be powered using the bundled PSU but this is a fair compromise. While USB power is convenient its limitations can also restrict the performance of the gear and here, M-Audio has obviously decided to opt for higher performance.

Around the back you get 4x combo input jacks with phantom power as well as stereo 1/4 inch inputs 7&8, for connecting keyboards or other similar sources. There's 4x jack outputs as well as mini plugs for MIDI in and out, and adaptors in the box converting these to full size DIN plugs - another design decision taken to keep the overall size of the box down. Then there's a USB-C port and you get both USB C and USB A cables in the box, so all computers will be compatible.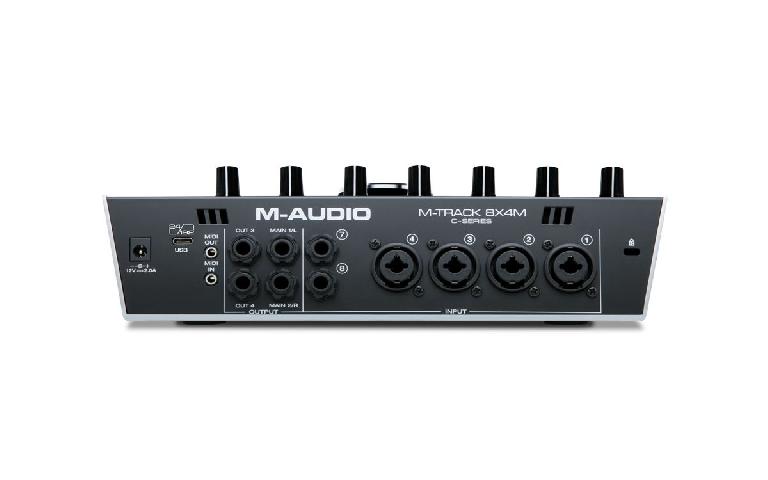 The front edge contains two further instrument input jacks as well as gain controls, and two independent headphone ports, each with independent source and level controls. This is great to see in such a compact unit and means extra versatility when it comes to monitoring. All too often, a single headphone out means limited options for, say, one person recording a vocalist or guitarist. But here with two independent outs it's not an issue.
Back To The Future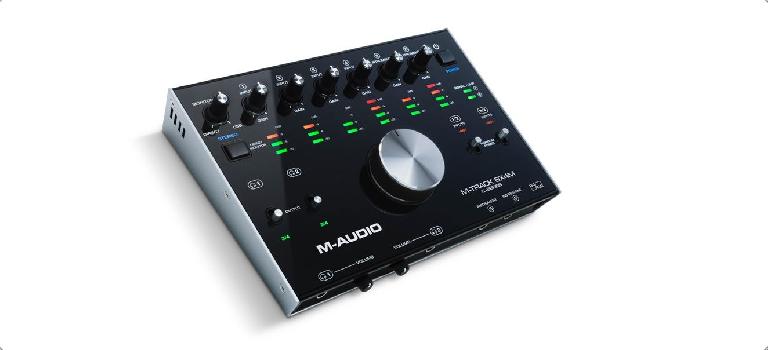 The top surface has the remaining controls and also a curiously retro vibe that I liked, with four-segment LED meters, tape machine-style switches and six input gain knobs. A large monitor volume dial lives in the centre, and a monitor direct / USB knob at the top left, allowing you to direct monitor or hear the full signal as processed by your DAW. M-Audio reports a roundtrip latency of 2.59ms at optimal buffer settings and I achieved pretty close to this - although to be honest I always prefer direct monitoring where available unless I particularly need to hear my signal processed via plugins when recording. Internally, the unit uses Crystal preamps which in my tests captured very clean, low-noise audio. The MIDI side worked perfectly as well.
Plug Ins And More
M-Audio is offering a generous software bundle with the hardware. Indeed this is an area where manufacturers are often keen to provide enough additional content to get someone up and running - and that is what we have here. You get Pro Tools First with Eleven Lite amp sim, and Ableton Live Lite as well as the AIR Music Tech Creative FX collection of 20 plugins. There's also AIR's Xpand2, Mini Grand and Technology Strike instruments and 2GB of loop content. So you could certainly get this little lot and be recording, sequencing and mixing without buying any extra software.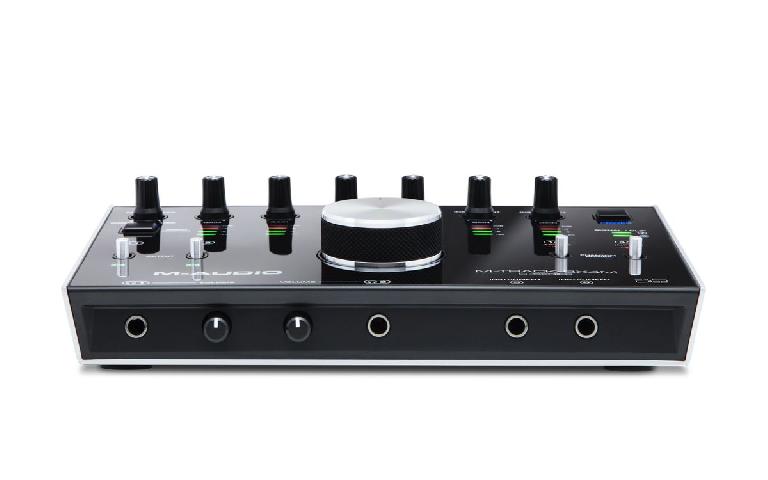 Conclusion
The M-Track 8X4M is a great solution for all kinds of musicians and producers from those tracking EDM to anyone recording live musicians. Being able to record 8 inputs at the same time without fiddling about with S/PDIF or ADAT inputs to make up the extra channels is great, and using two independent headphones will also greatly improve its usefulness in all kinds of situations. The results are very solid and the unit itself is well built and easy to learn and use. It feels like we are finally getting to a point where interfaces with lots of functionality aren't designed only to appeal to already-experienced recordists, but to most anyone with a desire to learn. That's a positive not a negative - there's certain plenty of quality and flexibility here. But in providing you with all the tools without blinding you with science, M-Audio has a winner on its hands.
Price: USD | $299
GBP | £259.99
Pros: Very solid build. Fits lots of functionality into a small package. Excellent recording results. Direct monitoring and low latency performance. 8x ins without any messing about. Dual, independent headphone outs. MIDI I/O for hardware. USB C and A provided. Affordable. Good software bundle. Easy to learn.
Cons: Very little that I could find.
Web: http://www.m-audio.com/mtrack-8x4m
Learn more about audio recording: https://ask.audio/academy?nleloc=new-releases