They're perhaps not the most glamorous devices in the music tech world but portable, high quality USB audio interfaces are the bedrock of a lot of peoples' recording and production setups. While it's true that larger rigs need a lot more I/O, a more compact device is perfectly suited to those with a more streamlined setup: perhaps someone producing in the box and only needing to record a vocal or guitar at any given time. M-Audio has been making interfaces for many years and its latest is the M-Track 2X2M, and a slightly smaller version that omits the MIDI capability, if you don't need it, as well as only having a single input on the front and one on the rear.
Look and Feel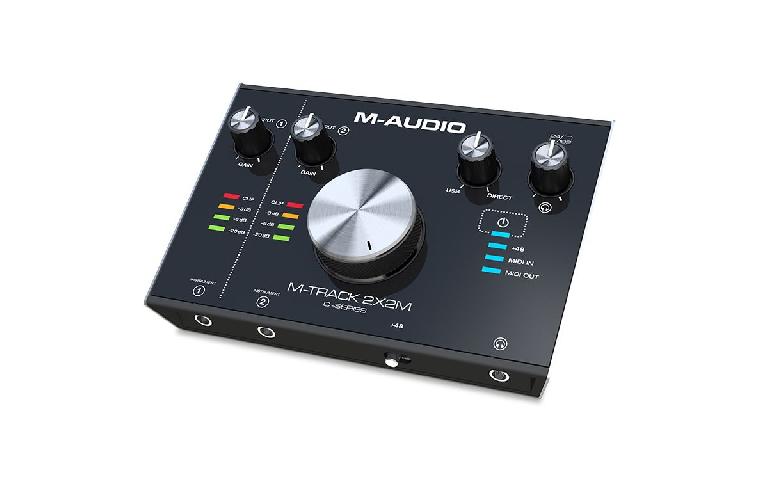 The box is very well built with a metal and plastic casing and feels very sturdy. On the back are two combo XLR/jack inputs (one on the smaller box), stereo jack outs for connecting your speakers and 1X1 MIDI I/O on the M model (not the smaller model). There's a USB-C port that carries data and power, and USB-C as well as regular USB cables are supplied in the box. This is a nice touch as the USB-C format is likely to become more commonplace as time goes on.
The front edge contains two instrument jack inputs (again, one on the smaller model) as well as headphones and a phantom power switch and, of course, there's a headphone volume control, gain dials for the two channels and integrated level meters. A large central volume knob makes things easy to control and there's a USB/direct monitoring dial to let you set how you monitor your recordings and offering the option of zero latency monitoring.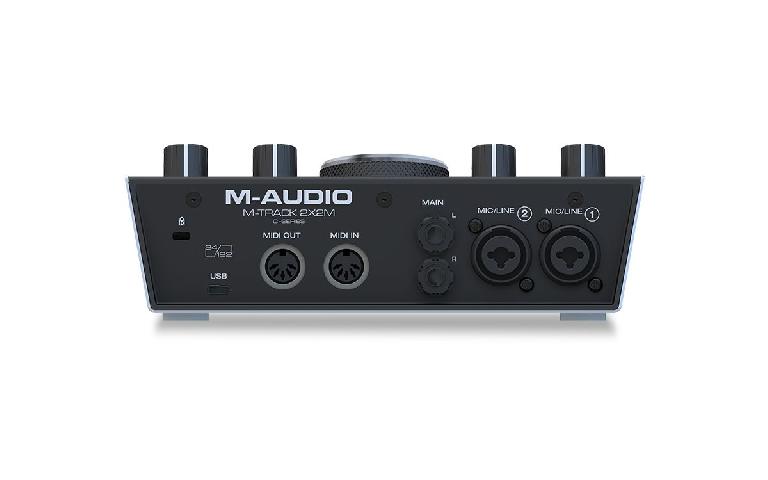 Sound Matters
Internally, the interface is capable of 24-bit, 192 kHz recordings with the sample rate going higher than many small interfaces can manage, especially when bus powered as is the case here. The provision of both combo and line level inputs means that connecting mics or high impedance sources like a guitar or bass is equally easy, and the onboard monitoring, both visual and audible, works really well. The addition of MIDI ports on the M model means that you can hook up your external MIDI gear and given that it only costs a little more than the non-MIDI version, this is a good bet if there's any chance you'll be using MIDI hardware in the future.
As if this box wasn't already good value, M-Audio also throws in some software to sweeten the deal. You get Cubase LE, The AIR Creative FX collection of 20 AU/VST plug-ins and Mini Grand, Strike and Xpand!2, all also from AIR. So if you're starting out in production this bundle gives you everything you need to get going. Even if you already have a DAW the instruments and FX are well worth checking out. This is a good, solid audio and MIDI interface that's well built, easy to use and provides great results.
Price: 2X2 £79.99 GBP / around $105 USD | 2X2M £99.99 GBP / around $130 USD
Pros: Well built. Easy to use. Very portable. Direct monitoring. USB-C as well as regular USB cable supplied. Great software bundle. MIDI I/O on the M model. 192kHz sample rate supported.
Cons: Smaller model could be slightly limiting—the larger one future proofs you more.
Web: www.m-audio.com