Loudness normalization is becoming the norm, and as a process has been around for a long time in broadcast media like TV. But these days big digital music streaming sites and distributors like iTunes, Spotify, YouTube and even computer operating systems have started to incorporate it to one degree or another.
As it becomes even more widespread hopefully it means people will stop crushing their final mixes so their tracks sound louder than everyone else's, leaving room for better dynamics. However there is a glaring downside to loudness normalization as it is today. It's not normal: meaning, there is no single international standard that all the companies are abiding by. Instead, each has its own standard.
That's great for someone who is listening to music on YouTube and doesn't have to adjust the volume for every new music video. For a mastering engineer on the other hand it could mean a lot more work. In the past, it was one master for tape and one for CD. Now it's one for almost every website you want to release music with. Luckily, digital metering technology exists. There are a few great resources out there like iZotope's Insight and even Ozone Advanced which has the Code Preview module. In my opinion though, for dealing with loudness normalization standards, the best plug is NuGen Audio's MasterCheck Pro.
URL: https://www.nugenaudio.com/mastercheckpro-playout-loudness-dynamics-codec-metering-aax-au-vst_60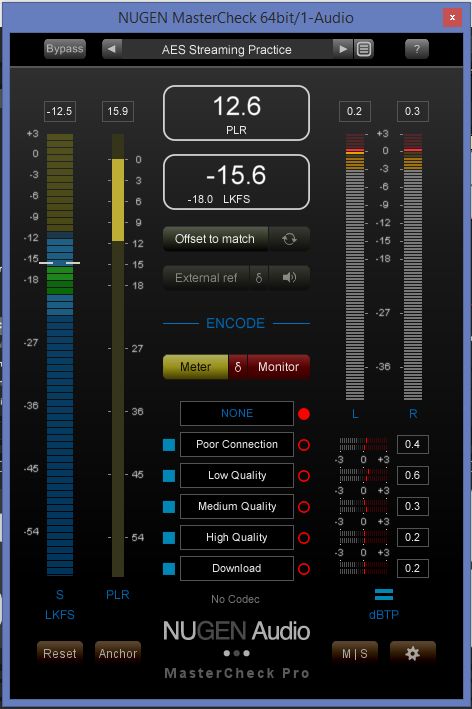 MasterCheck Pro allows a mastering engineer to preview the final output as if it was being played back through a number of loudness normalized sites and their respective codec specifications. This allows an engineer to make any adjustments necessary to get the best master for each location. There are a couple specific features I would like to draw your attention to.
The "Offset to Match" button
The offset to match button will take your incoming signal and boost or attenuate it as per the preset or the settings you are using. This allows you to get a quick idea of how loud your track will sound / appear after it's been uploaded to YouTube, for example, and YouTube's normalization algorithm has been applied. Much quicker than uploading the video and testing that way!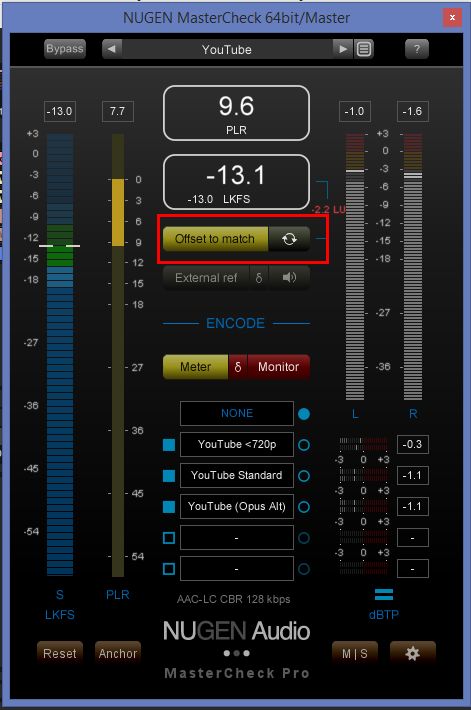 The Encoding Section
Next is the Encode section, and this is where I personally spend most of my time and what really makes this plugin stand out amongst the rest. This feature allows you to monitor, audition and hear any distortion that occurs when you encode your master to any number of file formats. You can even load up to 5 at once and jump back and forth between them quickly using the available buttons.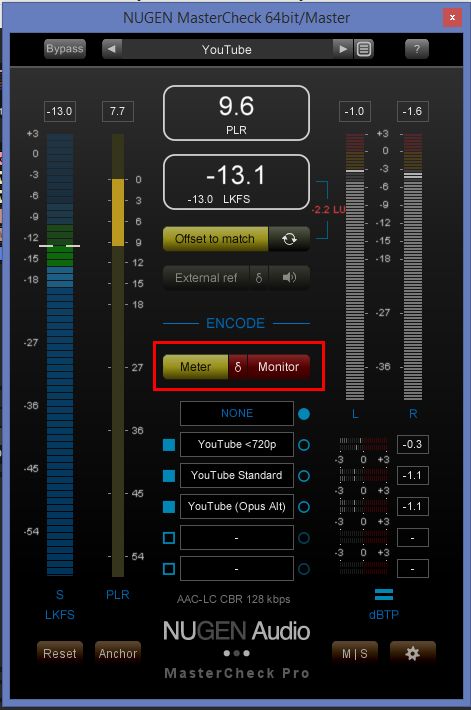 There are three ways you can analyze the different codecs.
Meter: Meter the selected codecs while playback is that of the DAW's original source.
Monitor: The audio output is that of whichever codec is selected.
Delta: This mode outputs only the artifacts introduced by the encoding process for whichever codec is selected.
Codec Options
MasterCheck Pro comes with many options for codec previews. There is a large preset list which includes most major websites (YouTube, Apple streaming, Apple download, Tidal, Pandora, etc - full list below). Each of those presets have several different codec previews. YouTube, for example, has previews for videos that are less than 720p, and the standard streaming format, while the AES Streaming preset has previews for high to low quality streaming and even a "poor connection" preview option.
You can also make your own custom codec choices. There are AAC-LC, HE-AAC, HE-AAC v2, and Ogg Vorbis. You can also choose from Constant Bit Rate (CBR) and Variable Bit Rate (VBR). And finally you can choose the bit rate. You can go with high quality (320 kbps) all the way down to 16 kbps!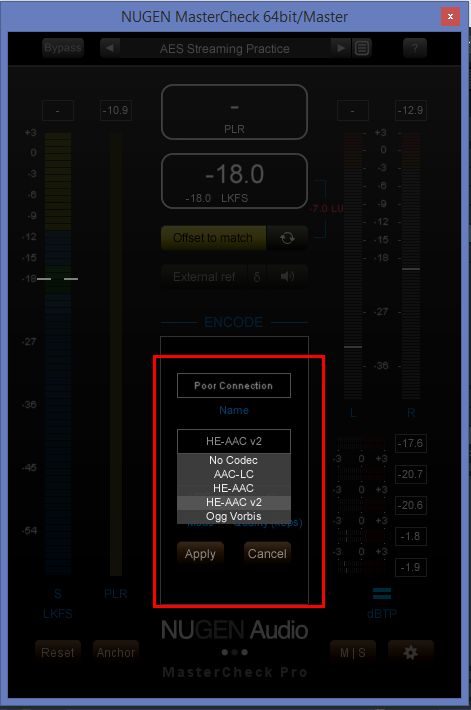 In Conclusion
If you have spent hours or even days on making your music, movie, or podcast it only seems logical that you want it to sound its best no matter where it gets played. Having a plugin like MasterCheck Pro allows you or your mastering engineer to have quick access to previews for virtually all the sites that might host your media. This significantly cuts down on guesswork, tedious "test uploads" and will help you get one master that covers most of the bases, or, if need be, several different masters for each location you plan on using without having to leave the mastering software.
Don't let the non-normalness of loudness normalization get in the way of getting your music to play back in pristine quality no matter where it ends up!
MasterCheck Pro Presets
AES Streaming Practice
Apple Download – afclip
Apple Streaming – aflcip
BBC iPlayer Radio
DAB+ Radio
Optimal Master – Codec Only
Optimal Master – Dynamic
Optimal Master – Loud
Pandora
Replay Gain
Spotify
Tidal
TV Europe
TV Japan
TV USA
Youtube
MasterCheck Presets
-16 afclip -0.5 / Very Hot
-16 afclip -1 / Hot
-16 afclip -2 / Safe
AES Streaming Practice
EBU R128 (S1)
Loud Streaming / Mobile
Radio (Replay Gain)
Spotify
Streaming / Mobile
Tidal
TV Europe / AAC
TV Europe
TV Japan
TV USA
Youtube (approx..)