If you happened to read my review of Master & Dynamic's MH40 headphones you won't have been left in much doubt about the extent to which they blew me away. The New York-based company is branching out slightly with a new product, albeit one designed to work with'"and look like'"its over-ear headphone lineup. Boom Mic also works with any headphones which can accept a mini jack input, which is to say any headphones with a detachable cable.
Say Boom Boom
The mic itself is manufactured in beautiful, durable aluminium and comes in either silver or black finishes depending on which MH headphones you have. If you're using third-party headphones, they are quite likely to be black. It contains a unidirectional microphone and can pivot in a number of directions to best suit the angle you are wearing it at, though it also helpfully stays in whatever position you set for it. It's at the top of the cable where it attaches to the headphones and not halfway down the cord, like some microphones are. The cord itself is the same high quality heavy duty woven fabric as found on the regular headphone cord, and has an answer/end button mounted on it.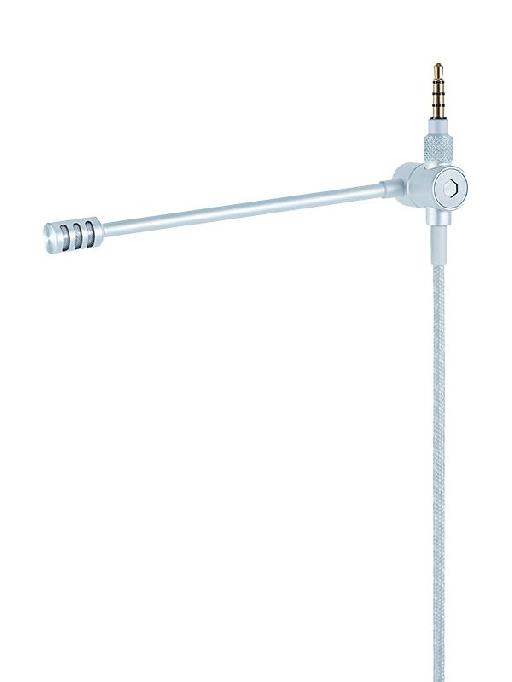 Master and Dynamic Boom Mic in silver.
The connector jack is a standard 3.5 mm type so it will work with all smartphones, tablets and computers with an audio input. Master & Dynamic states that Boom Mic is designed to solve the challenge of communicating in noisy environments where vocal precision is critical, and has worked with a Manhattan-based creative office space in testing performance in such environments.
Plug In Baby
Plugged into your computer or smart device, the mic is recognized as an input source and is either automatically or manually selected depending on your software. While computer and broadband technology has moved rapidly, headset mic technology hasn't so much and while there are good quality headset mics around they tend to require an XLR connection which is much too specialized for any working environment that isn't tech-oriented. At the cheaper end, basic headset mics usually sound pretty tinny.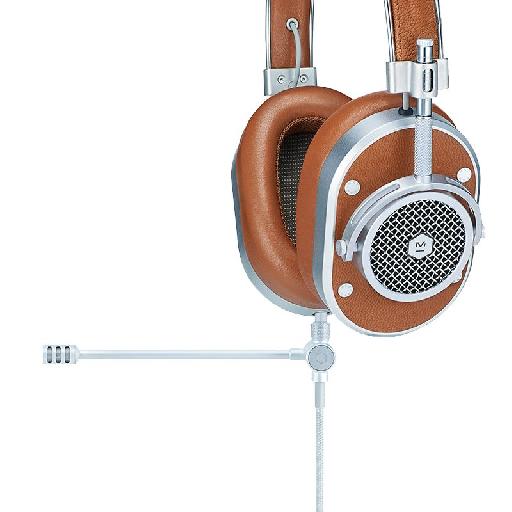 The Boom Mic connected to the Master & Dynamic MH40s.
Boom Mic is an excellent performer but crucially terminates in a mini jack plug, making it suitable for use with most hardware. I conducted and recorded a Skype interview using it and the quality was very good. Where there is background noise the design of the mic does seem to cut it down substantially and call quality is very clear. Although Boom Mic is designed to be partnered with one of the company's headphone models, I can't help feeling that they would maybe be a little wasted just used for making phone calls because they're sonically so good. They look and sound fantastic as a pair of course, but you can use Boom Mic with any compatible headphones. If you are looking to enhance the quality and audibility of your calls and don't mind spending a little to do it, this is an excellent solution.
Price: £109 GBP / $129 USD
Pros: Beautifully engineered. Excellent call quality. Good noise rejection. Flexible positioning. Looks great with MH headphones. Addresses a real need for isolation in noisy environments.

Cons: Probably at the upper end of most budgets unless you make a lot of calls in noisy environments. Look best when paired with MH models.