Review: Master And Dynamic MW07 Wireless Earbuds
Master And Dynamic's MW07s are the NYC company's first true wireless earbuds. Could they be the holy grail for hassle-free listening?
Regular readers will know that here at Ask.Audio we are fans of NYC-based headphone designers Master And Dynamic. You can check out our reviews of their MH07 over-ear wireless phones here: https://ask.audio/articles/review-master-dynamic-mw60

It also won't have escaped your attention that the world of personal audio is moving inexorably in a certain direction. Since Apple released its AirPods and dropped the headphone jack from iPhones (and now iPad Pros as well) it has been clear that wireless is going to be the way things are as time goes on. Slowly but surely, headphone jacks are going to disappear from mobile devices. Maybe even pro audio devices too, although I think that's still some years away.
True Wireless World?
The state of play in the "true wireless" earbud market (meaning no connecting wires at all) is somewhat variable at the moment. The problem with having no wires between the two earbuds has often been the reliability of the connection. Some reviews of wireless products note that it can drop, causing inconsistent performance. Apple solves this by using its W chip - but very few companies have the resources to start designing their own processors. Being something of a veteran of M&D's products however, I was pretty confident that the company would be on top of this, while maintaining its legendary audio fidelity.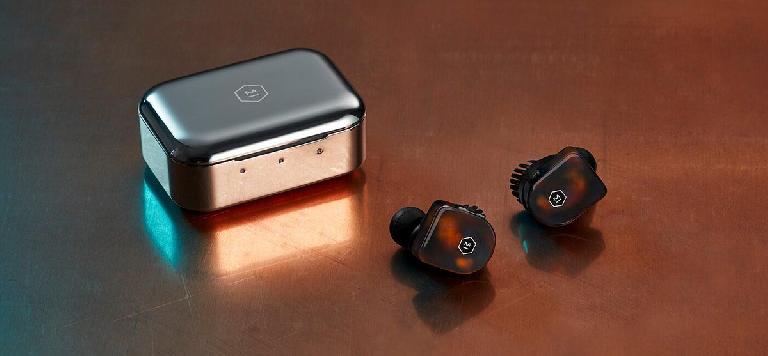 Hang On…
"Why not just get AirPods" is a fair question to ask someone as embedded in Apple's ecosystem as myself, and one that should be answered before we go much further. Quite simply, they don't sound great. They are technologically brilliant, but they are designed to be multi-functional devices rather than pure listening tools. They are designed to allow external sound in even while you wear them - this helps you remain more aware of your surroundings but it's a disaster for audiophiles. For a company so focused on music and design, Apple's own earphones have always sounded remarkably ordinary to me. AirPods, EarPods, Beats… they don't cut it in the fidelity department, at least for me.
Oh, 07.
And so to the MW07s. Available in a variety of finishes, they look gorgeous. I wasn't able to get hold of the acetate finish model though for me they're the best looking. The unboxing experience is first class, with a finish you'd expect at this price point. Inside the box are the earphones - small and light inside their beautiful stainless steel charging case - a USB-C charging cable with USB-A adaptor, a pouch for the case, two sets of fit-wings and a selection of different sized ear tips.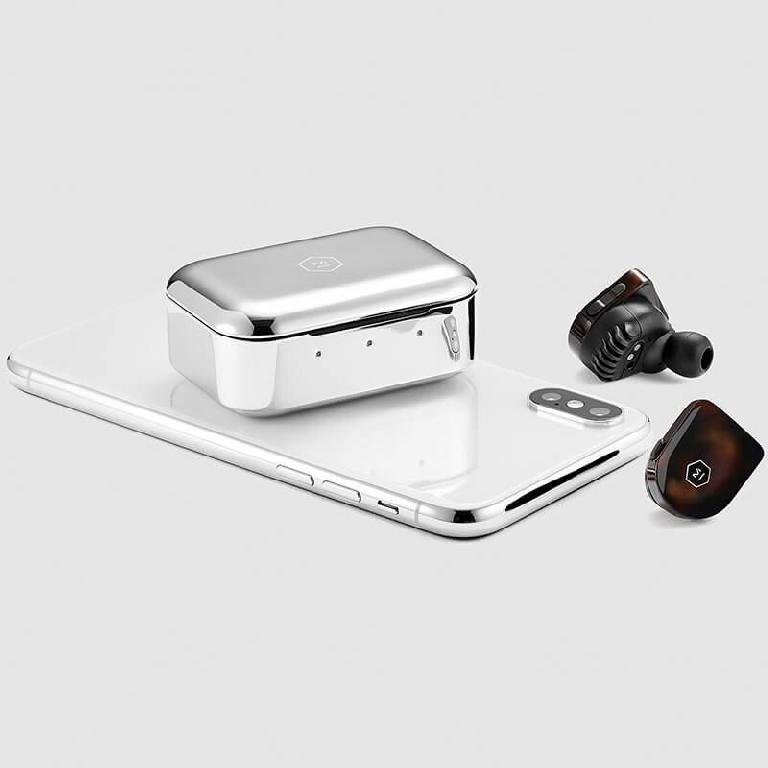 The buds arrive fully charged and as it happened the default wing / tip combo fitted my ears perfectly - though of course the other sizes will cover all eventualities. To pair, simply press and hold a button on the right bud to put them into pairing mode, and connect easily to any device. They can remember two at the same time, meaning they auto connect to, say, your Mac and iPhone, or iPad and Apple Watch, without needing un-pairing. Whichever device plays sound, they connect to.
Battery Life
They use Bluetooth 4.2 and the aptX codec and here's a clever thing - they are never really "off" unless you totally run out of charge, or unless you are wearing them but stop playback, whereupon they go to sleep after a short time to save battery. Placed into their case they are charging, with the case holding three full charges. Removed from the case they wake - put them into your ears and they come alive. Similarly take them out and they pause the sound - both thanks to tiny proximity sensors inside each bud.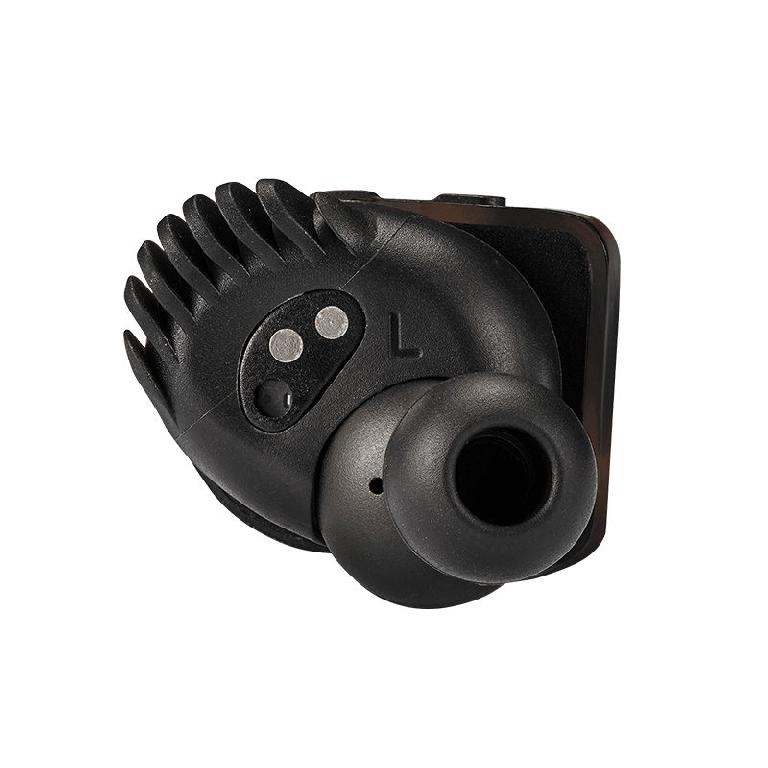 M&D quotes a charge time of 40% in 15 minutes and a full charge in 40 minutes for the case, and for the buds it's 1.5 Hours of play time after 45 minute charge, and a full charge after 1.5 hours. There's 3.5 hours of listening time on a full charge of the buds which feels more or less accurate to me - as a newbie to such compact wireless products I'm still getting used to the concept of battery drain - but for such tiny, unobtrusive devices the battery life is good.

There are on-body controls too - an omnidirectional mic, and volume up / down buttons. By long pressing / multi pressing these you can access more functions - track skip or backwards, invoke Siri and answering phone calls.
Yes, But What Do They Sound Like?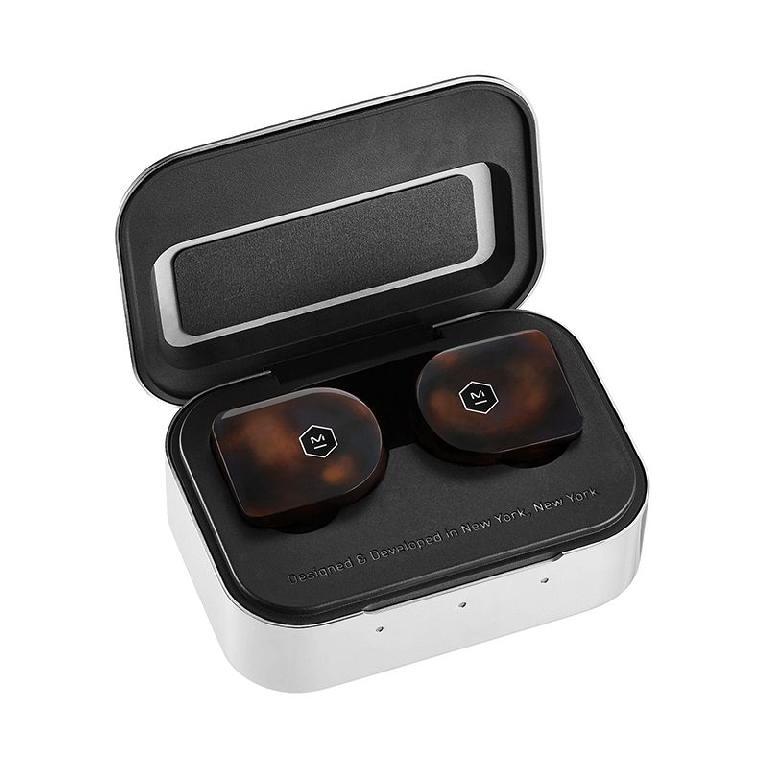 In a word - amazing. They use custom 10mm Beryllium drivers and draw on M&D's considerable experience of acoustics to provide a deep, rich and accurate soundstage. Like the other products of theirs I have used, they are neutral and accurate - no harsh mids and no over-heavy bass - while never feeling like you're missing out on anything. In terms of absolute volume, they won't go quite as loud as wired models - this is a feature of all wireless listening in my experience - but they're plenty loud enough, and actually this may be no bad thing as I have a tendency to listen a little too loud anyway. Another fact of life with Bluetooth audio is that it's not necessarily there yet for latency-free music production (though maybe not for ever https://ask.audio/articles/is-this-the-first-wireless-bluetooth-headphone-system-fast-enough-for-djs) but for regular music and video playback the sync is perfect.
Conclusion
Let's be honest, these are a premium product and priced as such. But they are gorgeous to use, to listen to, to look at. Getting rid of wires is incredibly liberating and within the scope of what's physically possible at this moment in time, M&D has come up with a solution that makes very few trade offs. They pair instantly, they know when they're being taken in and out of your ears, they charge in their case, they have shortcuts for various different functions, and it all works really well. I had no issues with connectivity or dropouts, in any of the many locations I have used them. Most crucially of all they sound just as good as I had hoped. The MW07s may be tiny, but they absolutely punch above their weight.
Price: 299 Eur / $299 / £279
Pros: Gorgeous, high-end design and finish. Excellent sonic performance. Connectivity is very solid. Banish wires from your life. Invoke Siri, take calls. Intelligent sensors. Good battery life.
Cons: At the higher end of the current price bracket for this sort of product.
Web: https://www.masterdynamic.com/products/mw07-true-wireless-earphones