Manifest Audio Toolkit 001 is a stacked pack of racks, goodies and utilities that all Ableton Live users should have. Inside this pack there are 26 racks fitting into the 3 main rack categories; MIDI Effect Racks, Audio Effect Racks and Instrument Effect Racks. Some of them are quite impressive and would be time intensive if one were to construct them themselves. Others are straightforward, but incredibly handy to have around.
As I said above, there are 26 racks in this toolkit. There is no way I can review each one in the space available so I'm going to share with you some of my favorites. You can look for a complete list of rack titles at the bottom of the article to get a better understanding of what else is inside.
Arpeggiator Per Key
When I got a chance to check these racks out I was immediately impressed. First, because of how complex some of the racks are and second the ingenious ideas of Noah Pred are brought to life for me to use in my own projects… Ideas I never would have thought of, that's for sure. For example, the Arpeggiator Per Key Rack. This rack has a chain for every note of the piano roll with a dedicated arpeggiator on it. That means each note can have its own unique arpeggio and this makes for some really interesting results.
Not only does each note have an arpeggiator, but it also has the Chord MIDI effect. My mind starts to hurt thinking of the sound possibilities you can generate with this one rack!

Fractal Arpeggiators
Sticking with MIDI Effects and Arpeggios for a second, I want to talk of my love for the Fractal Racks. These are awesome. Talk about getting interesting and unexpected results. In the picture below you can see how complex one of these racks is but the really cool thing is that you only really need the 8 main macro knobs to get you where you never knew you wanted to go. This is like arps stacked on arps with twigs and branches breaking off in to fractal patterns.
Some of the results remind me of Jazz.

Stereo Glitch Modulator
This works like a charm. Seriously. I loved just dropping it on random things to see what happened. It opens up and adds character to percussion loops. It adds flare to the drop of a trap tune when used sparingly. It glitches out vocals. And that's all with just the repeat knobs. Once you throw the ring mods and phasers into the mix, I suspect this would be a great rack for Live DJ performances as well.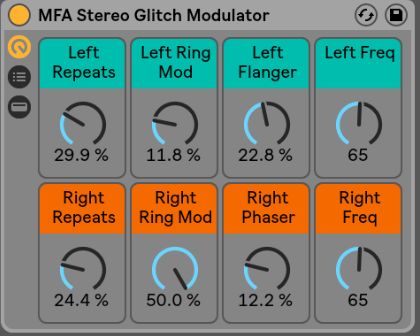 Analog Path & Channel Strip 2018
These are two great racks for getting great sounding mixes and masters. While I can't show you the device chains, I can tell you they sound great.

Utility Audio Effect Racks Galore!
Most of the Audio Effect racks aren't flashy and I think that's OK. After all, it is called a toolkit and utility apparatuses are the best kind of tools.
This pack come stacked with racks that you will find yourself using over and over again. The EQs, the signal splitters, and the Amps. They are all things most producers go for repeatedly. Having them all ready to go and put together by a Certified Trainer is a no brainer.
The other things I like about these racks is that they are mostly controlled by the 8 main macro knobs and don't require anyone to go digging into the device chains for anything. That is great for producers that are just beginning their musical journey and for lazy producers like me. If I don't need to open the rack, I won't and I like it that way!!
Octave Splitters
These are also utility style racks meant to save time. They are set up and ready to go if you are looking for split keyboard action and have different instruments for different key zones. These 2 racks, the 5 octave and the 10 octave splitters, allow you to have 5 or 10 different instruments assigned to your keyboard at the same time. While the 10 Octave Splitter allows for more instruments, the 5 Octave Splitter allows for more keys dedicated to the 5 instruments. If you are into live performance, you will find these very useful.
Conclusion
Having this toolkit in your user library is a good idea. Whether you are looking for creative racks or utilities there are more than a few useful tools in this toolbox. Noah Pred is a certified trainer and his racks are some of the best you will find. He's made them simple to use and powerful, which isn't always an easy task. As this is called "Toolkit 001", I look forward to the next edition.
Included Racks
MIDI Effect Racks
Arpeggiator Per Key
Chord Selector
Drum Thickener
Fractal Arpeggiator Mono
Fractal Arpeggiator Poly
Fractal Arpeggiator Trunk
Key Separator
Note Transformer
Octave Separator
Octave Transposer
Percussion Tool
Scale Selector
Velocity Humanizer
Audio Effect Racks
Amp Stack Mono
Amp Stack Stereo
Analog Path
Channel Strip 2018
Dual Path Bass Tool
EQ Strip Modern
EQ Strip Vintage
Mid-Side Divider
Stereo Divider
Stereo Enhancer
Stereo Glitch Modulator
Instrument Racks
5 Octave Splitter
10 Octave Splitter