d16 is a Polish developer that has been making virtual instruments for a number of years and its latest offering is LuSH-101, a polyphonic subtractive synthesizer with a heavy emphasis on electronic music. It has eight layers and each one is actually a dedicated, independent synthesizer with its own settings and polyphony. The instrument can receive MIDI input on a single channel, or you can send different channels to separate layers, as well as setting them to respond to different keyboard zones, making it truly multitimbral. It runs on Windows as well as on Mac (OS X 10.6 or higher) and needs an Intel CPU running at 2.8 GHz or more and an AU or VST host running in either 32 or 64-bit mode. There is presently no standalone version.
If the CPU requirements seem high, d16 explains that it really depends on how you use it. With so many layers available and also quality switchable from normal to high, performance could vary greatly between patches. As an example, I was running it on a 2.66 GHz i7-based 2010 MacBook Pro and it seemed not to tax the CPU especially hard even when running eight-layer patches with lots of effects loaded. If you started to make each layer use lots of voices, things may change.
Each layer is independent and to access them you use the Layer Select section at the top. Layers can be selected, locked, soloed and muted from here so it acts like a quick on/off chooser. Each layer has extensive controls and the look of the synth is reminiscent of old hardware synths and beatboxes. On a higher resolution screen, it can be quite hard to see all the text and icons since everything is quite small. D16 states that a scalable interface is due to be introduced in an update, and this would indeed be welcome.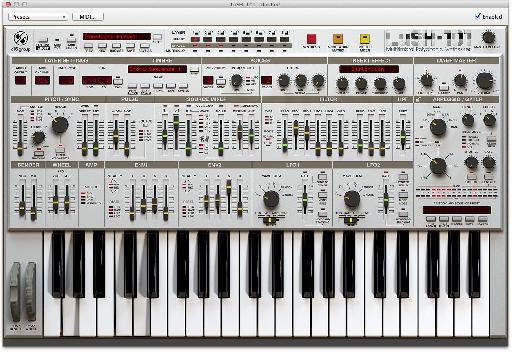 Up to eight layers are available, each independent and fully customizable with effects.
For each layer, you can choose a Timbre from the available list and manually alter pitch tracking, velocity dynamics curve and polyphony mode. Sounds can be forced to be mono or polyphonic, and you get to set the number of available voices as well as portamento, unison mode and choose from a list of insert effects per-layer. Powerful controls are provided for tweaking pitch, pulse, filters, amp, envelopes and LFOs, and there's a great arpeggiator / gater available with presets available as well as precise controls.
To blend the eight layers together, you get a mixer section, and each channel strip has its own parametric EQ and compressor, plus three master send effects and up to 11 freely assignable stereo output busses per instance of the synth, so you can send layers out separately to be processed by third-party effects as well. In addition to this, a powerful modulation matrix for each layer makes it easy to send mod sources to all sorts of destinations. There's MIDI Learn of course, and automation support for your DAW.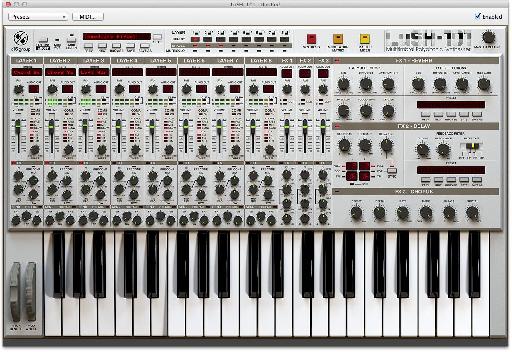 Mix the layers together with the onboard mixer including send FX, compression and EQ per-channel.
What LuSH-101 possibly lacks in graphical sophistication, it does make up for with sound quality. There are fat basses, multi-layered leads and some excellent tempo-based patches among the 1600 included. Tailoring sounds is simple, thanks to the layer system and building your own isn't too arduous either. I'm willing to bet though that you'll spend quite a while going through the presets and having fun: there is a lot here for anyone producing electronic music. Stylistically, it's very dance oriented but you could see a sound designer getting a lot out of the synth too. Unusually, d16 makes its roadmap for updates clear on its website so we can see that new features are coming, and there's a downloadable demo that you can try out. You won't be sorry that you did.