With Logic Pro X 10.3, Apple continues to make Logic Pro X easier for newbies and GarageBand upgraders while adding features and enhancements requested by professional composers, musicians, performers, and producers.
So, let's take a look at what's new...
Watch our FREE video course on all the main features in Logic Pro X 10.3 in the AskAudio Academy here.
(macProVideo or AskVideo member? Watch it here instead).
Updated Interface
The Logic Pro X interface was undeniably dark and users complained that it did not necessarily translate well going from a desktop to a laptop. The new theme is lighter and looks absolutely great! In keeping with iOS design, notice that the icons are flatter and more modern, and the fonts are greatly improved. I much prefer it to the previous versions.
Also in addition to the Vertical Auto Zoom there is now a Horizontal Auto Zoom that dynamically adjusts as you open and close the Mixer, Loop Browser, Library and other sections, to keep everything in view.
Logic Pro 9 users who have complained about having fewer color choices in Logic X will be happy to see there are now 24 color choices in the Color Palette. Actually this isn't strictly true: there are more shades of the existing colors.
Here is one of my favorite new features: as you adjust the left or right corner of an audio region, you still see the entire audio region. This also works in the Audio Track Editor and on MIDI regions.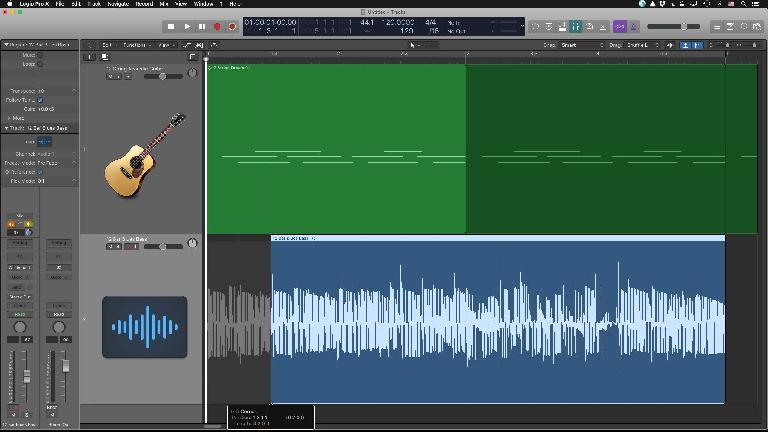 True Stereo Panning On Stereo Tracks
It is no longer necessary to open the Direction Mixer plugin to have true panning and widening/narrowing of a stereo track. The pan knob is not just a Balance knob any more, like on a home stereo.
Stereo Widening
Apply Fades Across Multiple Regions on Multiple Tracks With The Fade Tool
In previous versions you could not do this with the Fade Tool, only in the Region Parameter Box in the Inspector. Now you can.
Selection Based Processing
It is now possible to render regions or sections of regions with specific plugin choices. In this example I have chosen two sets of plugins, A & B, that I can pre-listen to on the Marquee Tool Selection. If I simply hit Apply it is rendered. I can then make a different Marquee selection and change to the B set or change/add choices in either set. Terrific!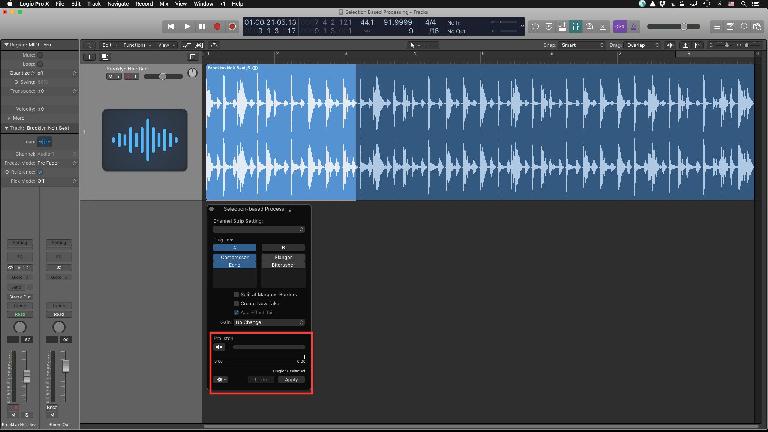 Under The Hood and Additional Features
They have added 192 busses for a total of 256!
We now have a preference to use a 64-bit summing engine instead of the 32-bit in previous versions, although the latter is still an option. Can you hear the difference? I don't know but it couldn't hurt!
Here is what I am less excited about but others may be:
Support for the Touch Bar on new MacBook Pros.
View your entire project at a glance and navigate with touch in the timeline overview.
Adjust Smart Controls on the selected track to fine tune the sound of instruments and effects.
Play and record software instruments using a musical keyboard with piano keys or scale mode.
Trigger drum pads to create beats while controlling velocity and note repeat.
Access your favorite shortcuts using a set of customizable key commands
Track Alternatives
This feature is somewhat similar to a Pro Tools Playlist. You can record several alternatives and then audition them by pressing the power button on each. It works with both MIDI and Audio.
You then have the options to rename them, duplicate them, hide or delete the inactive ones.
MIDI Plugins Can Control Plugin Parameters
This is not a biggie for me, but for EDM folks it may be. With the Modulator plugin, you can control parameters in other plugins by learning the plugin parameters. You can for instance set the LFO section of the Modulator plugin to control the FM intensity of the EFM and teach the Envelope section to control the Flanger's Mix.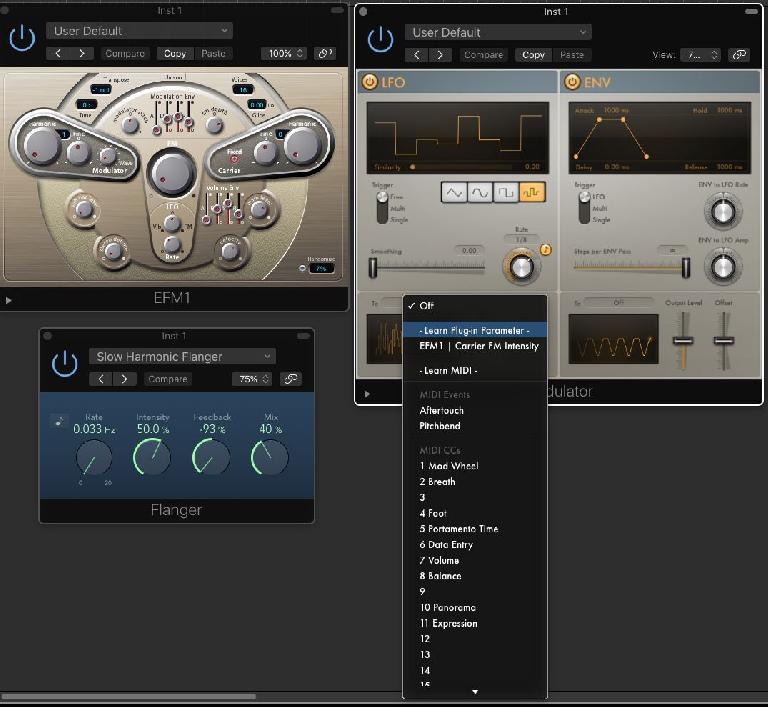 Software Instruments Can Now Trigger Sidechaining
You now can trigger sidechaining of a plugin with a software instrument as well as audio, something many mixers have wanted for a long time.
You can now remotely add tracks to your Logic project from GarageBand on your iPad or iPhone via iCloud. You can also now import Music XML files.
However, there are still some features I'm waiting/hoping for which aren't available in Logic X 10.3...
The ability to reorder channel strips in the mixer differently from the Track List and then lock it.
An Expression Maps feature. There are really good third party solutions, but if Cubase has it built in, why can't Logic Pro X?
A new EXS24 2, with the scripting abilities that will make third party developers excited to develop libraries for it again.
Latin, Jazz, and other genres for Drummer. A drum kit with brush sweeps and hits.
Multiple MIDI Continuous Controllers visible in the Piano Roll.
Complete MIDI CC integration into Logic's host based Region automation. It seems odd that I have to go into record to add expression and modulation for example but that I don't have to do so for volume, panning, or plugin parameters.
Improvements/enhancements to the Score Editor. It does some things really well, others not so much.
Watch our FREE video course covering all the main features in Logic Pro X 10.3 in the AskAudio Academy here.
(macProVideo or AskVideo member? Watch it here instead).