LK is the successor to LIVKONTROL, from Portuguese developers Imaginando. Running on iPad and Android tablets, it's free to download from their respective app stores and offers in-app purchases to unlock the full functionality of its four sections: $9.99 for the Matrix and £4.99 each for the other three. It works wirelessly or over a wired connection via a hardware interface like IK Multimedia's iRig MIDI 2. I was able to test it with the iRig as well as a wireless network and both solutions worked flawlessly.
LK's big selling point is that it works both as an Ableton Live controller and as a generic MIDI controller, with only the Matrix section being specific to Live : the other three also work with any MIDI hardware or software. The Matrix is a Live control surface and once you have downloaded the small bridge app for Mac or Windows, it's simple to connect the app to Live and get started. In Matrix view you can control a Live set, launching clips and mixing, recording and even crossfading. Devices can be browsed in a clever, multi-stacked view at the base of the window and this works for Live's own devices and third-party plug-ins as well. It feels slick and makes remote controlling Live sets a breeze, and you can control a fair few other things too like metronome, trigger quantization and so on. There's even an inline MIDI editor for programming or editing MIDI clips.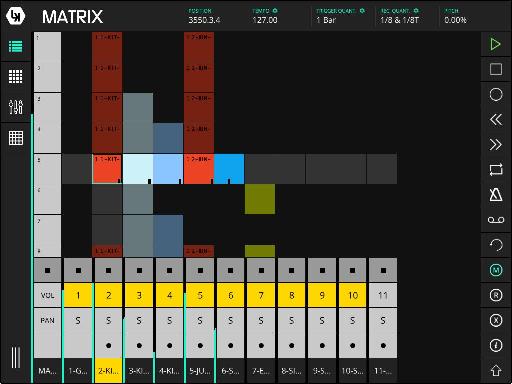 Control Live sets in detail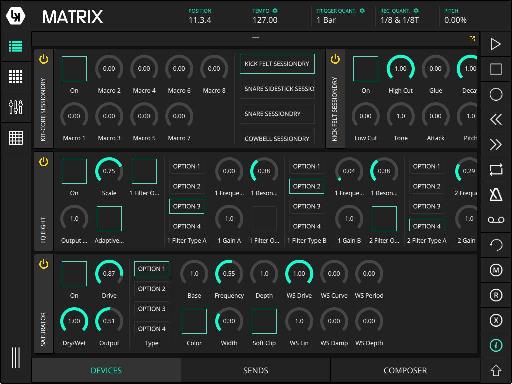 Control devices remotely
The MIDI Pad section can again trigger Live or other MIDI gear and has an arpeggiator with tempo sync, a chorder with 25 pre-programmed chords, octave select and even shows drum pad names in Live mode. Hooked up to a hardware synth or other instrument it can be used as a trigger very easily. The MIDI Controller section has eight columns of controls across four banks, each with a knob, button, fader and panner and can be made to send MIDI to any channel. Last but not least the XY Pad section has X,Y and Z axes, four banks of controls and an LFO with four waves as well as an ASR envelope generator on the Z axis. One nice feature here is that you can make it MIDI learn parameters in Live, quickly linking the pad to instrument or effect controls with just a couple of clicks. At present there's no way to save your own MIDI maps, but I'd hope to see that come in a future update.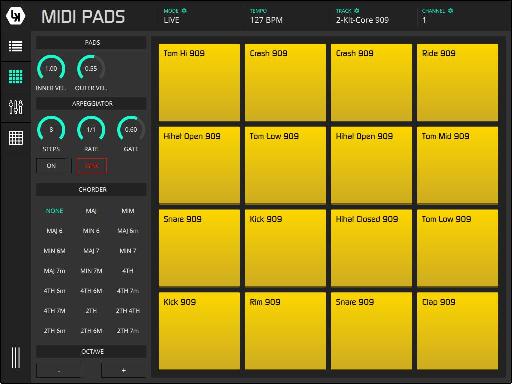 Use MIDI pads in Live or generic MIDI modes
Whether you're performing with Live or simply want a way to mix, record arm, navigate and tweak devices from across your studio without having to keep getting up from your seat, LK is an excellent solution for achieving both. The third-party MIDI support is good too, opening up MIDI hardware to the arpeggiator, chorder and XY pads for more creative control. The ability to buy only the sections you need means that if you just want one or two modules you don't have to pay for the lot. All in all, a well-rounded and nicely designed Live and MIDI controller app for iOS and Android tablets.
Price: Free, with in-app purchases.

Pros: Matrix section provides great Live control, Works wirelessly or over a wired connection. Slick design. Easy to learn and use. Live and generic MIDI modes.


Cons: You can't save your own MIDI maps yet.


Web: iTunes App Store, Google Play.