What the iPad has done is remarkable, let alone what it is doing for music production by improving the workflow of our daily tricks and traits. Wireless OSC and MIDI controllers are popping up left right and center. Ableton is the DAW of choice of many of these applications. iOS apps are being developed that allow one to free themselves from their Mac and get interactive with these iOS devices.
LIVKONTROL is a great application we at macProVideo have stumbled upon. The developer claims on their website that this is 'the most affordable and effective Ableton Live remote controller ever'. And he's not far off the mark! The application is very easy to set up and works seamlessly with Ableton.
Where to Get It
You can purchase LIVKONTROL from iTunes.
You will also need to get LKBRIDGE for the iOS app to communicate with Live. This can be downloaded from the LIVKONTROL website .You will need to run this application everytime you wish to use LIVKONTROL.
If you get stuck, you can watch the demo videos explaining the setup process at the LIVKONTROL website.
There are some scripts as well that you need to copy to your Ableton MIDI Remote Scripts folder so that Ableton recognizes the LIVKONTROL as a Remote MIDI device.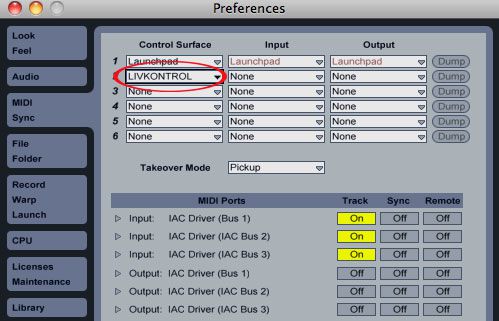 On the LINKONTROL site there is the LKBRIDGE.dmg installer. This DMG folder explains the whole installation process.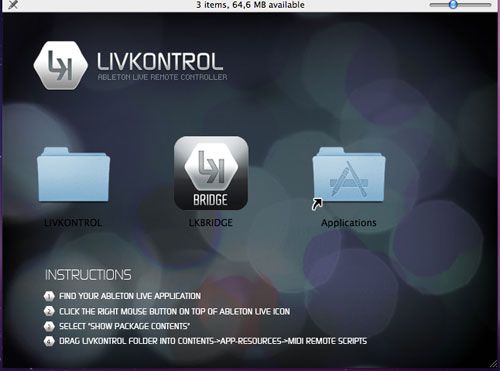 Once you have completed this, LIVKONTROL will communicate easily with Ableton. No need to setup any OSC or Wireless settings. This is all controlled via the LKBRIDGE app and the LKBRIDGE scripts within Ableton.
The Initialization Process
The easiest is to place the LKBRIDGE in your Dock. I have mine placed right next to my Ableton icon in the dock. This way I can easily launch the LKBRIDGE, and then Ableton straight after.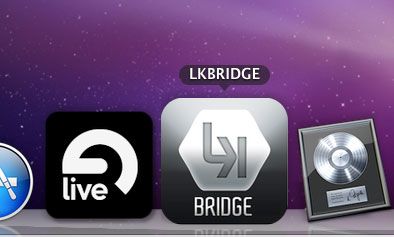 If there are any issues with communication, the LKBRIDGE app will let you know. It will either not recognize the Mac on the wireless network, or it will let you know that it cannot communicate with Live, due to Live not being launched.
LIVKONTROL in Action
LIVKONTROL really works great. I have a Novation Launchpad and after using the app on the iPad I find that I rarely need to jump for the Launchpad as LIVKONTROL can do all the same things and more. Plus no need for extra USB cables plugged in.
What I found was really nice was that each clip on the LIVKONTROL had a horizontal line which moved across the clip vertically representing the playhead of each clip. So if some of the clips were longer than other clips you can clearly see how far the playhead is on each clip.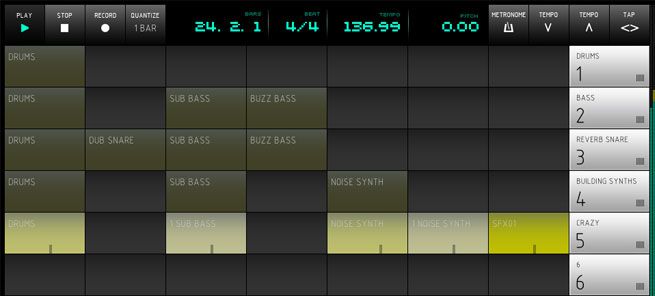 As well as allowing you to launch the different scenes that are setup in the Ableton project, there are Volume and Pan parameters that can be tweaked very smoothly and efficiently.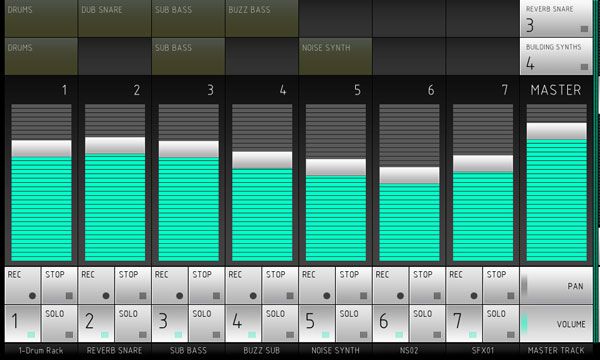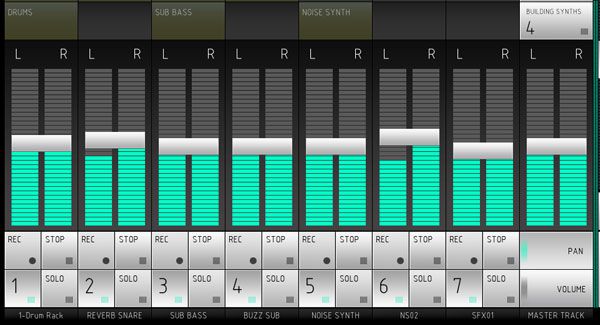 Under the Mixer Channel Strips are also Solo, Mute, and Record Enable, and Clip Stop buttons.
I also enjoyed the look of the User Interface. The colors used were not too distracting or bright. I can see that after prolonged use, my eyes will not be strained from the interface.
Conclusion
I give two big thumbs up for the easy-to-use iOS app. It makes an excellent partner to Ableton for live performance use.
What would be nice to see in a future release is a way to be able to control plugin parameters as well. Then I won't need to look at getting an APC40.