Review: Livid Instruments Minim - High Performance Bluetooth MIDI Controller
Our Livid Instruments Minim arrived... and GW Childs eagerly put this pocket-sized Bluetooth MIDI controller with expressive pads, 3D motion control & touch-sensitive tech through its paces and some.
Exciting times are upon us, as the highly anticipated result of a successful Kickstarter campaign from Livid Instruments finally shows up in the mailbox. Minim, in case you didn't participate, is a highly programmable, highly durable, little, Bluetooth MIDI controller, from the company who brought you Guitar Wing. In this review, I'm going to take a look at Minim, and give you the lowdown!
Lights on the Go
I really wasn't sure what to expect when I read the announcements about Livid's Minim. After all, small, Bluetooth controllers tend to wind up collecting dust with all of the other adapters we just 'have' to pick up, in order to facilitate our lifestyles and everyday needs. However, very few true, pro-level companies have entered into this game, outside of behemoth companies like Yamaha, M-Audio and Presonus. And, like all of the Livid designs, Minim feels like a tank... Even though it barely weighs anything.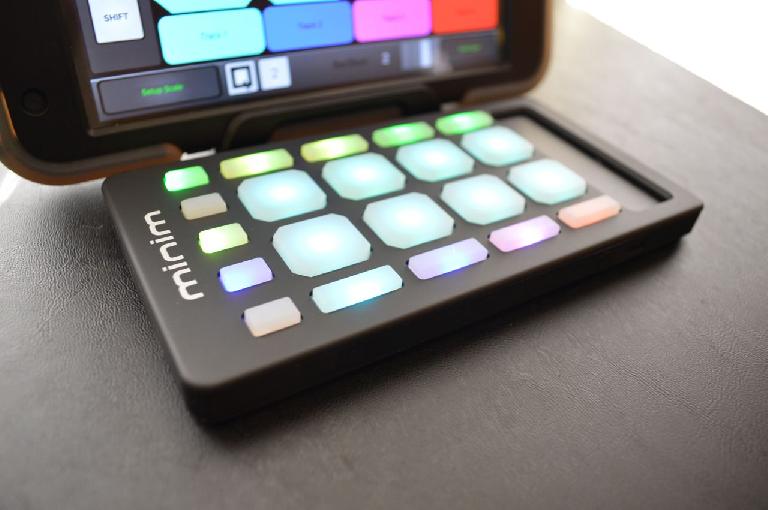 Minim is an engineering masterpiece. And the software and support are there to support a really brilliant device.
The buttons, the ribbon controller and even the chassis have that same rubberized soft-touch surface goodness that we're used to from the Austin-bases MIDI masters. And the bling factor that live performers from all over the world have come to expect from Livid does not fall short, either. Multicolored LEDs blink with the same consistency and brightness that all of the other devices have... Maybe just a little smaller in number.
When powered down, and in transit, you'll never have to worry. The buttons are all recessed, and firmly attached. It would take some serious work to mess things up. The power button is also nicely hidden on the side. And, the way that it's mounted, it would be hard for the unit to turn on, without someone intentionally doing it. So, you never have to worry about accidentally turning Minim on, on the go, and then wondering why you have no batteries.
How Does It Feel
After installing the really, really cool Minim App from the App Store, for my iPad, I follow the included instructions and use the Bluetooth button, within the app, to facilitate wireless connection between the devices, so that I can make some music. Like most Bluetooth devices, you have to enter a code in order for your phone to connect. As Minim has no readout, of any sort, I had to run over to the, very informative manual (as usual), in wiki form. After I got the generic code, Minim sprang to life with no problem. And, the app is such a cool, little sequencer, with built-in drums and synth, I actually found myself jamming right out of the gate. And that doesn't happen for me very often.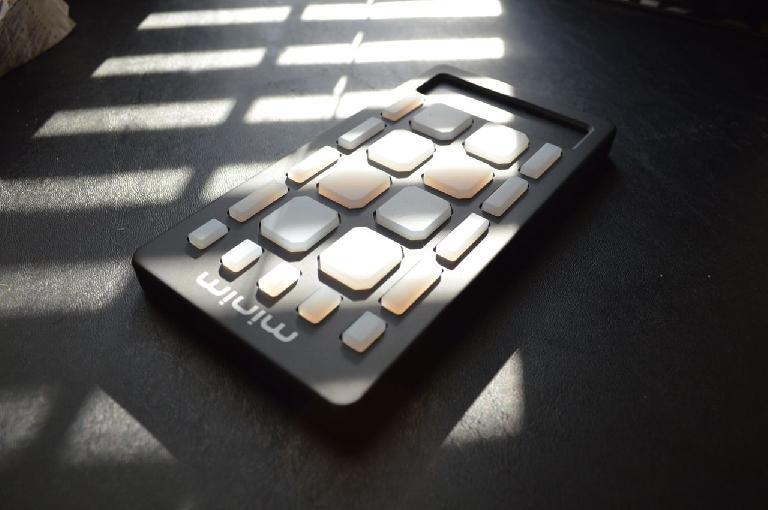 You actually get a four-track sequencer with multiple patches and drum kits. And, there are two patterns available, A and B, so that you can switch back and forth, build up, and destroy, over and over again. It's cool enough that I would seriously consider using it live, with just Minim and my iPad.
I will say that you do seem to have to hit Minim a little harder than I expected for the higher velocities. And, because it's so small, you really want to make sure you're on a sturdy table, or something, when you're jamming out. Though, don't let this warning scare you too much. The rubber, powder coating really keeps Minim from moving all over the place, and even when you're really tapping the hell out of it, the pads hold up very, very nicely and give a good sense of contact. Once you get used to the feel of Minim, you kind of forget about this. Maybe your fingers get stronger?
The ribbon controller is something you'll find yourself using a lot. For one thing, it's extremely responsive, as you would expect. But, where it's placed is very similar to where you'd place a joystick on a video game controller. So, it's a very tactile and fluid experience. And, because you can switch between different screens, the Ribbon controller can be mapped to multiple assignments. For example: Within the Minim App, you can toggle over to the Mix page, by holding down the bottom left-hand button, as a shift, and then moving the Ribbon controller to modify your current track's level. Wherein, if the 'shift' button, in the lower, left-hand corner is not pressed, this acts as a modifier for patches within the Minim app. Very, very cool.
The built-in accelerometer is no joke. Holding down the side buttons will cause Minim to become an even more expressive controller.
Though, there's still more cool. The built-in accelerometer is no joke. Holding down the side buttons will cause Minim to become an even more expressive controller, as you filter the main out, as you physically rotate Minim, while you dance around. Motion of this sort, when you consider that Minim has a 6-hour battery life, really solidifies Minim as a very nice candidate for live performance.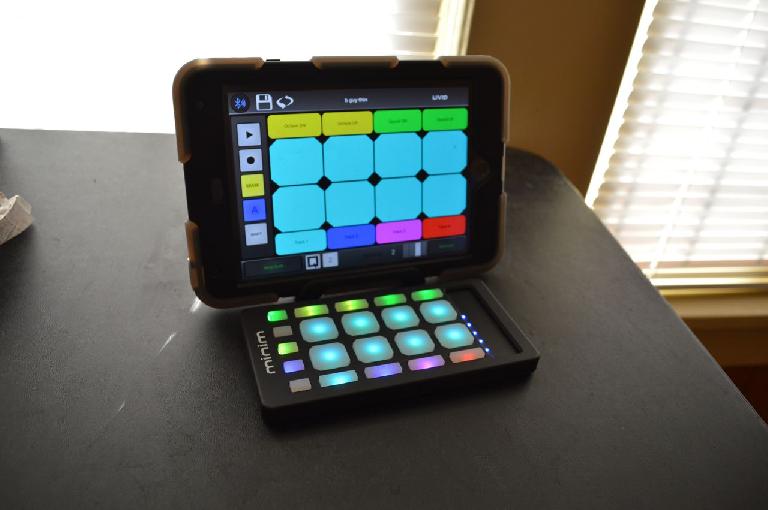 Minim also does work quite nicely with other iOS apps, but it's not quite as full featured when the Minim app isn't running in the background. For example:
Computer
I ran into one minor snag. Minim does require a Bluetooth LE connection in order for it to successfully communicate with a laptop. Sadly, MacBooks before 2011 will not work with Minim. And you may not use Minim's USB connection for MIDI usage, or even data programming. It's only for power. So, if you're still rocking the old school laptop you might want to double-check your specs.
Livid Instruments does provide a very sleek and very powerful editor for Minim that includes the ability to create and save mapping presets. This is also how you update Minim. So, make sure you at least give it a look. Hopefully, for those of us who are using Minim with an iOS device, exclusively, Livid will provide a way to update Minim through the iOS platform, in the future.
For those of you who are using Ableton Live, you'll be highly pleased to know that an extremely comprehensive, multi-page remote script is available with instrument mode and session modes. Each mode, or page of mappings has shift modes, as well. That stacks up to a lot of mappings. And that adds a sweet accelerometer to your laptop jams, as well.
Minim is one of the most thought out mobile music devices I've seen.
Conclusion
I really love Minim. It's one of the most thought out mobile music devices I've seen. And it in no way holds back on the LED bling, and solid builds that Livid are known for. Sure, I'd love to be able to use it as a USB controller, as well, just in case the batteries are low, before the show. And I wish it wasn't just Bluetooth LE. But these are really pretty minor. This is an engineering masterpiece, and the software and support are there in a highly professional manner to support a really brilliant device.
Price: $129
Pros: A polished, high performance controller for the iOS that brings immediate professional response, touch and stability to the table. Very expressive, award worthy. Great gift for multiple ages.
Cons: Bluetooth LE only. No USB connection.