Livid Instruments, over the last several years, have graced us with some rugged, affordable and extremely game-changing devices that have all lived up to the hype, at prices that are more than affordable. During this time, we've begun to see the small company from Austin branch into guitars, light sensors, and even arcade buttons. Now, they are entering into the bedroom studios with a device that pro and student alike will really enjoy.
Meet the DS-1
The DS-1 is the first dedicated mixing desk that has come out of Livid, thus far. Like a mixer, there are 9 dedicated faders (60 mm). And, before you scoff, thinking that an affordable mixing desk will probably have some "janky" faders (editor's note: we think G.W. means wonky...). Believe me, there is no jank here. Movements are glides that other controller manufacturers have failed to give us in the past. You will not find a hint of crackle, or resistance with these faders. Nor will you have to worry much about what will happen to the faders during transportation to a show…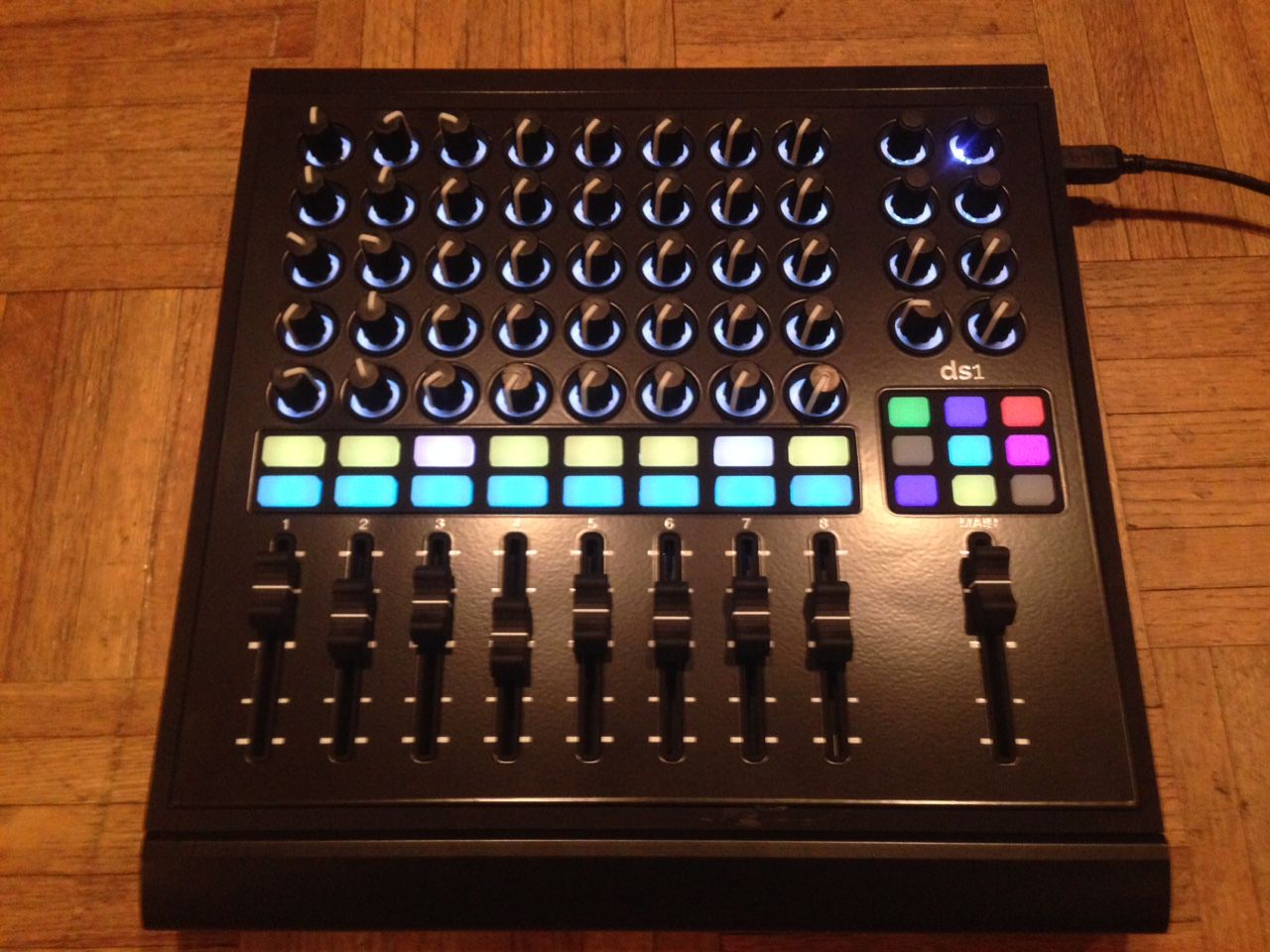 The enclosure of the DS-1 is the usual aluminum, hard, plastic that, I can tell you from experience, travels well. So, if you're gigging a lot, or even DJing, you'll enjoy the DS-1, not only for the ease in which it is setup, but also for its durability.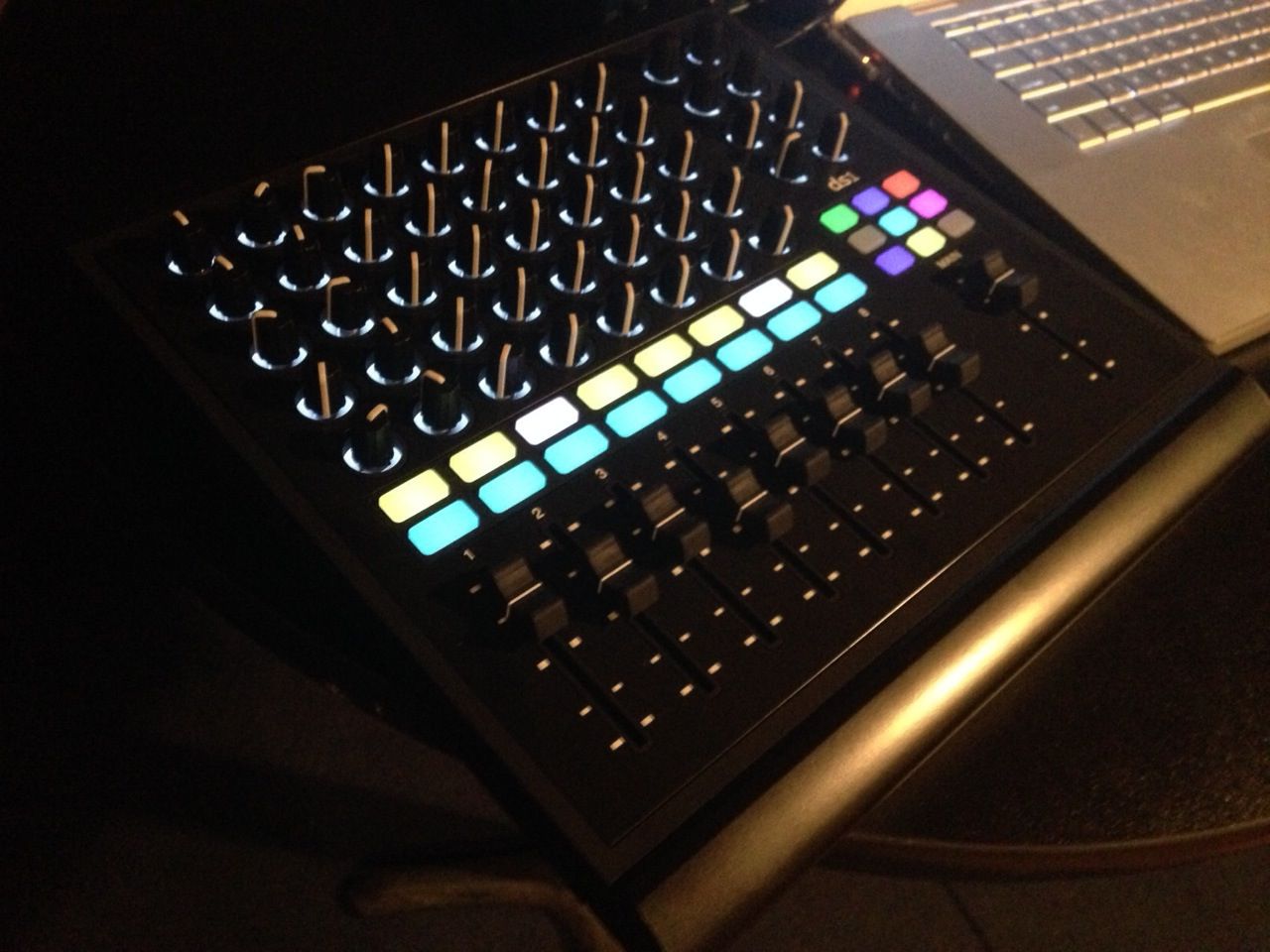 I began my journey with the DS-1 in Ableton Live. Like most Livid devices, setup took a second and consisted only of plugging in the USB cable and selecting the right Remote Script. Upon selection, button colors changed, giving me the impression of life and usability. As expected, the default mappings are excellent, while at the same time giving you plenty of room to fill in the gaps with knobs unassigned. I really like how they made session cueing easy, even though the familiar grid that Push, and so many other controllers that support Ableton have is missing. A small grid, right above the Main fader handles not only dedicated buttons for scrolling through scenes, as well as transport controls. There's even a blinking button for Automation Arm!
What About the Knobs?
You already know what I'm going to say, the knobs feel great. Like the faders, they are smooth and feel solid. Though, I should mention that the knobs on the DS-1 do carry a little more bling than pots on devices like Code, or the Alias 8, from Livid. With the DS-1, knobs are backlit within the enclosure. This means that you can easily see all the knobs, even in the dark. Though, if it's really dark, I'd suggest using an AC adapter (not included), which will add some brightness to the LEDs, increasing your bling and keeping you from being blind on stage.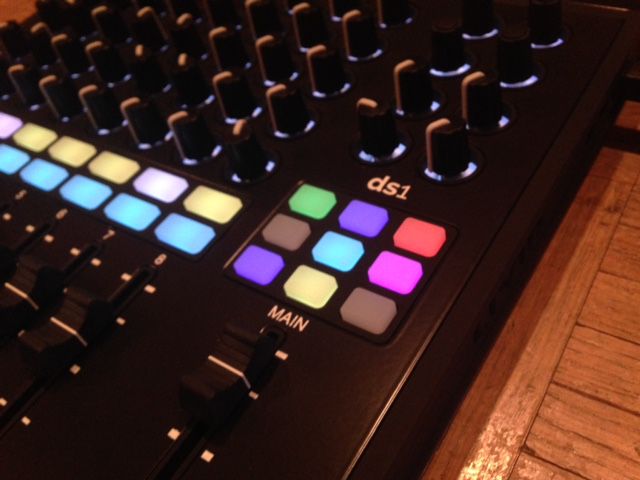 In addition to the option of an AC adapter, you'll also be happy to know that you can use an expression pedal! This is an added bonus, especially if you're engineering for yourself. Just map the pedal to record, and go! You don't even have to pull our hands off the guitar.
Conclusion
The DS-1 is controller that is simple and easy to set up, and is compatible, and has maps for not just DAWs like Ableton and Logic, but also DJ platforms like Traktor, and so on. And, the fact that it is so intuitive in its design, while being so solid, makes me place a very high recommendation on this device. Granted, I would love to have seen motorized faders. But, this would definitely take the price point up, from what is currently affordable for both pro and beginner. Regardless, Livid has again given us a controller that will long be seen within the lineups of many a great DJ, engineer, musician and bedroom musician.
Pros: A solid, portable, mixing console that has enough pots and buttons to hold its own as a DJ and musical device.
Cons: No motorized faders.
Cost: $449 USD