The CNTRL:R is a portable, powerful controller for performing and producing electronic music. Designed by the legendary Richie Hawtin, Livid Instruments and the m_nus records team, it was created to be small enough to fit into a backpack, yet powerful enough for extensive hands-on control. A flexible controller, the CNTRL:R is completely programmable, and can be adapted for any software that supports MIDI. It's been built with all the familiar controls of a standard MIDI controller, but features a unique 16 x 2 array of buttons that can be used to sequence patterns. It features expansion jacks for analog controls, and its adaptable design makes it ideal for pairing with analog synthesizers, video mixers, DJ software, Max for Live patches, lighting, video software and musical instruments.
Construction and Controls
Enclosed within sturdy aluminum, the CNTRL:R uses high-quality components for its faders, knobs and pads. Each controller is carefully handcrafted, and will certainly appeal to musicians who appreciate quality instruments. In its center, you'll find a 4 x 4 keypad capable of launching clips, playing drums and control functions. The CNTRL:R has a beautiful, minimalist layout which makes it both an eye-catching, and highly functional performance device.
What really sets this controller apart from other MIDI controllers is the 16 x 2 button array, which can be used to create sequences, launch cue points, or triggers. Best of all, it can be utilized with two specially designed Max for Live devices that seamlessly integrate into Ableton Live.
Lights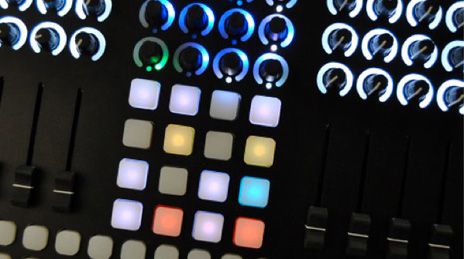 One of the great features about this controller is the array of colorful LEDs. The multicolor LEDs and buttons have 2-way communication that allow them to talk to the software to control the LEDs. The panel of bright backlights ensures that you'll be able to use the controller in dimly lit environments, and will help to ensure that you engage the right buttons.
Going Live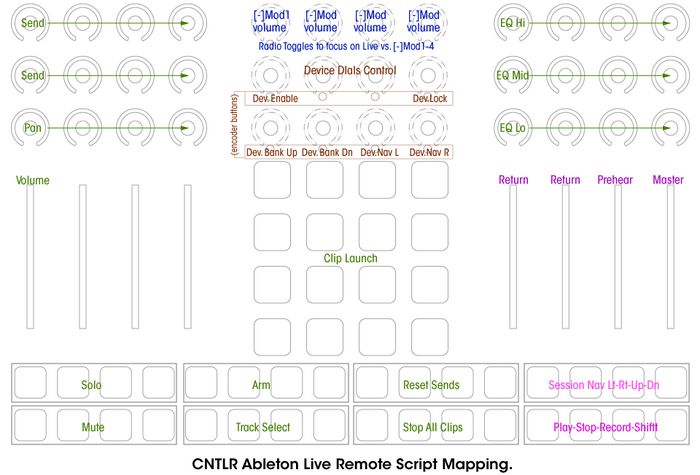 There is an Ableton Live Remote Script available on the Livid Instruments website that provides automatically mapped control over your Live set. It's easy to import the script into Live, and use it to control your performance. The script centers around a 4 x 4 grid, and offers the ability to control the volume of your tracks using the left sliders. The top left panel of knobs is used for sends and pans on the selected tracks, and the right hand panel of knobs controls your track's EQs. (You will need to have an EQ3 or EQ8 enabled on your tracks in order to use this feature). The sliders on the right control the returns and master volume, while the bottom 16 x 2 grid of buttons provides control over functions such as solo, mute, arm, track select, session navigation and transport controls.
This Ableton Live script provides total control over your session and has an intuitive layout that you'll quickly master.
Traktor
The CNTRL:R is a good option for DJs who are looking for a unique way to perform their sets. Livid has two CNTRL:R mappings for Traktor available on their site, Traktor 4x4, and Traktor Map. Both of these mappings offer full control of Traktor functionality, including decks, effects, filters and loops. The CNTRL:R would certainly be an elegant addition to a DJ setup, and it's portable enough to travel with you to gigs.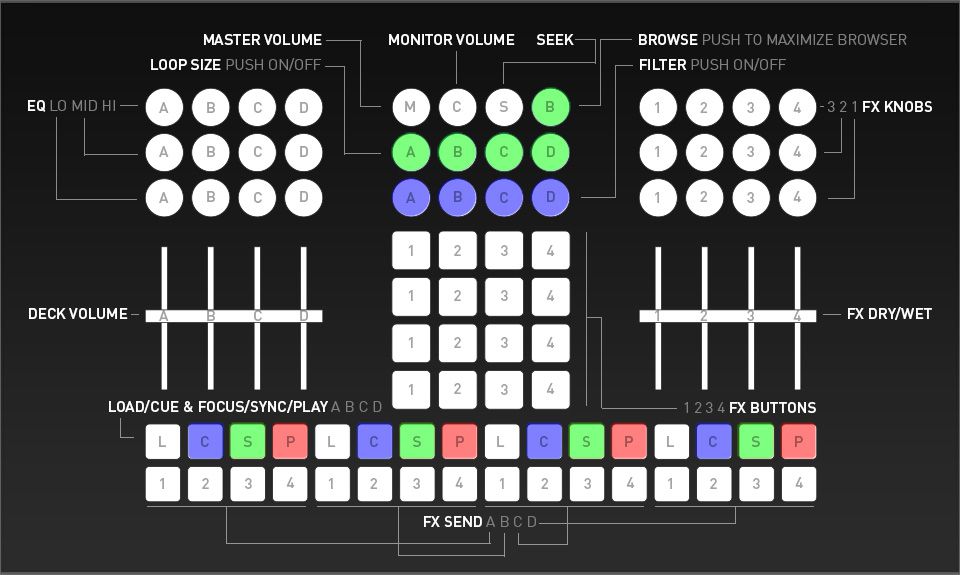 Modules
The CNTRL:R has a unique layout designed for Max for Live devices that interface with Ableton Live. In order to use these modules, you'll need to have the CNTRL:R Ableton Live Script installed, and a copy of Max 5. You can use up to four modules at one time, and 'swap' between using the modules and controlling your live set by pressing one of the rotary knobs at the top of the controller. The current available devices are Drum Stepp:r and Synth Stepp:r, two creative sequencers that allow you to make use of the specialized 16 x 2 button layout.
Drum Stepp:r

Drum Stepp:r is a fully interactive step sequencer designed for sequencing drums in a Live Drum Rack, co-designed by Richie Hawtin and the m_nus crew. This device is a lot of fun to use, and offers many creative options for constructing and manipulating beats and samples. You'll need to set up a Drum Rack alongside Drum Stepp:r, and fill it with samples.
Once you're set up, the CNTRL:R's 4 x 4 button grid represents a sound in the Drum Rack and a sixteen step sequence for the sound. When you press a button in the grid, the sound's sequence is displayed on the controller's bottom row of buttons, and mirrored in the software sequencer. The top row of buttons allow you to mute steps, and the bottom row can be used to program your rhythms. If you already know how to work a drum machine, you'll find it easy to quickly construct new rhythms with Drum Stepp:r.
The twelve dials at the top of the CNTRL:R allow you to manipulate a sample's individual parameters such as ADSR, pitch, filter, pan, volume, repeat and groove. You can tweak your samples to your heart's content! One of my favorite features of Drum Stepp:r are the 'Rules', which give you the ability to create (non-random) variations within your 16-step sequence. There are seven 'Rules' in total that you can choose from, and they can be assigned to each step in a sequence. For example, you can have a step 'always play' or 'play only in the 2nd measure' or 'skip every 4th'.
Synth Stepp:r is a fully interactive step sequencer designed for improvising monophonic sequences with any Live instrument. A variation of Drum Stepp:r, its controls are laid out in a similar fashion on the controller. I highly recommend getting your hands on the CNTRL:R simply to try out either Stepp:r, they are both uniquely designed devices that open up new creative options for beat-makers and musicians alike.
Summary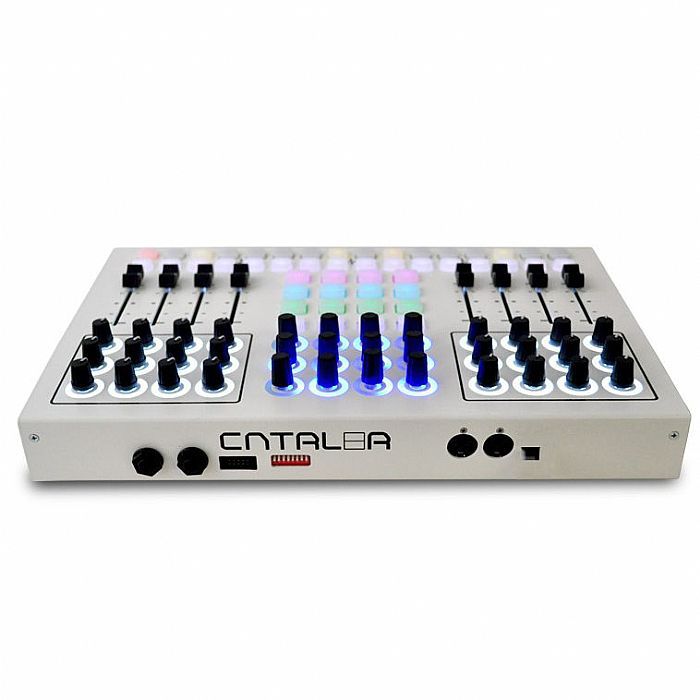 CNTRL:R is a brilliantly-designed performance device. Its flexibility allows you to adapt it to suit your needs, and Livid has made it easy to set up with scripts and mappings for both Ableton Live and Traktor. It's a high-quality instrument that is portable, and will integrate well into your live or studio setup. If you're looking for a new controller, I would recommend incorporating a CNTRL:R into your rig; it's bound to inspire!
Specs:
14.5" x 9.75" x 1.75" (WDH) / weight 5 lbs

USB Powered

60 buttons with RGB indicator LEDs with two way communication

8 faders, 24 rotary knobs, 12 pushbutton encoders

Aluminum body with durable black finish

Standard MIDI IN and OUT jacks

Expansion Jacks for adding analog controls

Made in the USA

Compatible with any software that supports MIDI learn

Colors: Black or White

Includes:
USB Cable, registration card

Fav Features:
Adaptable, and can be used with any software that supports MIDI

Quality construction

Lightweight and portable

Unique 'sequencer' layout and corresponding Max for Live Devices Drum Stepp:r + Synth Stepp:r
16 x 2 sequencer array of buttons, and Max for Live devices that seamlessly integrate into Ableton Live
Discover more about CNTRL:R at Livid Instruments