A good reverb is one of those effects every good studio needs. Granted, all the DAWs come equipped with one or two. But if you've ever worked with a vintage, hardware reverb device, you'll note that a generic DAW reverb doesn't even come close to a Bricasti M7, or one of the other sought after classics. LiquidSonics just released Seventh Heaven Professional: an amazing reverb plug-in that sounds great and is versatile enough to make you almost forget your hardware unit. Or does it?
Getting Started
Sporting a beautiful interface, Seventh Heaven is one of those plug-ins that can draw you in both visually and sonically. I started off by dropping it on a Return track in Ableton, just to hear what songs that I currently have in production might do with a reverb update. Once in place, and with a little tweak to the input Gain, on Seventh Heaven itself I got a good idea of what life is like outside of the Ableton Reverb. And, guess what? It's pretty big.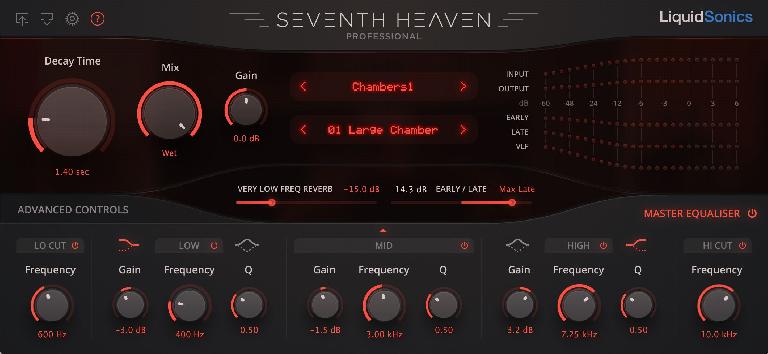 Installation
Sadly, Seventh Heaven Professional requires an iLok dongle. There's no registering your machine as the dongle with this plug-in, which I hope LiquidSonics might reconsider at some point. For what it's worth, it's one of those plug-ins that sounds good enough to justify the USB intrusion. In addition to iLok setup there are also some big downloads that take place, for even the basic plug-in (3GB). I highly suggest the secondary download link, as the first one had several timeouts over a couple of attempts at the large file. Again, it was worth it! In addition to the basic plug-in's 3 GB, there's also another 7 GB of presets, giving you a total of 218 presets from the original Bricasti.
Now, some of us may not need quite that much in terms of reverb presets. Thankfully, Seventh Heaven comes in a couple of different packages. If you go with the basic Seventh Heaven, there are only 30 presets (still quite a bit). And you'll lose a few other features in terms of Equalizer bands. Let's talk about those now.
Sculpting
As I mentioned, Seventh Heaven Pro is very versatile. In addition to giving you up to 30 seconds of reverb decay, advanced controls allow you to modify the early reflections and late reverb components. Here you can select from up to 30 different reflection patterns, sync the Delay and Pre-Delay (including sync to host clock), as well as select the High Frequency Roll-Off for the Reverb and Reflections. You can even modify how long low and high frequencies will play out in Seventh Heaven's decay time, with the Frequency Dependent Decay Time section.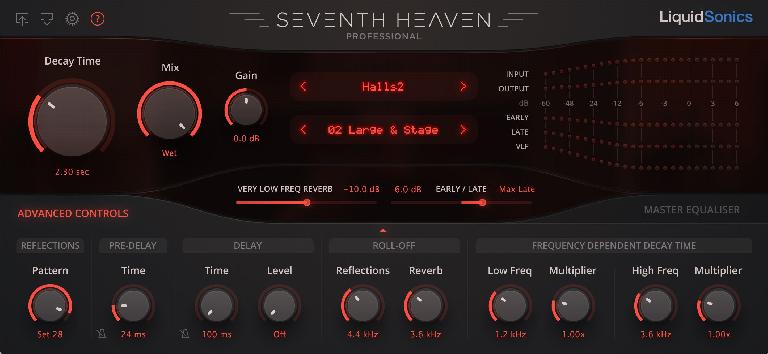 The 5 band parametric EQ also goes a long way in getting that reverb to sit in just right. Each band can be individually enabled or disabled. It's one of the many reasons to go with Pro over basic.
Conclusion
Seventh Heaven Professional is truly angelic and sponges that ethereality on to pretty much everything it touches. Because it does allow you to pump up the bass, it's a great tool for doubling and intensifying kick drums, bass and more, while still making your vocals, guitar and whatever else you thrown in to it sound holy. Again, I would still love to see the dongle go away. But for the meantime, I'll just keep it in. Seventh Heaven's definitely worth the trouble.
Price: $299
Pros: An amazing sounding reverb with many customization features, a 5 band parametric EQ (3 bands with standard version) completely modeled off the Bricasti M7 reverb unit.
Cons: ILok only! ILok Dongle has to be physically plugged in. Large download!