In Los Angeles, in certain circles I am Jay Asher-the composer. In other circles I am Jay Asher-the Logic Pro guy. In NO circles am I Jay Asher-the GarageBand guy. I probably have opened it two or three times to check it out or help somebody with it but that is it. When you have been using Logic Pro since version 1.0, it has little appeal.

However, a number of my friends told me that GarageBand on iOS devices, especially on iPad, is a whole different ballgame. So since I have an iPad I decided to download it and check it out, and boy were they right!
Since this is not a GarageBand review, I will simply point you to this:
http://www.askaudiomag.com/articles/review-garageband-for-ios-12
After finding out how to inexpensively connect my USB MIDI keyboard controller, I was having big time fun listening through my headphones.
Soon however, I realized that I wanted the ability to play this through my keyboard amplifier. After examining the choices of an audio interface that works with an iPad, I was very surprised to find that many of them did not have outputs that could connect to a keyboard amp!

Fortunately my old friend and fellow Logic Pro traveler, Clint Ward, had recently taken a position with Line 6, most famous for their guitar amp emulations. He told me that they had a product called the Sonic Port that although mostly advertised for guitarists because it has both analog inputs and outputs, in fact was just what I, a keyboard player, also needed. And boy, was he correct.

What You Get
First of all, it works effortlessly with GarageBand and is simple to connect, just plug and play. As it is bus powered, no AC cord is necessary. Secondly, the audio quality is surprisingly good for a $99 device. The A/D converters do 24 bit/48 kHz and sound fine. Although it is small and lightweight, the build quality feels very solid and I would be very surprised if it did not hold up well unless it is abused. It comes with both a detachable 30-pin dock connector and a Lightning connector cable. Also it features 1/4 inch guitar input, an 1/8 inch stereo line input, a ¼ inch mono/stereo guitar/line level output, and an 1/8 inch headphones output, as you see in Pic 1.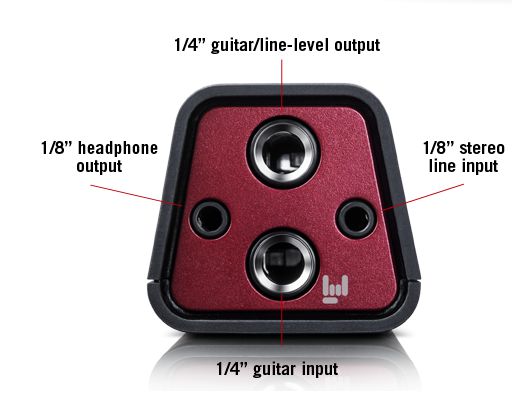 Pic 1
It even comes with a free Mobile Pod app for amp modeling that has 32 amps, 16 effects, and 16 speaker cabinets. And a guitar tuner. None of which I care that much about but for guitarists, all pretty cool free stuff. I should mention that it works with Jammit, which allows you to play along with your favorite songs, and many other CoreAudio music apps besides GarageBand.
My only complaint is that unlike some of its competitor's products, it does not have built-in USB MIDI connections.
They also have some MIDI controller keyboards called Mobile Keys that connect directly to the iPad without adapters that are not all that expensive as well.

Pic 2
In conclusion, this device was almost perfect for my needs, sounds great, and I recommend it highly.
Pros: Inexpensive, easy to connect, excellent sound quality with I/O flexibility, in a sturdy little package. Free Line 6 app with lots of amp and pedal sims, and a guitar tuner.
Cons: No MIDI connections without another device or adapter to the iPad.
Price: $99.95 US