Toolbox
I've been using Line 6's Helix for well over a year now, and have relied on it as one of my go-to tools for a variety of guitar sounds. In my production studio and outside, I tend to use it either alone, or in combination with my Mesa Boogie, Magnatone and Gibson amps. Plugging in 4 string cigar boxes through 6, 7 and 8 string guitars, it offers the flexibility I need from clean through hard and heavy. Inside of those overall sounds, it offers an updateable selection of 62 amps, 104 pedals, 37 speakers and 16 mic options, along with a selection of analog and digital I/O options in a tour grade heavy duty floorboard system.
Edit Time
Taking it a step further, I get the most out of of Helix by using the Helix Edit software. While the Helix hardware does have a nice 6.2 inch color display and touch sensitive foot switches, I find it much easier in the heat of a session to have the Helix Editor open on screen and navigate through my sounds that way. You can drag and drop any of the above mentioned amp, effects cabinets and I/O paths in the signal chain, as well as import a wide variety of Impulse Response cabinets for different tonal options. You can even export the entire contents of Helix into one file, which is handy for backups or to take to another location.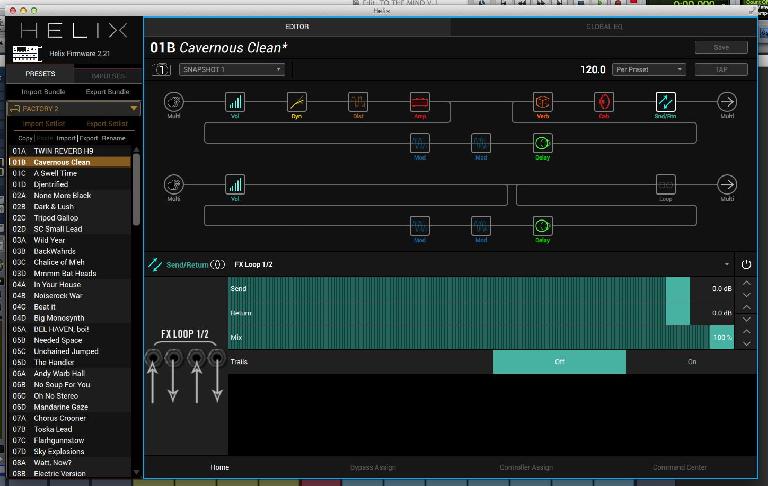 Note that while the screen can sometimes appear to take a second to make changes, the changes to the hardware are immediate. Also with the Version 2.00 update, Helix Editor offers the ability to save up to 8 Snapshots, which are variations on a preset. As long as you leave modules within that preset alone, you can turn on and off any effect you choose and save that. It comes in handy for live work, or for example just having a wetter or drier version of the same patch. Also with the Editor, I am able to insert external effects into my Helix signal path.
I happen to use Eventide's H9 multi effects processor quite a bit, and by connecting it to Helix's ¼ inch send and returns in an I/O FX effects loop, I can access all my H9 sounds. It's also useful that I can move the I/O insert inside of the Helix signal path, for example put them before or after distortion, etc. In fact, I often hook up two H9s and insert them into Effects Loops 1-4, extending the sound pallette of my Helix even further. Since a lot of the TV cues that I do are ambient guitar cues, the combination of the internal Helix effects and one or more Eventide H9's can handle most needs with no sweat.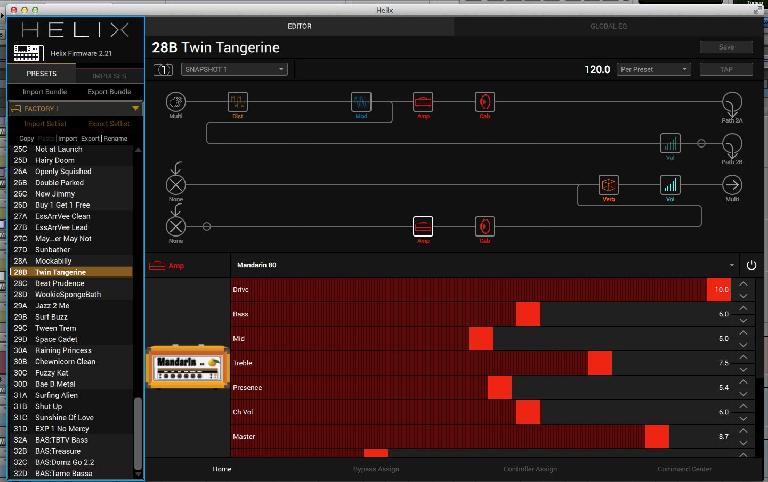 Variax
Ok, so that's one way that I use Helix, by plugging in any of my guitars into the ¼" input, using the FX Loop and getting sounds that way.
But once I got my hands on a Variax, a whole new world opened up, which is exactly what I was looking for. There are two ways to use a Variax guitar. Firstly, you can just plug the ¼" jack in and use it as a standard guitar with the magnetic analog pickups. This you can plug into Helix, or of course any amp or DI outside of Helix as a regular instrument. Or you can plug in the special Variax Digital Interface cable to the guitar and into Helix and have access to all of the instruments and tunings, both through the guitar itself and through Line 6 Workbench software. You can also choose to use just the ¼" jack and plug the included battery into your guitar, which then lets you use the variety of built in models and tunings.
JTV-89F
The guitar I received for testing was the James Tyler JTV-89F. James Tyler is a talented, creative guitar luthier, and the details in this model show that skill set. It comes equipped with a double locking Graph Tech tremolo system licensed by Floyd Rose. The body is black mahogany (blood red is also available) and the three piece maple neck is fast and fairly flat. Scale length is 25 ½" and there are 24 jumbo frets and a pair of Tyler designed hi-gain alnico humbucking pickups. But what makes this a Variax, and therefore quite unique, is the Model and Alt Tune knobs that let you access 29 vintage instrument sounds and 11 alternate down tunings, right from the guitar.
To access these from the guitar, all you need to do is push down the Model knob for a second or two, until you see it light up. Now you can quickly switch between a wide variety of Teles, Strats, Les Pauls, Gretsch, Rickenback, acoustic and other guitars, including a banjo and a sitar. You can change the models by selecting the 5 way switch: for example on the acoustic setting, pickup selector position 4 chooses an 'Acoustic G12', which sounds like my old Guild. Speaking of sounds, wow, these are highly useable. I own a lot of these guitars, and they are spot on, and in some instances, better than my original.
When it comes to alternate tunings, you can quickly get super creative. You have access with the Alt Tuning knob to a nice variety of tunings, including standard, Drop D, ½ Down, Drop Dflat, 1 Down, Drop C, m3 Down, Drop B, M3 Down, Drop Bflat and Baritone, which is BEADF#B. These can dark, fun and creative when not only calling up the heavy hard sounds, but the unique acoustic sounds. For example, dropping the 12 string down to Drop B with a ton of cool effects and delays makes for some wild sounds.
Workbench HD Software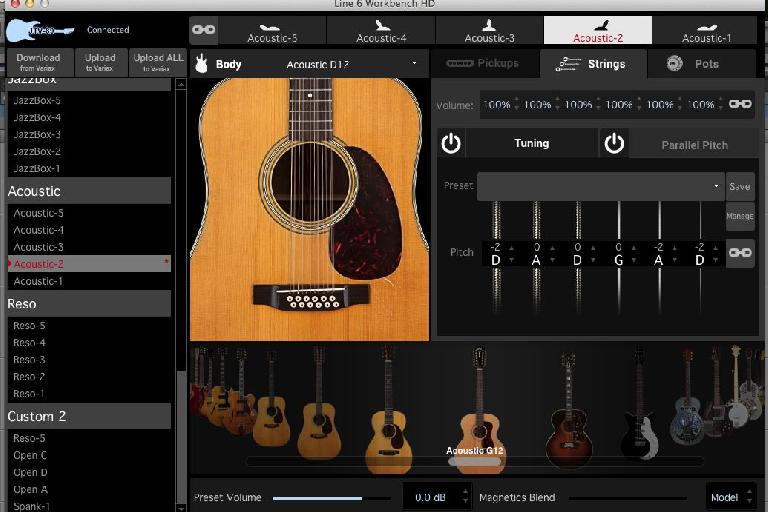 With Workbench software, it lets you build custom guitar models and change pickup positions, string tunings (individually) and potentiometer values (something I haven't tried yet). You can even experiment with different bodies using a cool Carousel that lets you drag and drop for quick changes. If you've created alternate tuning you like, you can save it to Variax with the Manage button to call up at a gig for example.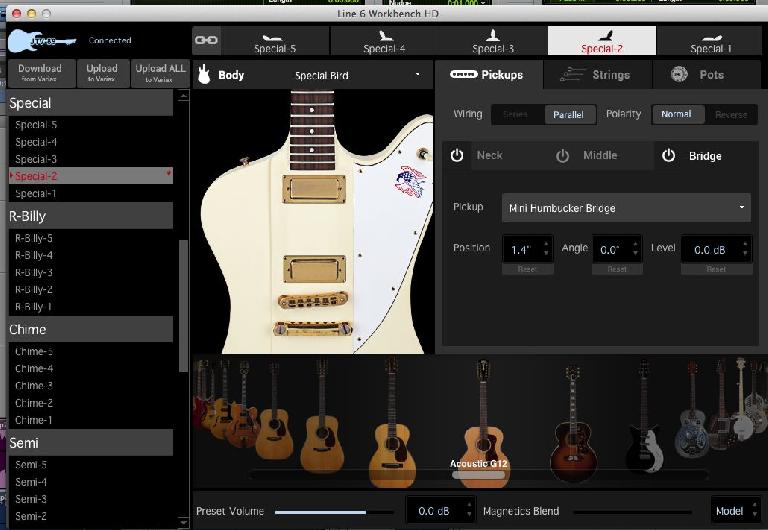 You can connect a ¼" guitar cable and power up Variax with the supplied battery, which fits inside the JTV-89F. But even better is to connect a Line 6 Variax cable from the relevant guitar jack to the back of Helix.
Conclusion
Wow, I had no idea how powerful this rig was until I dug into it. In the world of TV composing, you need lots of sounds. I have a closet full of guitars, and this has actually replaced a few of them. Of course, I'll always love my Guild 12 strings, Strats and Teles, but when it comes to working fast and getting badass tones, Variax and Helix are a potent combination.
I've used a lot of different guitar and tunings in my everyday work, from the 12 string acoustic in DADGAD to wild sitars with the Eventide H9 reverbs. I've used Les Pauls for rock, Teles for country and funk, and the Firebird for drop D tuned heavy blues. I've used clean strats with tons of delays and chorus for ambient tracks, and some of the Rickenbacker 12 string electrics with drop B tuning for deep dark moody material. I have to admit, I'm excited about exploring further combinations and letting the sound, tone and overall feel inspire me. The JTV-89F Variax guitar and Helix are a guitar-centric composer's dream system.
Price: £1099 / $1199
Pros: A powerful, flexible composition package that offers a useful variety of guitar models, sounds, tunings and effects.
Cons: You need a Variax guitar to access the models and tunings. The JTV-89F may not be the right guitar for all players.