Line 6 paved the way for modeling vintage guitar gear early on with the POD. They have since added a great lineup of modeling amps from the Spider to the Vetta. At NAMM 2014 they pulled the curtain back on the AMPLIFi - a 'reinvention' of the modern guitar amp.

The Look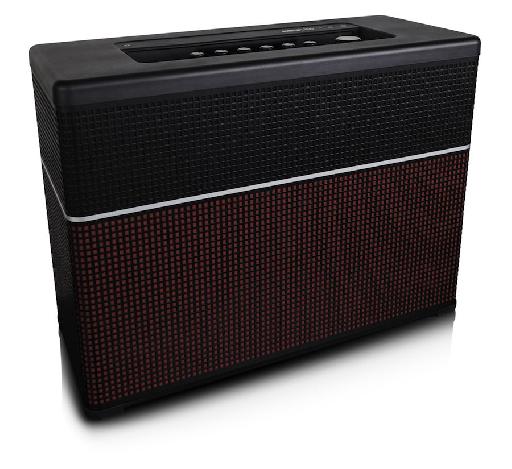 This is as close to an iAmp I think we'll ever get!
The AMPLIFi is a beautiful example of modern amp design. The knobs are simple, easy to read and large. The built-in handle also doubles as tablet stand (or does the built-in tablet stand double as a handle? I can't tell). There is a single jack on the top of the amp for your guitar input. Everything is clearly labeled and the amp feels very 'Apple-like' in its design.
The Specs
The AMPLIFi comes in 2 'flavors'. One has a 75 watt 8" speaker and the big brother has a 150 watt 12" custom Celestion speaker. Both amps also include 2 mid-frequency drivers and 2 high-frequency drivers for a total of 5 speakers to create amp tones (more on that later). The input/output includes a 1/4" guitar input, a 1/8" stereo aux input and a 1/4" headphone output. You can also connect via USB, ethernet (for foot pedals) and bluetooth.
5 is the Magic Number
For those of you who did a double take when I wrote '5 speakers in the amp', you read that right. This guitar amp, like a typical PA system, is full-range. Having an array of speakers allows Line 6 to amplify the 'wet' and 'dry' portions of your sound independently. This provides more clarity for modeled effects and drive. Chorus effects seem astonishingly wide, distortion feels incredibly crisp and overdrive sounds extremely powerful.
The full-range speaker setup also allows for bluetooth audio to be streamed to the amp with perfect clarity. You can now run your music through the amp for practice or set breaks and it sounds just like playing it back through a PA system.
There's an App for That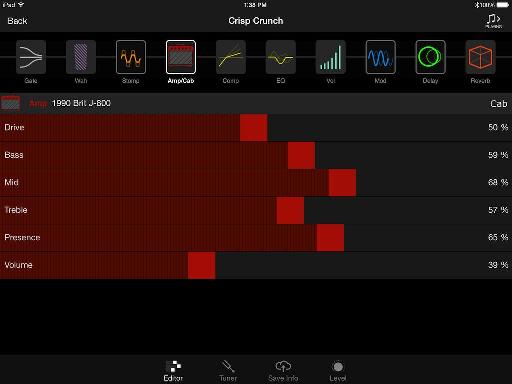 The app is powerful and fairly intuitive.
The AMPLIFi is all about app control. The free AMPLIFi app (available for iOS) allows you to use your tablet or phone to quickly program some staggeringly large guitar rigs. You can easily touch, drag and drop pedals into whatever configuration you like. You have access to the front panel of every included modeled amp (and there are quite a few of those).
Through the app, you are connected to the Line 6 user community and can download a huge amount of ready-made presets. If you don't want to search, the app will even suggest tones based on the song you're currently listening to on the device. First, I streamed a Phish song and the app suggested a list of Trey Anastasio tones. I moved on to Cream and was presented with some Clapton presets. It was a lot of fun to do.
Playing Live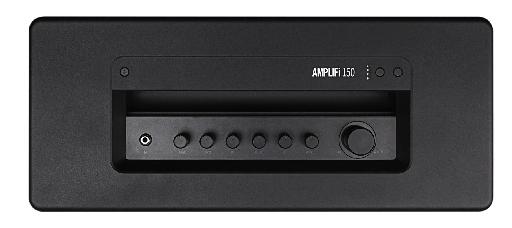 The top panel is extremely simplified and easy to use.
You can choose your guitar tones with the app, or you can save 4 of your favorite presets to slot A, B, C or D directly on the amp for use without the app running. There is a dedicated button on the amp to swap presets, or you can connect the Line 6 FBV Shortboard II. I had hoped for a few more slots to save presets, but it really is quite simple to load up your next bank from the app if necessary.
Conclusion
I'm a big fan of this amp. I didn't review a demo unit, I saw it at NAMM and purchased it the day I came back and was incredibly impressed with the sound of the 5-speaker array and its ability to model a large amount of classic gear in perfect clarity. The app is fairly simple to use and I have a bunch of favorite tones already saved to my phone that I can load up at any gig in a flash.
Pros: Elegant Design. 5-speaker array renders effects in wonderful clarity. Sturdy build. Extremely simple to use.

Cons: Only 4 presets can be saved to the amp at one time'"although you can load up others from the app fairly quickly.
Price: $399 for the 75-watt combo / $499 for the 150-watt combo