Kurzweil's entry into the high-end stage piano arena is a bold one. I spent 2 weeks with the Forte and lived to write about it. Any time an established company launches a flagship keyboard there are features that push the development of the entire product category forward, and the Forte is no exception. There are a lot of cool features that make you think, "Why didn't someone think of this before?".
Check out Matt's video review on the AskAudio Mag YouTube channel here:
The Look and Feel

Kurzweil has crafted a minimalist look for the Forte—something that I've come to appreciate in a stage piano. There is a lot of 'space' and nothing feels crammed in. The sliders (which can function as drawbars for your organ patches) are large and feel substantial under your fingers. The multifunction wheel that you use to select patches is downright huge and easy to find on a dark stage.
The various knobs and buttons have a 'bigger' feel to them as well, and I can't stress enough that nothing feels crowded on this interface. There is even a large open space on the right side of the keyboard which gives you room to balance a small laptop, iPad or other audio device that you might use to augment your performance (something I appreciate as an avid iPad/laptop enthusiast).
The 4.3 inch color LCD display looks nice, if not a touch 'low res'—but Kurzweil certainly makes the most of it. The color tone of the entire screen changes depending on the category of instrument you choose, something that makes identifying and locating a sound extremely convenient.
The Operating System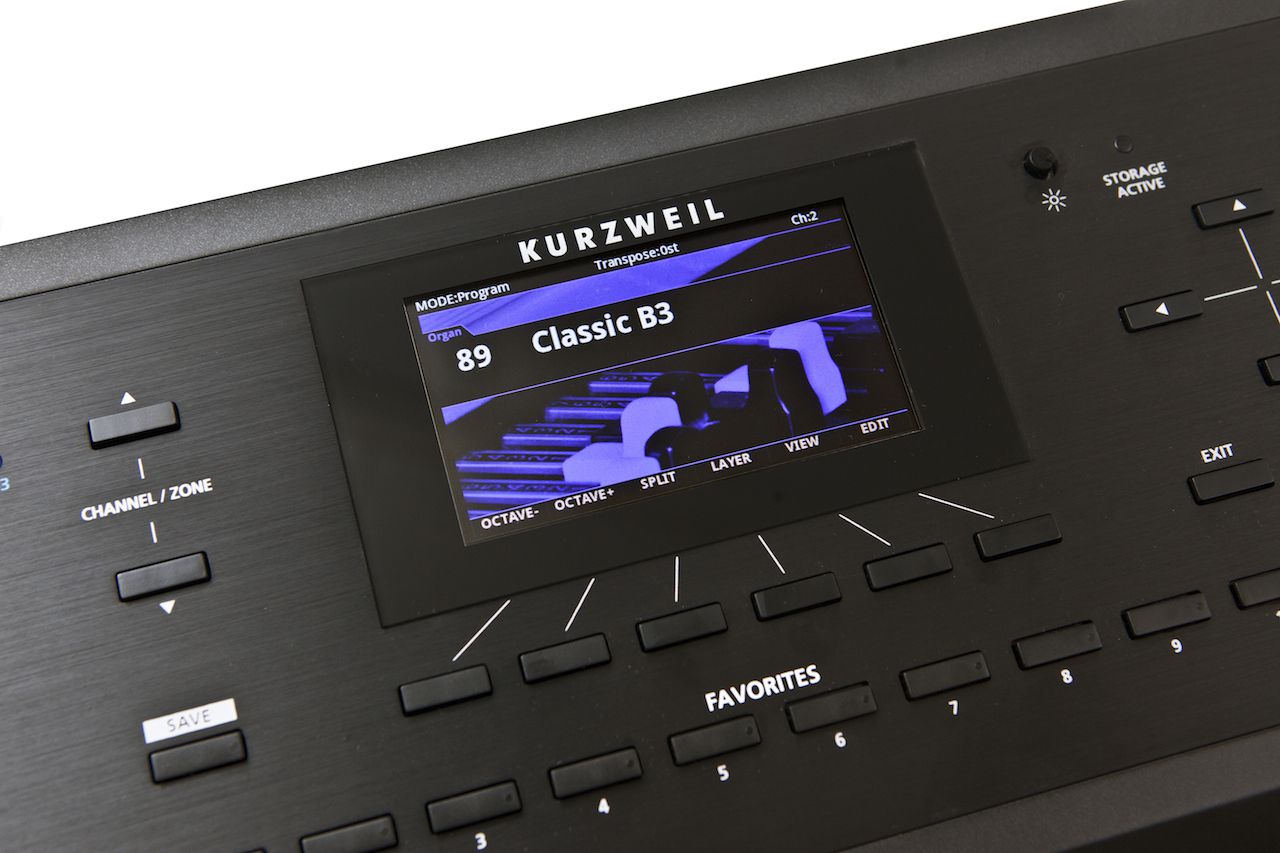 Ten years ago if you told me that I'd have to include a section discussing the operating system for a keyboard review I would have had a good laugh. Today, however, I don't think you can truly evaluate a keyboard without spending some time thinking about its OS and how it works. A confusing user interface or complicated operating system can make or break a keyboard. Nobody wants to find themselves cursing at their instrument during a rehearsal because they can't easily figure out how to make a split and apply effects to only one sound in a multi-timbral patch.
Fortunately, Kurzweil has spent a lot of time crafting an interface that is easy to look at and simple to understand. The most important parameters of a sound are often front and center, with a ton of customization available as you dig deeper. My absolute favorite part of the interface has to be the controller notifications (something I hope the other 'big guys' in the industry take notice of). Whenever you use a controller (like a fader, knob or button) on the forte, you get a notification at the bottom of the screen about specifically what element of your sound is being manipulated. For those of us who love to map controllers to various effect parameters this is an awesome feature. I often find myself forgetting exactly what I mapped that third fader on a specific patch to do, and now the moment I touch it I see 'Delay Time' appear on the screen. It sounds like a small thing, but you deep tweakers out there are going to love it.
The Sounds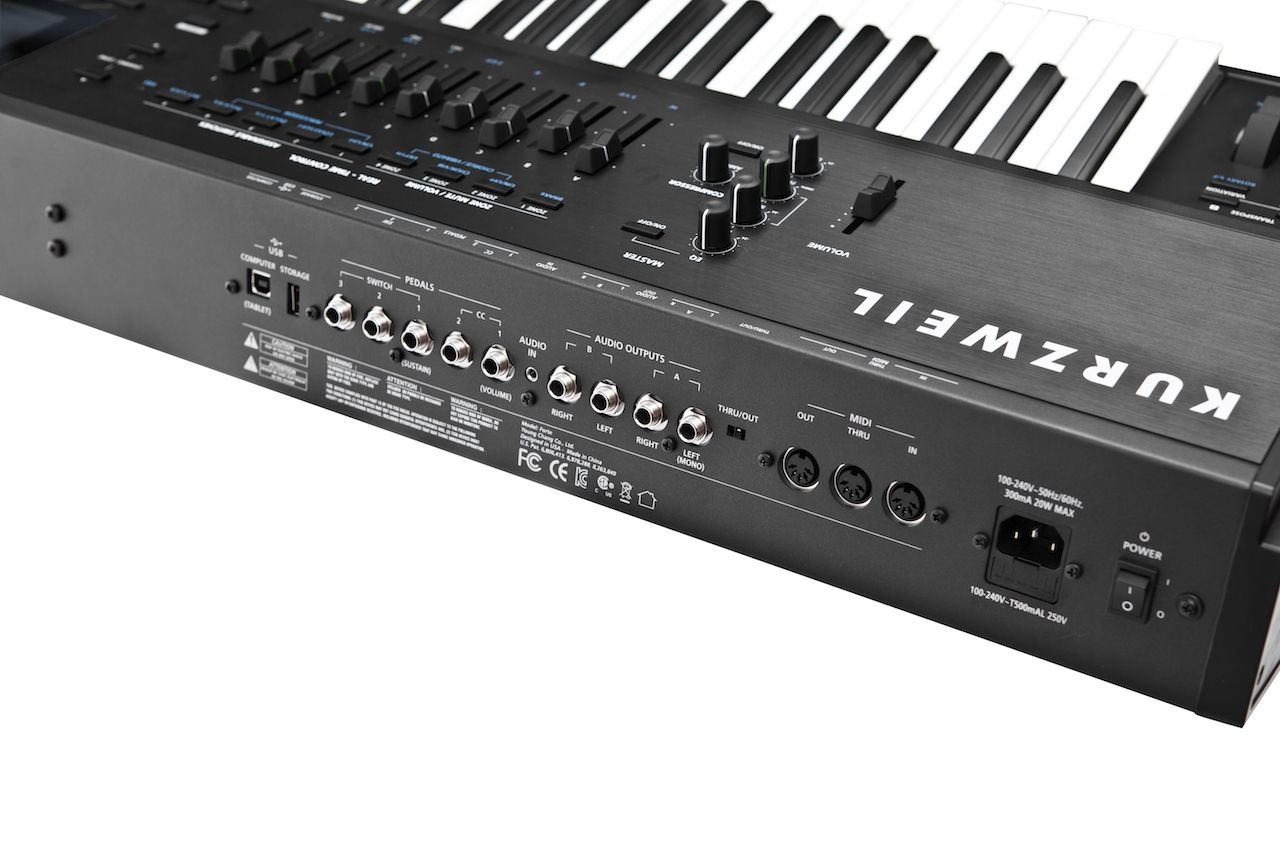 There are 16 gigabytes of sounds pre-loaded, and I really have to say 'hats off' to the sound design team at Kurzweil. There are some really well-designed patches here, and the designers have definitely made the most out of the sample set they chose to use. Even if you're already acquainted with the KB3 organ engine, for example, the patches themselves have some great effects and parameters mapped right out of the box. I found the library of sounds to be quite diverse for a stage piano and was quite happy with what I found while exploring the factory presets.
Conclusion
The Forte is a great entry into the stage piano world for Kurzweil. There are a lot of great features such as a physical master EQ section, a master compressor, hardware favorites buttons, and clearly labeled buttons for common keyboard tasks. The only aspect I wish were a bit different has to do with the way the Forte handles changing sounds. As you select different patches, the previous patch will not 'hold over' during a patch change—something I've grown accustomed to in other keyboards in the price class. However, if you're looking for a fresh take on the stage piano, the Forte is a solid contender.
Price: $3995
Pros: Well-designed sounds. Clear and concise operating system. Controllers are large and easy to use. LCD screen is utilized well. Hardware master compressor and EQ. Common keyboard controls are well labeled.
Cons: Price is a bit high, sounds cut off on a patch change.