Since Propellerhead opened up Reason's Rack to third party developers with the Rack Extension system, some really cool plug-ins have found their way into the Rack Extension store. The latest is Amplifikation Vermillion by Indonesian developer Kuassa, which for the sake of simplicity we'll refer to as Vermillion. It's a modest 42 MB download and is installed in the usual manner, with a fully functional, time limited trial available. It's $39, which seems reasonable.
Guitar amp simulation is something the Props do provide but have perhaps sensibly left to others to really expand on, and that's where Vermillion comes in. It's a simple looking effect, you don't get lots of flashy graphics of cabinets and amp heads, but that doesn't of course affect the sound in any way. Actually in the Rack where space tends to be at a premium, it's actually quite helpful.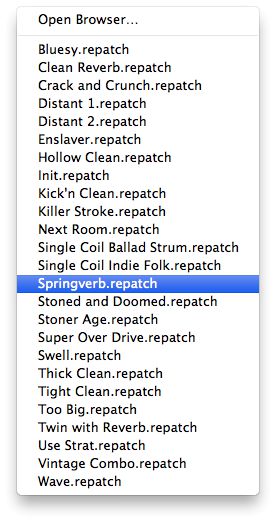 Flip through the presets to find a good selection of guitar tones.
There are three amp types and two amp channels, Clean and Lead. You may want to dive straight into the presets and this is fun, with a good selection on offer covering everything from dusty old blues through rock, jazz, funk and more. They're easy to tweak, too. There are familiar knobs on the main panel covering gain, three band EQ, presence and volume, all of which can be used to shape the sound. Plus you can flip between three amp types and the two channel types we have mentioned.

Sensible guitar amp-style controls for shaping the sound.
Taking effect
To the right of this you'll find an FX section. While this isn't really a guitar multi-effect, it does have some of the kinds of effects you might normally find on a hardware guitar amp. So there's tremolo with speed and depth controls, plus the ability to sync this to host tempo or leave it free. There's a built-in spring reverb and a limiter button, as well as a noise gate section with threshold, attack and decay controls. This is handy because it can be used to cut off the signal when it falls below a certain level, meaning less hiss and fewer accidental noises getting onto your recording.

There are some built in effects such as you would find on a real guitar amp.
Underneath the main panel is another control section and here you can set several more parameters that affect the way the sound is processed. To start with, there are two cabinets, and you can activate one or both. Each one has a selectable type '" five are available '" and a mic type of which there are four to choose from. Each mic also has its own set of controls including angle, axis, phase, distance, pan and volume. Using these you can move the virtual mics towards or away from the amps, as well as angling them differently. This makes it really straightforward to change the way the effect sounds, just as if you were miking a guitar amp in a real studio.

Move your virtual mics about and choose different cab models.
Final thoughts
Vermillion sounds great and there are some good examples on the product page on the Rack Extension store to demonstrate how versatile it is with many different styles. You don't have to just use it on guitars either, it can sound good on keys, vocals and drums with a little imagination. As ever with REs it's free to try, so head over and give it a whirl!