Gear comes and gear goes. And, some gear takes longer to get than others. In the mysterious case of volca sample, the latter proved to be true. It was hard to obtain! But, once I finally got my grubs on it, and was able to throw it in with the rest of the volca club, things definitely got interesting. In this review, I'd like to tell you all about my experience with volca sample, and why you may, or may not, want one as well.
New Box!
The new volca box, I must say, was a bit of a step back, for me. I really love the original art. It looked a little more retro, and felt like Korg. However, once I opened 'er up, the cool, white chassis of volca sample stopped me in my tracks. All I could do was stare. It's so pretty!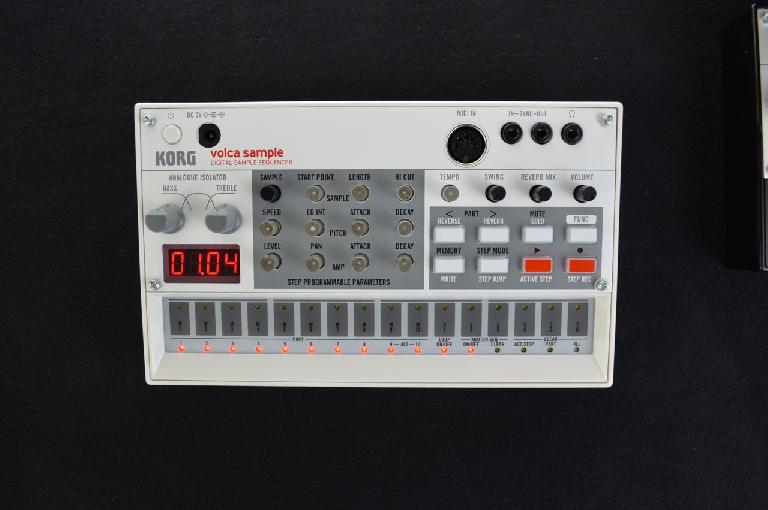 Once the included batteries were inside, I was witness to one of the greatest of power on sequences of all the volcas. Volca sample flashes lots of cool colors. But, what was even cooler was the large amount of sample data, already pre-loaded. Everything from kicks to stabs, snares, claps, and more.
However, we all know that we're going to be adding in our own samples, right? Using the free, AudioPocket app, made specifically for volca sample for the iPhone, not only can you fill all of the 100 sample slots (or, you max the 4 MB sample memory first), but you can also load in your own samples, and even iTunes songs. And, beyond being a basic sample loader, AudioPocket is pretty handy for editing and managing the internal sample memory of volca sample. You can even use it to restore factory defaults, should you decide you like Korg's free samples better than yours.
New Functionality!
I must say it's dreamy triggering digital samples that go beyond a couple of milliseconds. And, I love all of the sample-tweaking functionality that Korg included in volca sample. Of course, the Glitch guys are going to love the ability to modify speed and sample start times on the fly. Additionally, and with firm knowledge of their club audience, Korg also included the ability to reverse samples on the fly. And, a really nice reverb, which can be used to hide some of the crunchy, digital qualities of lo-fi audio samples. It's even possible to loop samples!
Song Mode allows you to string patterns together, in a fashion similar to the old Ensoniq workstation sequencers.
One feature that I was really surprised to discover was Song Mode. And, while its usage appears mysterious, at first, once you get used to it, it might change your whole free style performance. In reality, Song Mode really just allows you to string patterns together, in a fashion similar to the old Ensoniq workstation sequencers. Load a song pattern by pressing FUNC+Steps 11–14. Once loaded, you can either tweak what's there. Or, just string as many times as you want, from 10 different volca sample patterns.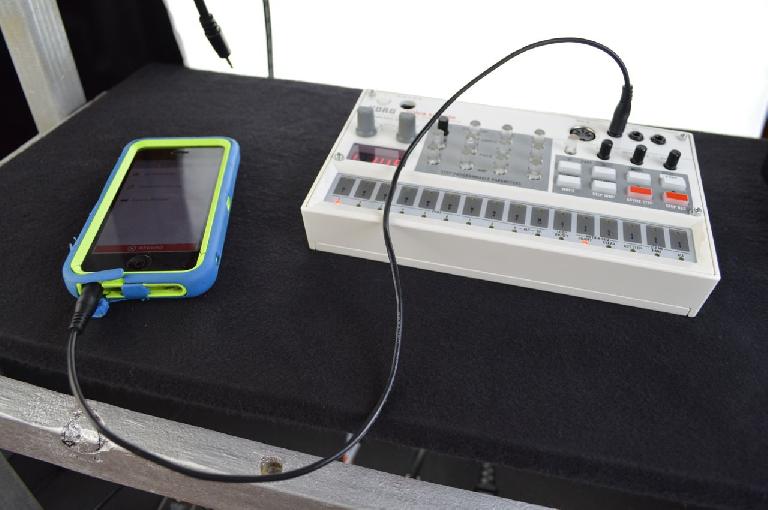 Chaining, in my opinion, is quite valuable, as your hands have a lot of things to do during a freestyle session with volca devices anyway. By having one pre-loaded to jump to several different patterns over an entire song, without you having to do anything, is very cool.
Finally, the Audio Isolator is a wonderfully welcome effect to volca sample, which allows you to isolate, boost, or kill, certain frequencies in your sample(s). You can get rid of hiss, and/or you can bump up the bass. A very welcome addition that keeps sample sounding very professional.
Conclusion
The volca sample is one of the funnest devices I've gotten my hands on in a while. And, it sounds great, and plays well with its other brothers. I was a little bummed that the Analog Isolator knobs were a little different from volca beats, Stutter. The Isolator knobs just feel a little weak to me. But, they do have notched positions in the middle, which can be easily felt with the finger tips, when moving. Also, I wish there was an official way to upload samples without use of the iPhone, as this really limits the audience for volca sample, as some people have phones, outside of Apple. Having said that, some third-party solutions have been released recently, for example Frederikson Labs' Voysr for Mac and Windows computers.
Either way, you'll enjoy volca sample beyond belief.
[Editor's Note: This final paragraph was amended a few days after publishing due to 3rd-party, non-iOS solutions for loading samples to voca sample being looked at and tested out.]
Price: Retail $224.00
Pros: Sounds amazing and is a very thoughtful addition to any volca rig. Holds up to 65 seconds of samples internally, and has a new song mode.
Cons: Relies on an official Korg iPhone app to load up samples, manage sample storage, and load in itunes tracks. Though alternative 3rd party solutions can be found.