First announced at NAMM 2020, the Korg Opsix is now finally a reality. Was it worth the wait? Rishabh Rajan investigates.
The Korg opsix which was teased at NAMM 2020 is now finally a reality. At NAMM Korg had displayed a prototype of the opsix but did not demo it. Even the Korg employees didn't know much about it and everything about its specification was just speculation.
Now the opsix is finally a reality and instead of the 5-octave keybed, Korg chose to go for a more compact design with a 3-octave full-size keybed. The opsix is not just a recreation of the Yamaha DX7, but a forward-thinking design that includes a variety of synthesis techniques, built-in effects and a lot of hands on control.
Synthesis Engines
The Korg opsix has 5 internal synthesis engines, FM, Ring Mod, Filter (Subtractive), Filter FM & Wave Folder. This covers quite a lot of ground. It's not very common to see west coast style synthesis techniques being mixed in with east coast as well as FM, in one hardware unit. The opsix has 6 Operators that can run in any of the 5 synthesis modes. On the FM side of things, you have everything that you would expect from a fully capable FM Synth. There are 40 FM algorithms as well as the option to create a custom algorithm. You are not limited to just sine waves for operators. There are 21 waveforms that include white noise as well.
The subtractive mode is surprisingly good sounding despite this being a digital synth. You get a significant list of filter types that also include MS-20 and Poly-6 filter models. There is a V-Patch section where you can make up to 12 custom modulation assignments using the included LFOs and envelopes.
I really appreciate the internal effects section that has quite a long list of processors (30). You get 3 of these effects units per patch. So it's very easy to create a very complete patch using just this synthesizer.
Hardware Controls
Unlike the original Yamaha DX7, the opsix has a decent amount of hands-on control and a fairly large screen to visualize full envelopes as well as all parameter values. The 6 operators have dedicated sliders for level control as well as 6 knobs for pitch/ratio control. Depending on if the operator is set as a carrier or a modulator, the two colored LEDs make it very easy to distinguish between these two types of operators. There are 6 Data Entry knobs that can be used to control various parameters depending on which page is loaded. This makes it so much easier to design sounds and involves minimal menu diving.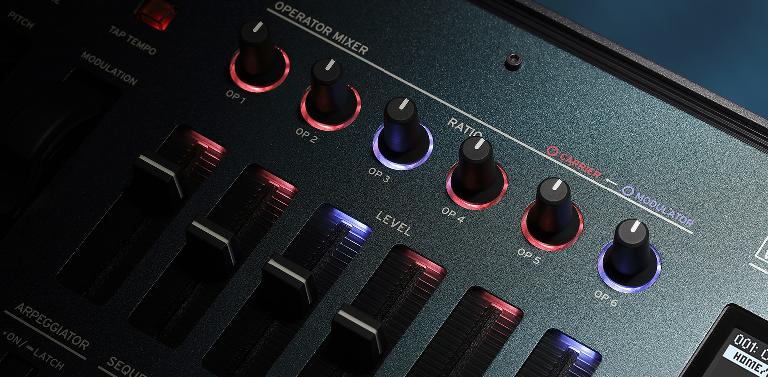 Sequencing Capabilities
The Korg opsix includes an arpeggiator as well as a 16-step Polyphonic Sequencer. Since this is a 32-voice synth, it makes sense to have a Polyphonic Sequencer. There is also a Motion Sequencer to include dynamic control of up to 6 different parameters in a sequence. The Sequencer is fairly easy to use as it has real-time recording options as well as a step entry mode. What's also really cool is that these sequences can be saved with each patch!
Unlike the original Yamaha DX7, the opsix has a decent amount of hands-on control and a fairly large screen to visualize full envelopes as well as all parameter values.
Final Thoughts
Although this synth is a little pricy, the included features justify the price point. There is a lot packed into this one synth and coming from a sound designer's perspective this is a very practical and customizable synthesizer. The Korg Volca FM was a success, but it was mainly a preset synth with some real-time controls. The opsix is a fully featured FM synth with extensive control for all parameters that happens to also have 4 other synthesis modes. Definitely a no-brainer for synth heads.
Learn the Korg opsix at Ask.Video
In this "video manual" course, trainer and producer Rishabh Rajan explains every control of the synth. He reveals how to master every features of this synth and get the confidence and knowledge you need create your own unique sounds. You learn how to use the various algorithms (and even how to customize your own), how to go West Coast-style with the Wavefolding mode, and how to use the subtractive filters. You discover Ring Modulation, the multi-FX section, and the built-in arpeggiator. You dive deep into the polyphonic step sequencer, and you learn how to automate parameters with the motion sequencer.