With audio interfaces offering more and more ways to connect to iOS devices these days, the usefulness of sound modules available for the iPad and iPhone just skyrocketed from 'fun distraction' to 'professional instrument'. Korg Module is an 'all around keyboard' sound module that aims to make your iOS device a real option when looking for a sound source for your MIDI controller and audio interface.
What's Inside
Module contains five different instrument categories—Acoustic Piano, Electric Piano, Organ, Clav, and Multi. For a keyboard-based sound module, this is all you'll need. There are 100 different programs across these categories, and your polyphony can vary depending on your iOS device. I use Korg Module with my iPad Pro, so I'm offered a pretty sweet 112 voices of polyphony.
Module takes up about a gigabyte of storage space, but this comes with a warning—the expansion packs offered for Module are both addictive and of a very high quality. It wasn't long before I added another 3 GB on top of that purchasing the various expansion sound libraries. The Synthogy Ivory Module, in particular, is just mind-blowing. I still can't believe the fantastic sound I can get out of such a modest and portable device.
The Sounds
The sounds available within Module are really fantastic. I found the pianos to be good (although I definitely favored the Ivory expansion module), the electric pianos to be great, and the organ presets to be totally usable. Paired up with a Bluetooth MIDI controller, I'd have no second thoughts at all about breaking out my iPad with Korg Module in any professional situation where I needed the standard set of keyboard instruments.
The Interface
The user interface of Korg Module is very straightforward. Patches are easy to find and quick to load. The graphical representations of the various keyboard instruments allow for fast tweaking of the expected parameters (tremolo, rotary speaker, etc.). The preset navigator is quite ergonomic, and there are even 'variations' of the fundamental instruments available separate from the presets. If you've got a good piano preset you can leave it intact, and easily switch to a 'piano/strings' variation that has the strings added in but retains all the other parameters of the current patch.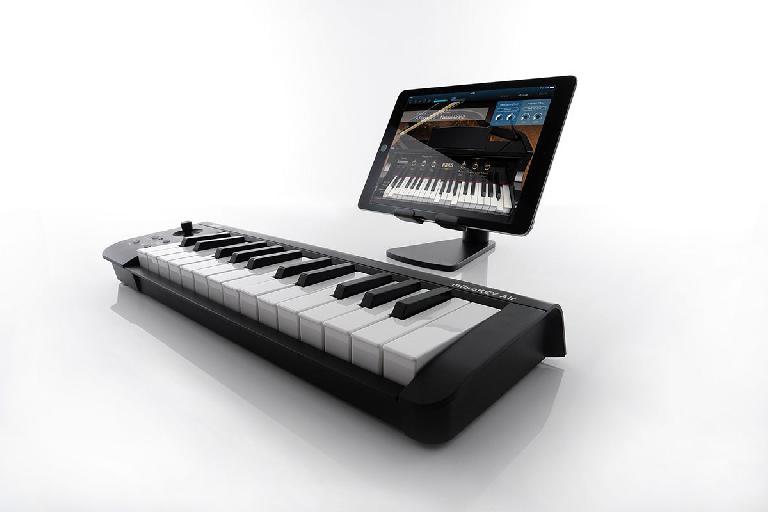 The Extras
There is a standard MIDI player and audio recorder included (although not supported on the iPhone variant). They both were quite functional, although I don't use them much as I'm much more focused on Module as a live performance instrument. Keeping that in mind, I did find the included setlist function and PDF viewer incredibly helpful. You can even use the iOS device's camera to quickly capture charts, notes, and ideas from the real word and associate them with specific sounds. You can load text files, and make your own text notes throughout your set and attach them to specific sets of sounds.
The Verdict
In case you can't already tell, I'm a huge fan of this instrument. Korg Module sets the standard for keyboard instrument emulation on iOS devices, and the bar has just been raised. Performing with an iOS device as your primary sound source is a reality, and Korg Module definitely helps you get there.
Price: $39.99 for iPad / $29.99 for iPhone / Free 'LE' version
Pros: Fantastic sounds, lighting-quick loading, ample polyphony, elegant design, loaded with features, expansion libraries are awesome
Cons: Revamping the setlist feature to allow for multiple sounds for a single song would be great. Right now it's just a list of favorite patches in a row.
Web: http://www.korg.com/us/products/software/korg_module/index.php