Review: Korg Minilogue XD
Korg's updated Minilogue now has 4-voice polyphony, 2 analog VCOs, an excellent step sequencer and much more. Noah Pred found it even more fun than he had expected...
Named after one of techno's most prolific analog producers, Korg's original Minilogue was released to rave reviews and much fanfare. Their XD update to this promising new line offers four-voice polyphony with two analog VCOs, a highly customizable digital oscillator, a powerful step sequencer, and ample digital effects in an intuitive, attractive interface with plenty more hidden under the hood.
Core Modes
The XD offers four voice modes: Poly, for standard polyphonic playback; Unison, for thicker monophonic voice stacking; Chord, for automatic chord voicing added to single-note triggers; and an Arp/Latch mode that can be used while the step sequencer is playing to embellish a pattern with new notes in sync.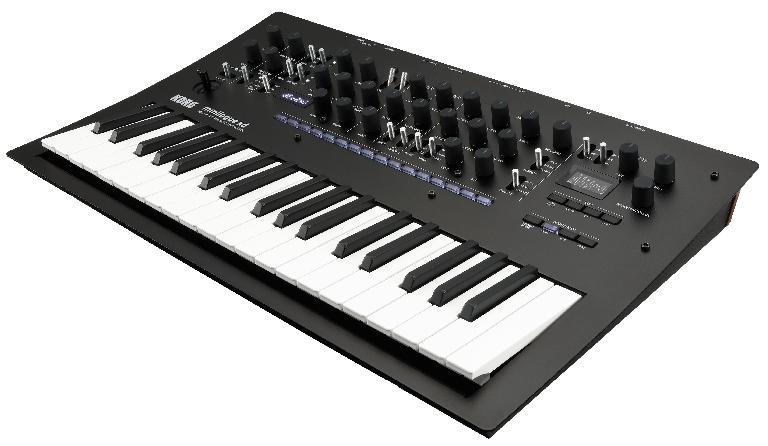 The Voice Mode Depth knob augments whichever mode you've selected. In Poly mode, it adds Duo voice stack detuning; in Unison it increases the detune amount; in Chord, it selects the chord voicing (which is conveniently displayed on the XD's LCD); in Arp/Latch it selects the arpeggiator pattern.
Sound Generation
A pair of analog oscillators can be selected from sawtooth, triangle, or square, with adjustable octave and tuning. Dedicated Shape controls for each oscillator add more complicated harmonics to thicken each oscillator's already sumptuous tone.
For additional harmonics or to really slice through a mix, flipping the Sync switch force-synchronizes oscillator 2 to oscillator 1 for a classic "hard sync" sound. The Ring switch ring modulates oscillator 2 to the rate of oscillator 1, generating wild atonal textures.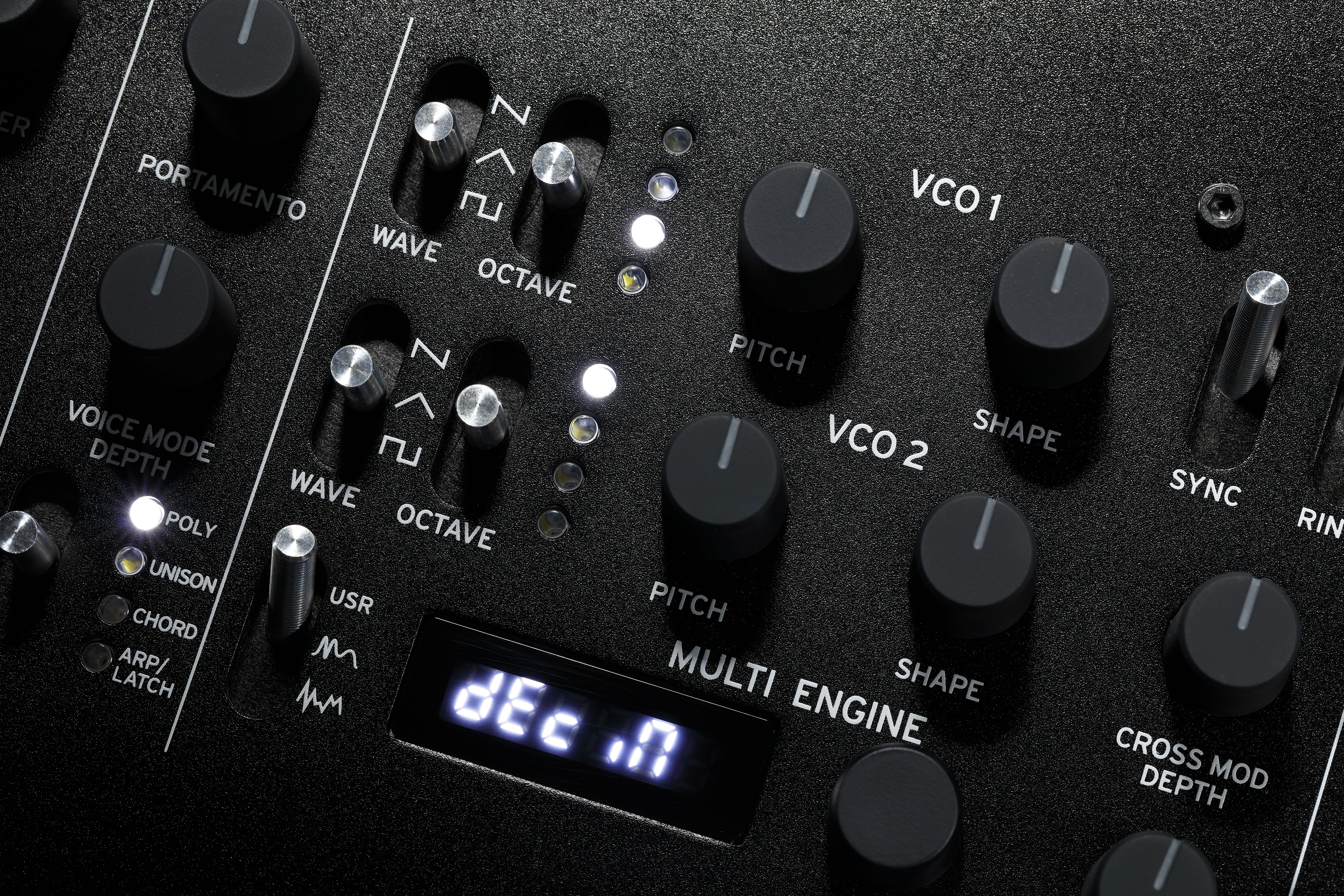 Finally, a Cross Mod Depth knob allows oscillator 1 to modulate the pitch of oscillator 2, providing otherworldly metallic tones found on classic analog synths such as the Roland MKS-30. In sum, these harmonic augmentation and modulation features offer powerful sound design capability with just the XD's two analog oscillators alone.
But it's arguably the third digital oscillator that elevates the XD to truly versatile sound design weaponry. The most conventional option is Noise mode, which comes with High, Low, and Peak filter modes, plus a Decimator option for a more blatantly digital tone; sweeping the Shape dial changes the Noise filter setting.
If you're seeking more unusual digital tones, particularly with intense harmonic content, the Variable Phase Modulation mode provides simple Frequency Modulation routing options via the Type rotary, while the Shape dial controls the modulation depth and ratio offset simultaneously, yielding a powerful array of sonic results simply unavailable with analog synthesis alone. For anyone compelled to tinker further (and up for a bit of menu diving) there are further VPM control options accessible via the Program Edit mode.

Finally, the User mode allows you to import up to 16 custom waveforms, instantly expanding the XD's potential – especially to make it "your own". And with companies like Sinevibes already offering pre-built XD oscillator expansion sets, the XD is a rare synth with the capability to continue evolving years after purchase. A simple mixer section allows you to balance the levels of each of the three oscillators via knob.
Filtration
A thick analog low-pass filter offers further sound sculpting. Self-oscillating resonance provides all the peakiness you might desire when maxed out, while offering creamy tone at more reasonable settings. The built-in Drive circuit can be bypassed, set to 50%, or fully engaged for a more aggressive tonal boost, while Key Tracking can be disabled, similarly set to 50% for more subtle gradation, or fully imposed on the entire keyboard range. It is somewhat perplexing that other filter models such as high- or band-pass aren't offered, but when playing with the XD I never found myself actually wanting for them.

Modulation
The XD comes with a dedicated four-stage ADSR Amp envelope, and an auxiliary two-stage envelope with Attack and Decay that can be applied to the filter cutoff or the pitch of either analog VCO, with a dedicated bipolar amount dial. The XD's single LFO comes in the same saw, triangle, and square flavors offered on the VCOs, with BPM synchronized, unsynchronized, and one shot options all governed by dedicated Rate and Intensity controls. A target switch assigns the LFO to control filter cutoff, oscillator pitch, or oscillator shape; which oscillator it controls can be specified in the Program Edit menu.
While the LFO goes from a reasonably wide range of 0.05 to 28 Hz, I found myself wishing it could go a bit faster in normal mode to produce additional tone coloring – which the LFO is clearly capable of, as demonstrated by setting it to the fastest synchronized rate of 1/64th note and setting the internal clock to the maximum 240 BPM. Hopefully this can be addressed in a future firmware update. I also enjoy a bit more flexibility in terms of modulation destination assignment; for example, adjusting the Cross Mod Depth, filter resonance, or oscillator mix amount via LFO or the secondary envelope generator could open up some welcome possibilities – but this is compensated for to a large degree by motion sequence modes, and is certainly not a deal-breaker either way.
Effects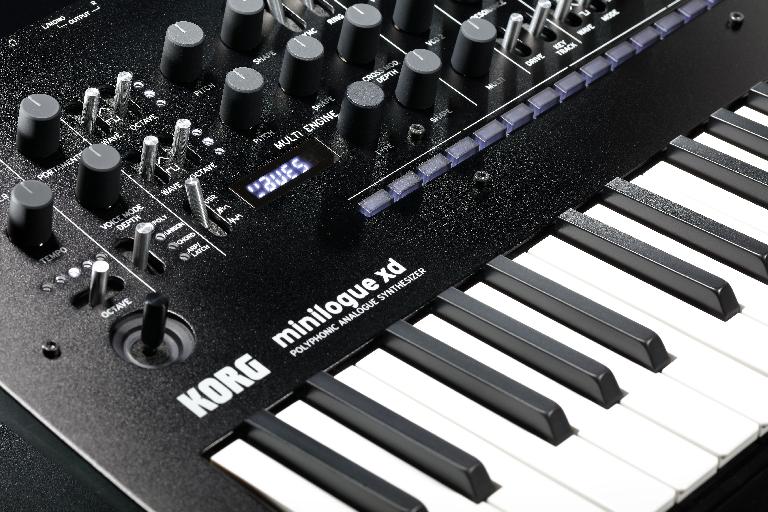 A powerful digital multi-effect unit more than makes up for somewhat limited modulation routing. Three effect blocks can be used simultaneously: Modulation, including Chorus, Ensemble, Phaser, and Flanger; Reverb with a host of room shapes; and Delay, with digital, analog, and synchronizable flavors. Time and Depth knobs govern the selected effect when engaged. While only two dials may seem to provide inadequate control over effects processing, the effects are already tuned, equalized, and optimized to avoid muddiness, and all sound pretty impressive across the board.
Sequencer
The Minilogue XD is a potent synthesizer offering an array of robust sound design options that ought to be compelling for a wide variety of producers – so I was surprised to find the onboard sequencer one of the XD's most captivating elements. A simple step entry mode allows you to enter notes or chords on any step in a sequence of customizable length, while real-time record mode captures notes as you play them normally. Note removal is easy, as well as entering rests or ties. Better yet, the sequencer Motion Mode allows you to record automation of up to four parameters into a sequence to create truly dynamic patterns. Not only is this feature unavailable on most comparable analog synthesizers, but it also helps compensate for the lack of modulation routing options by essentially allowing you to modify, in sequence, any parameter you like.
XD Power
With an elegant, intuitive design that invites instrumentality and a wealth of additional options such as microtuning scales, customizable joystick assignment for each patch, and a handy oscilloscope to show the development of tones as you build them, the Minilogue XD is a tantalizing option for anyone seeking an analog synth to add to their arsenal.
Especially considering the price point and digital layering options, it's hard to identify any direct competition in the market. With its sleek form factor featuring a host of connectivity options (including USB and CV) plus the ability to customize via user waveforms, Korg really seem to have outdone themselves with the XD. Highly playable with exquisite sound, I could barely keep my hands off it.