Korg, en estos días, está haciendo sentir su presencia en casi todos los aspectos de la música. Mientras que en su mayoría se está hablando de volcas, Electribes, y varias aplicaciones de iOS, hay un par de dispositivos de hardware que acaba de salir, y mientras que tengo en mis manos, que añaden una capa aún mayor a los instrumentos de software iOS, También es perfectamente capaz con un ordenador portátil, para arrancar. En esta revisión, vamos
Keep it Simple...
Sorprendentemente, el aire, y Key 2 son privados de muchas de las perillas, LEDS y otras campanas y silbatos, que muchos otros fabricantes espolvorear sobre, al igual que las luces de Navidad. Pero, sólo porque el bling de falta, que doesn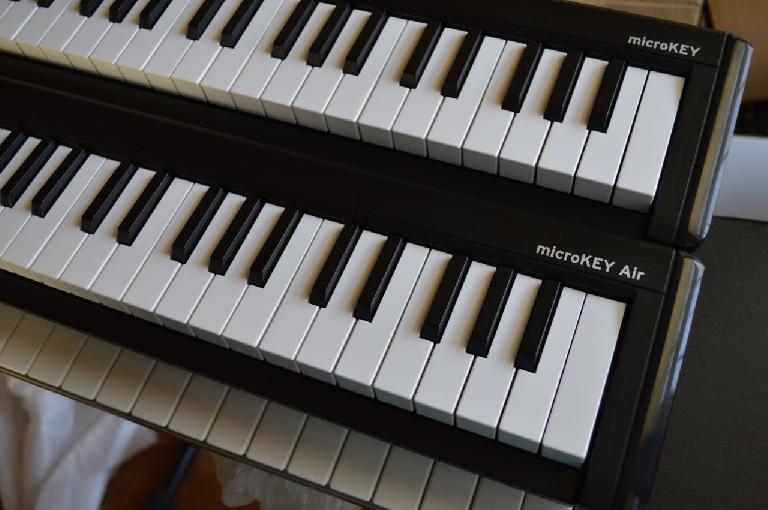 El exterior básico del Aire, y Key2, se compone de un grado medio, plástico negro. Para ser honesto, ellos no
Mientras que las teclas son más pequeñas, no me siento de ninguna manera abstenido de mi rendimiento. Claro, las teclas más grandes se sienten mejor, pero cuando se trataba de hacer estallar hacia fuera latidos, jugando almohadillas épicas, e incluso partes de piano, sinceramente, me encontré tiempo para acostumbrarse a la acción, con bastante rapidez. Y, debido a que la llave 2 49 es tan ligero, podría guardo en mi regazo, a veces, sin sentirse incómodo.
Antes de seguir, tengo que mencionar que las dimensiones reales de estos controladores realmente comenzaron a crecer en mí durante un par de las principales razones. En primer lugar, incluso los controladores con una mayor cantidad de teclas son extremadamente fáciles de viajar. Por supuesto, ellos aren
Pero hay
Speaking of Air...
El MicroKey Air es una versión de la línea de corriente que MicroKey encarecidamente aconsejaría echar un vistazo a. La conexión se realiza sin esfuerzo. Simplemente encenderlo en modo inalámbrico, vaya a su aplicación, con Bluetooth MIDI, y conectarlo. Si la latencia es malo, simplemente ajustar hacia abajo el tamaño del búfer de 1024, a 256, o menos, si usted no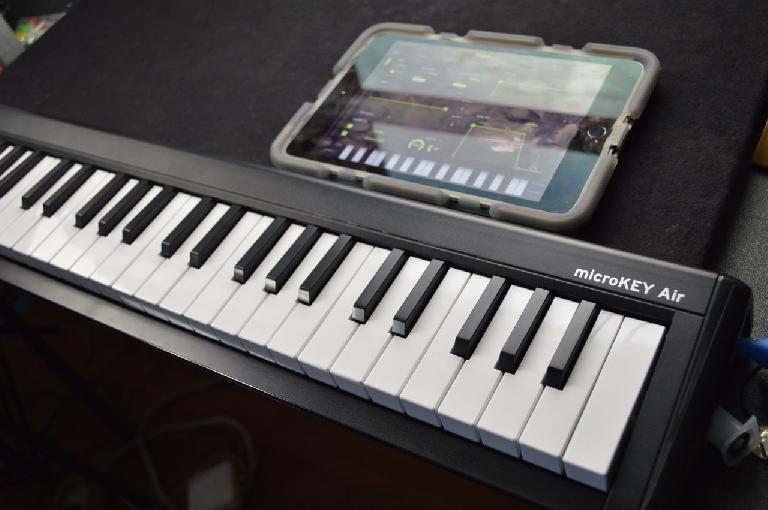 Normalmente,
Pitch and Mod
Ambos controladores disponen de ruedas de pitch y mod, y que las teclas son más pequeños, por lo que son las ruedas. Pero, si bien pueden ser pequeños, el movimiento es suave, y me pareció tanto el terreno de juego y ruedas de modulación a ser bastante expresivo.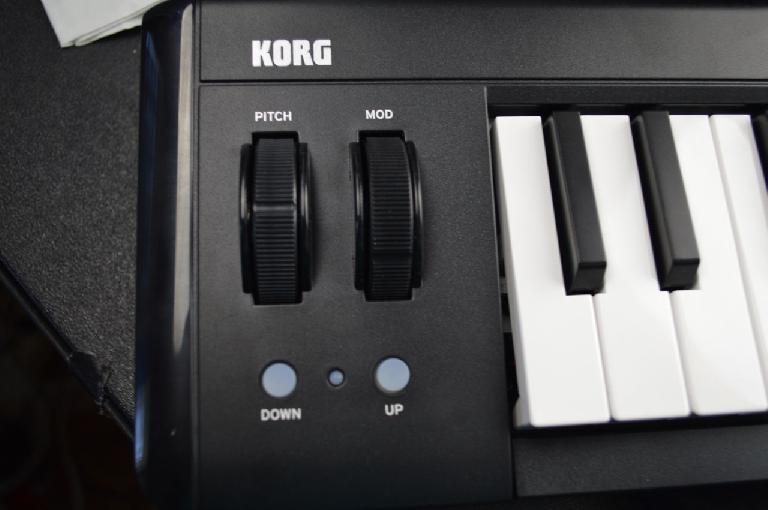 yo
Una nota importante: El MicroKey 2 y MicroKey Aire 25 versiones principales deporte un botón incorporado arpegiador, y sostener, para situaciones en las que usted no tiene un pedal física. Si lo hubiera sabido, yo probablemente haría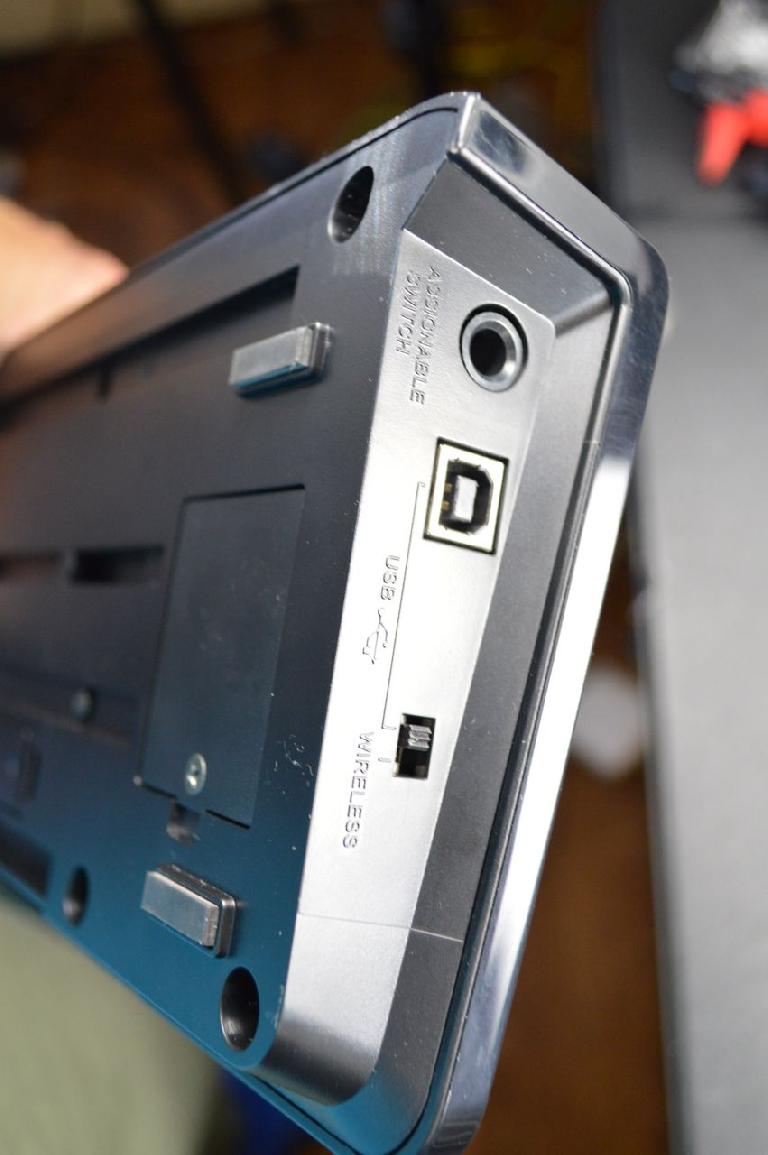 Pero, me hizo disfrutar de la toma de interruptor asignable, que sólo viene en las versiones claves 37, 49 y 61, y está destinado a ser utilizado como un pedal de resonancia. Asignable Qué significa programación, por lo que la línea de MicroKey sería, además, fresco para la gente que hace, actuaciones en vivo basado en bucle. Asigne el pedal para la función de grabación, y usted
Battery Power...
Mientras que usted puede funcionar tanto el microKEY2 o aire fuera de una conexión USB, también tienes la opción de energía de la batería. Ambos controladores pueden tomar dos baterías doble AA, añadiendo, de nuevo, a la portabilidad de gran alcance.
Lots of Software...
Korg haces un muy serio colección de instrumentos clásicos, e incluso
Esto realmente significa que el que llegue a sus manos en estos controladores se iniciará con un poco de potencia de audio generoso, después de la compra. Y eso
Conclusion
Así que, como la temporada de vacaciones alrededor de los rollos, me
Precio:
Korg microKEY2 (49 teclas): $ 119.99
Korg MicroKey AIRE (49 teclas): $ 159.99
Pros: Múltiples versiones para diferentes necesidades, exteriores delgadas hacen maravillosas controladores de espacio de trabajo con espacio limitado. Luz y altamente
Contras: teclas más pequeñas, con lo que parece ser un exterior muy frágil. No hay rotondas, perillas asignables adicionales. Sólo los colores son negro.
Web: