Korg, in diesen Tagen, macht ihre Präsenz in so ziemlich jeden Aspekt der Musik zu spüren. Während sie meist etwa für volcas, Electribes und mehrere iOS-Anwendungen gesprochen, es gibt ein paar Hardware-Geräte, die kam gerade heraus, und dass ich meine Hände auf, die eine noch größere Schicht auf jene iOS Software-Instrumente hinzufügen, während, wobei auch durchaus in der Lage mit einem Laptop, zu booten. In diesem Beitrag können
Keep it Simple...
Überraschenderweise ist die Luft, und Key 2 beraubt viele der Knöpfe, LEDs und anderen Schnickschnack, dass viele andere Hersteller bestreuen, wie Xmas Lichter. Aber, nur weil die bling fehlt, es doesn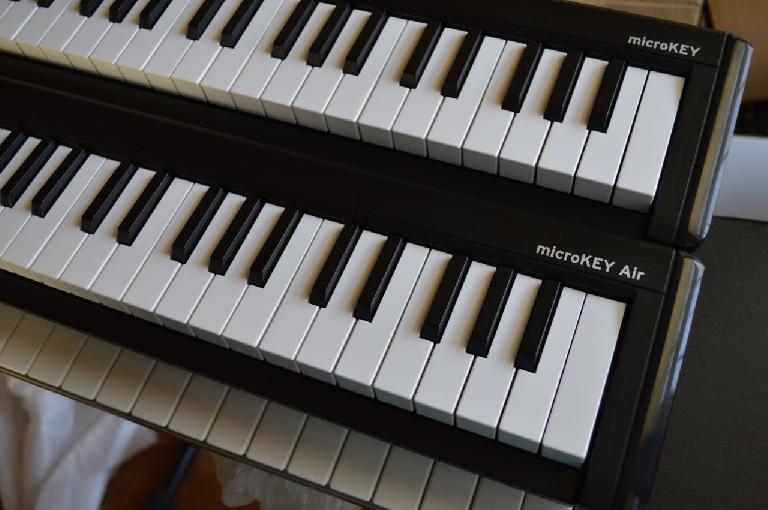 Die Grund Äußere des Air und Key2, besteht aus einem mittleren Grad, schwarzen Kunststoff. Um ehrlich zu sein, sie don
Während die Tasten sind kleiner, fühlte ich mich nicht in irgendeiner Weise von meiner Leistung zurückgehalten. Sicher, das Gefühl, die größeren Tasten besser, aber wenn es um die Herausspringen Beats, spielen epischen Pads und sogar Klavierparts kam, ich ehrlich gesagt fand ich mich am Anfang der Aktion verwendet wird, ziemlich schnell. Und, weil die Taste 2 49 ist so leicht, ich könnte es in meinem Schoß zu halten, zu Zeiten, ohne sich unwohl.
Bevor ich auf, muss ich erwähnen, dass die tatsächlichen Abmessungen dieser Controller wirklich begonnen, mich für ein paar wichtige Gründe wachsen. Erstens sind auch die Regler mit einer höheren Menge von Tasten sehr einfach, mit zu reisen. Zugegeben, sie aren
Aber da
Speaking of Air...
Die microKEY Air ist eine Version der aktuellen microKEY Linie, das ich sehr empfehlen, einen Blick auf. Anschluss ist mühelos. Drehen Sie einfach auf den Wireless-Modus, gehen Sie in Ihrem App, mit Bluetooth-MIDI, und schließen Sie es. Wenn die Latenz schlecht, nur auf die Puffergröße anzupassen von 1024 auf 256, oder niedriger, wenn Sie don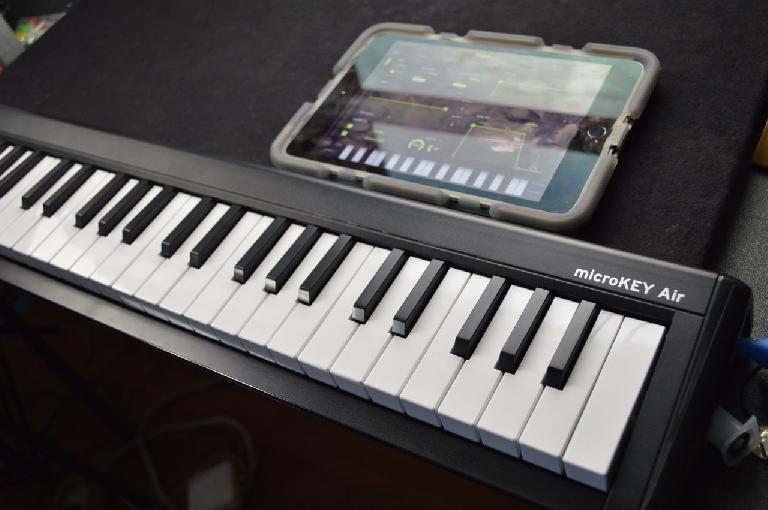 Normalerweise I
Pitch and Mod
Beide Controller verfügen Pitch- und Modulationsrad, und wie die Tasten sind kleiner, so dass die Räder. Aber, während sie klein sein kann, ist die Bewegung glatt, und ich fand sowohl die Pitch- und Modulationsrad ganz ausdrucks sein.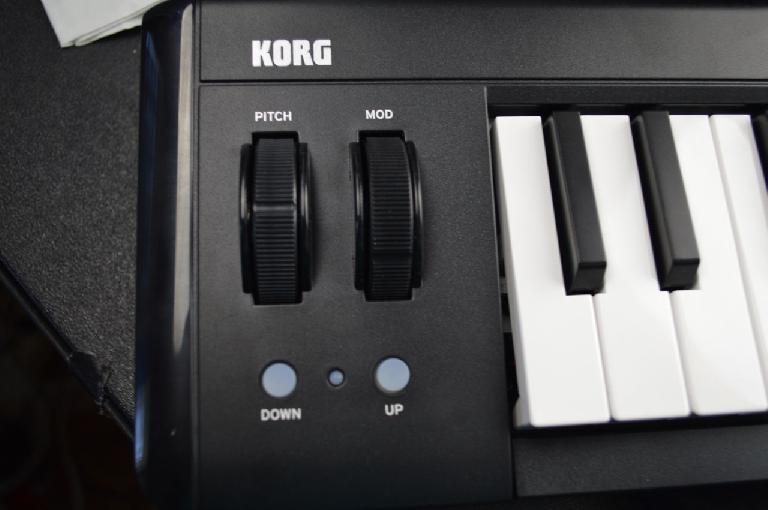 ich
Eine wichtige Anmerkung: Die microKEY 2 und microKEY Air 25 Schlüssel Versionen Sport eine integrierte Arpeggiator und Sustain-Taste, für Situationen, in denen Sie nicht über eine physische Pedal. Hätte ich gewusst, ich würde wahrscheinlich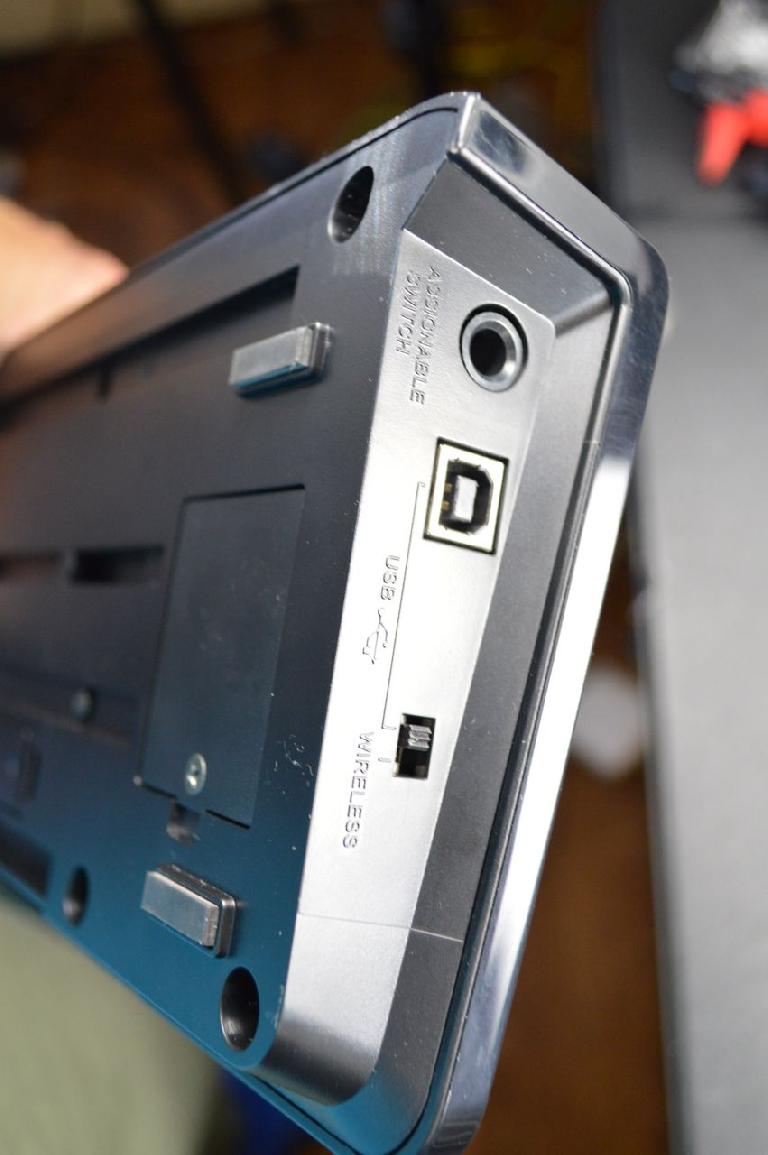 Aber, ich habe genießen Sie den belegbaren Schalter-Buchse, das kommt nur in den 37, 49 und 61 Schlüssel-Versionen, und soll als Haltepedal verwendet werden. Assignable bedeutet, Programmierbarkeit, so dass die microKEY Linie würde zusätzlich cool für Leute, die Loop-basierte, Live-Performances zu sein. Weisen Sie das Pedal auf die Record-Funktion, und Sie
Battery Power...
Während Sie können entweder die microKEY2 oder Luft weg von einer USB-Verbindung ausführen, erhalten Sie auch die Möglichkeit der Batterieleistung. Beide Controller können zwei Doppel AA-Batterien zu nehmen, das Hinzufügen, wieder auf die leistungsfähigen Mobilität.
Lots of Software...
Korg bündelt eine ziemlich ernste Sammlung von klassischen Instrumenten und sogar
Das bedeutet, dass, wer wirklich bekommt ihre Hände auf diese Controller startet mit einigen großzügigen Audioleistung, beim Kauf. Und das
Conclusion
So, wie die Ferienzeit herum rollt, I
Preis:
Korg microKEY2 (49 Tasten): 119,99 $
Korg microKEY AIR (49 Tasten): 159,99 $
Pro: Mehrere Versionen für unterschiedliche Bedürfnisse, machen dünne Außenbereich für die wunderbare Arbeit Raum-Controller mit wenig Platz. Leichter und hoch
Nachteile: Kleinere Schlüssel, mit dem, was scheint, ein sehr zerbrechlich außen sein. Keine rotaries oder zusätzliche programmierbare Drehregler. Nur Farben sind schwarz.
Web: