Korg, these days, is making their presence felt in pretty much every aspect of music. While they are mostly being talked about for volcas, Electribes, and several iOS applications, there are a couple of hardware devices that just came out, and that I have my hands on, that add an even greater layer to those iOS software instruments, while also being perfectly capable with a laptop, to boot. In this review, let's take a look at the MicroKEY Air, and microKEY 2, and see how much control you really can have over an iPad, or your laptop.
Keep it Simple...
Surprisingly, the Air, and Key 2 are bereft of many of the knobs, LEDS, and other bells and whistles, that many other manufacturers sprinkle on, like Xmas lights. But, just because the bling is missing, it doesn't mean that there aren't some goodies hiding in those dark, black chassis. Before we get to all that, how sturdy are they?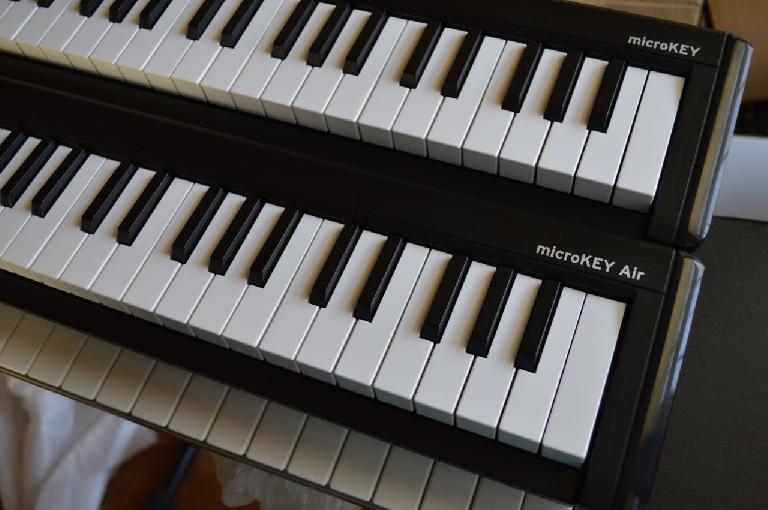 The basic exterior of the Air, and Key2, is comprised of a medium grade, black plastic. To be honest, they don't feel that great coming out to the box, but the keys really do make up for it. And, the light plastic does have one major perk—They are extremely, light controllers.
While the keys are smaller, I did not feel in any way held back from my performance. Sure, the bigger keys feel better, but when it came to popping out beats, playing epic pads, and even piano parts, I honestly found myself getting used to the action, fairly quickly. And, because the Key 2 49 is so light, I could keep it in my lap, at times, without feeling uncomfortable.
Before moving on, I need to mention that the actual dimensions of these controllers really started to grow on me for a couple of major reasons. First, even the controllers with a higher amount of keys are extremely easy to travel with. Granted, they aren't going to be ideal for concert recitals, but these are awesome for quick, jump in the car and roll.
But, there's one more thing. The thin exteriors make these controllers ideal for webcasts, YouTube, and even Ask.Audio Academy tutorials, because you can easily fit them into the lower portion of the screen, underneath an iPad, Laptop, or even a hardware synth. These controllers are great for people with very little space on their desks. They are thin enough to fit in front of a laptop, or even sit on a lap.
Speaking of Air...
The microKEY Air is a version of the current microKEY line that I would highly advise taking a look at. Connection is effortless. Simply turn it on to wireless mode, go in to your App, with Bluetooth MIDI, and connect it. If the latency is bad, just adjust down the buffer size from 1024, to 256, or lower, if you don't mind the processor hit, and you're in action. Also, upon re-logging in to your iDevice, or other, bluetooth is quickly rediscovered.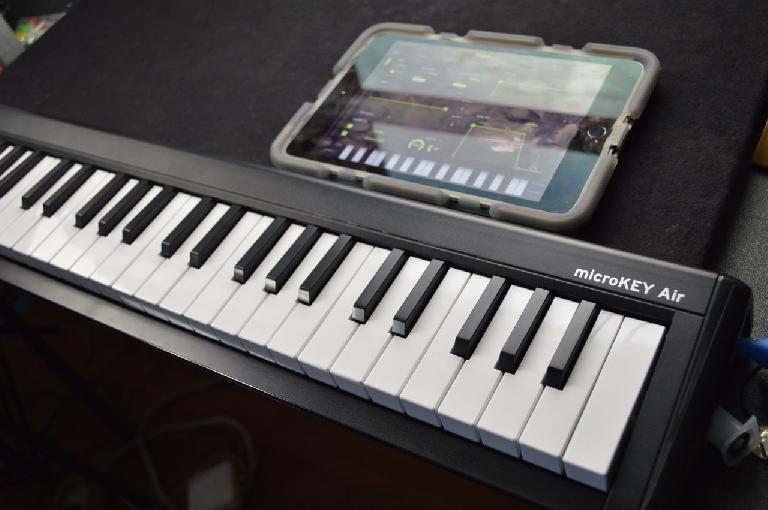 Normally, I'm not the biggest bluetooth fan. Generally speaking, I've found it to be an option that causes issues with latency, audio, and so on, but the microKEY Air may have just made a believer out of me.
Pitch and Mod
Both controllers feature pitch and mod wheels, and as the keys are smaller, so are the wheels. But, while they may be small, the movement is smooth, and I found both the pitch and mod wheels to be quite expressive.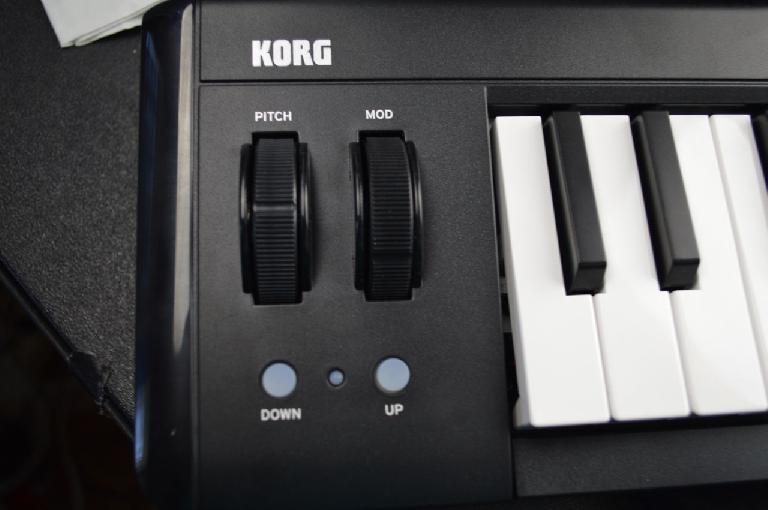 I'd also like to point out that the slightly recessed design should make you feel pretty easy that one of rollers will be broken off by a stray backpack strap. Even the keys are protected with rounded, sturdy, bumper-like siding. So, while the chassis may be light, you may actually have to do some work to break one of these.
One major note: The microKEY 2, and microKEY Air 25 key versions sport a built-in arpeggiator, and sustain button, for situations where you do not have a physical pedal. Had I known, I probably would've looked at the smaller versions, instead of going for the 49-key versions.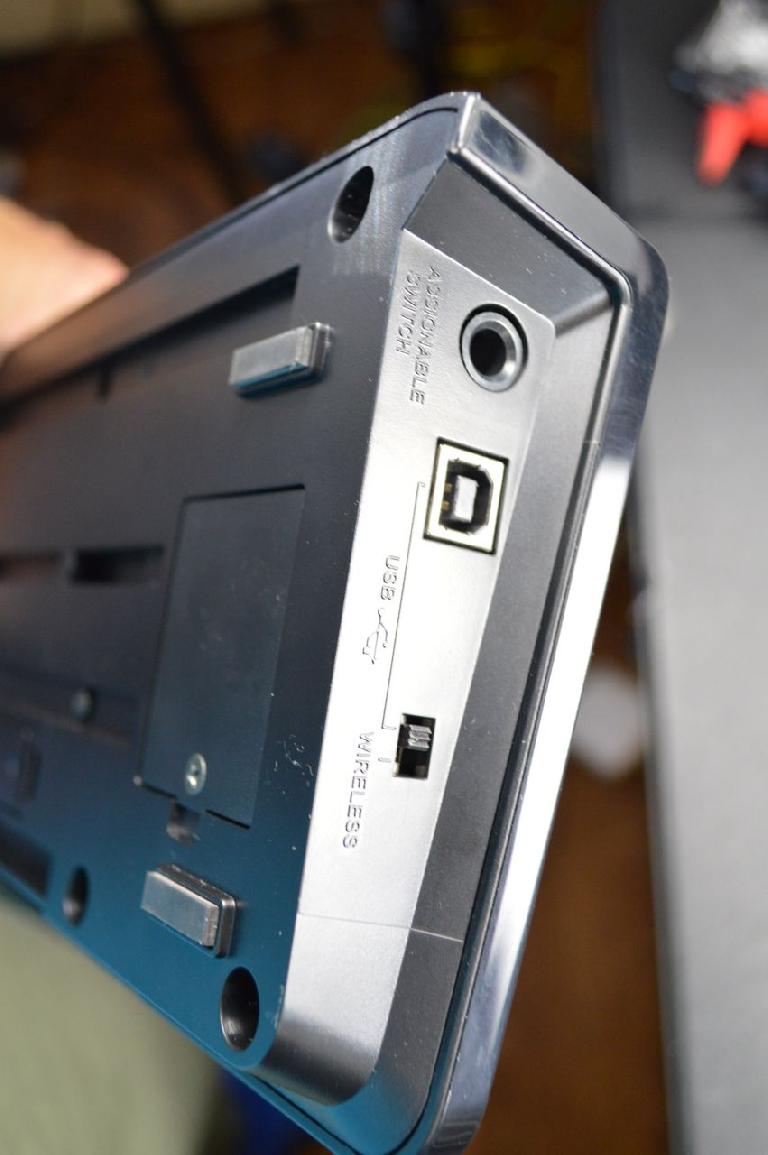 But, I did enjoy the assignable switch jack, that only comes in the 37, 49 and 61 key versions, and is intended to be used as a damper pedal. Assignable does mean programmability, so the microKEY line would be additionally cool for people doing loop-based, live performances. Assign the Pedal to the record function, and you're ready to go!
Battery Power...
While you can run either the microKEY2, or Air off of a USB connection, you also get the option of battery power. Both controllers can take two double AA batteries, adding, again, to the powerful portability.
Lots of Software...
Korg bundles a pretty serious collection of classic instruments, and even 'special' versions of the Korg Gadget and Korg Module. I did not actually get the code to download, being a reviewer, and having the devices before ship date, but I will say that this is a bundle I really do care about, for a change. It's not just another copy of Live Lite (which is not included). It's an actual set of instruments, both VST and iOS.
This really means that whoever gets their hands on these controllers will start off with some generous audio power, upon purchase. And, that's where I really start to see the strategy that Korg has in play by including these very simple controllers into their lineup—Great value, with great delivery.
Conclusion
So, as the holiday season rolls around, I'd definitely recommend either the microKEY2, or microKEY Air as great holiday gifts. In fact, I'll go even a step further. If you're in jam sessions, using gear that can be quickly set up, or packed up, and like to travel light—These are awesome!! In terms of touring keyboards, with the light plastic, and smaller keys—Maybe not so much.
Price:
Korg microKEY2 (49-key): $119.99
Korg microKEY AIR (49-key): $159.99
Pros: Multiple versions for different needs, thin exteriors make for wonderful work space controllers with limited space. Light and highly portable. More expressive than they look.
Cons: Smaller keys, with what appears to be a very fragile exterior. No rotaries, or additional assignable knobs. Only colors are black.
Web: www.korg.com