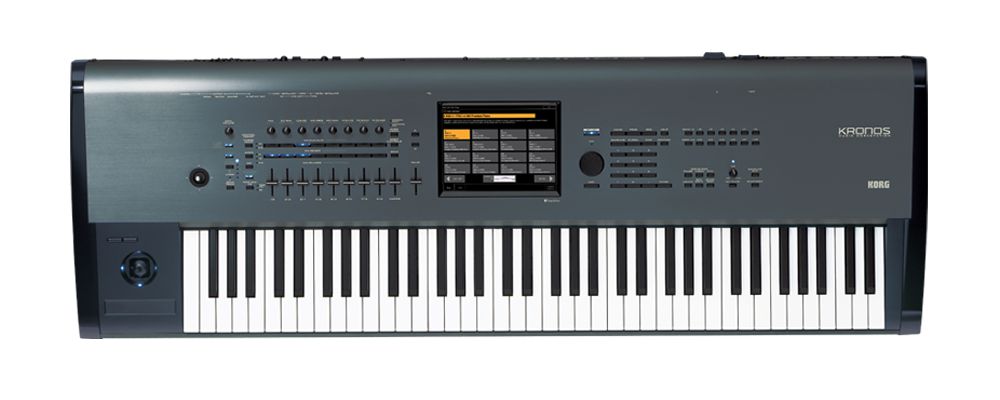 The Korg Kronos in Set List mode.
When macProVideo approached me to write about the Kronos back in 2011 (the year this workstation was first brought to market) I found myself in a bit of a quandary... I wondered if I could write an impartial review, because I fell in love with the thing during a two year span as a sound programmer and design consultant for the Kronos, and its predecessor, the OASYS. And even though I was well familiar with its capabilities, I would have had to write about it entirely from my recollections because I didn't actually own one. The prototype unit I'd been working on during product development was long gone, and I felt it would be only fair to do a hands-on review with a production unit. Well, cut to 2012 and I am now in possession of my own personal Kronos, and couldn't be more thrilled.
Overview
The Kronos is an insanely feature-laden workstation, available with either a 61-note synth action keyboard, or a 73 or 88-note weighted keyboard. Its extensive array of performance controls includes 10 sliders, 8 knobs, dozens of switches, two joysticks, a ribbon controller, and aftertouch. Filling out the front panel are four sets of controls for data entry: inc/dec buttons, a large endless rotary encoder, a data slider, and a 10-key keypad.
True to the definition of "workstation", the Kronos has an integrated sequencer for recording both MIDI and audio tracks. Though I'm a dyed-in-the-wool Logic user, I find the built-in sequencer handy for quickly putting down ideas and improvisations when I'm playing the Kronos away from my computer rig. That said, even in our present culture of digital music-making where DAWs seem to predominate, some musicians still prefer the integration of a sequencer in the same unit that they're performing on. And for live or touring situations, the sequencer is great for playback of backing tracks; even MIDI files and audio prepared on a DAW can be imported to the Kronos' sequencer via USB memory stick. And of course, you can also play the Kronos while the sequencer is running.
Hardware buttons are used for switching between the Kronos' various modes (Program, Combination, Sequencer, Global, Internal SSD disk access, etc.), but for most programming operations, the Kronos center around its built-in touchscreen. The touchscreen itself is rather large, bright, and overall very impressive-looking. But many of the Kronos' pages are quite crammed with information, hence the size of some of the on-screen text and software buttons are definitely on the smaller side of large. While you can't pop a larger screen into the Kronos, Korg has recently released free editing software for both Mac and PC which replicates the view of Kronos' touchscreen on your computer monitor. Not only is this great for relieving eye strain during intense periods of programming, but it allows for editing with the familiarity of a mouse or trackpad.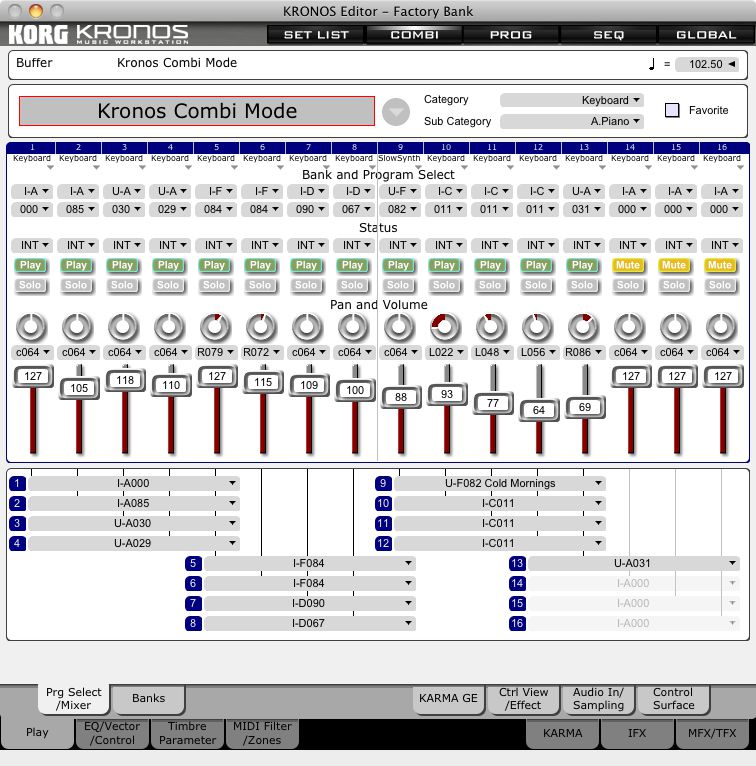 Screenshot of the new Kronos editor.
Version 1.6.0 Software Update
The editor was released in tandem with an update for the Kronos' operating system, version 1.6.0 (required for running the editor). In addition, the update offers some other goodies: it opens up an additional 7 banks of program storage (each with 128 program slots) and allows any class-compliant USB MIDI device to be directly connected to the Kronos' USB ports (think: secondary keyboards, drum pads, and so on). A number of small bug fixes and other improvements are addressed by the update as well.
But wait, there's more! The Kronos' seemingly endless list of features includes KARMA (algorithmic pattern generation), user sampling (with on-board sample editor), 16 effects with extensive routing options, and the live performance Set List feature for quick recall of programs, combinations, and sequences (with provision to add your own program notes!).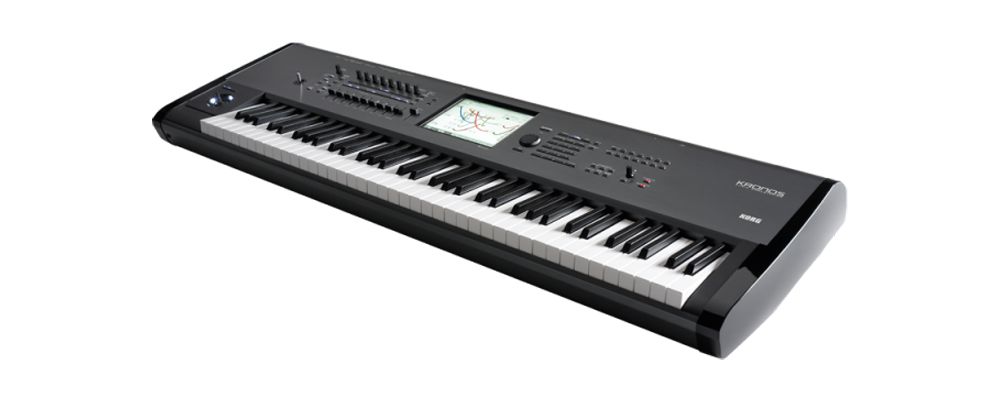 Second Time's A Charm
The Kronos is the first keyboard I've added to my studio in quite some time, having sold most of my keyboard synths years ago when I decided to join the contingent of in-the-box music makers. But inasmuch as my Kronos is a personal trophy, the penultimate representation of my participation in its development, more importantly it fulfils several sorely needed requirements in my production studio. And I do mean "sorely": prior to getting my 61-note synth action Kronos, my sole controller had been an 88-note weighted keyboard and let me tell you, performing organ and harp glisses on that thing was murder on my fingers. Indeed, blood on the keys is never a pretty sight. So after waiting far too long, I'm back to having a synth-action keyboard in my studio for playing certain parts, and in the process I got to retire a package of moleskin plasters.
Piano or Pain-o?
Speaking of "painful", that's been my feeling about the sound of pretty much every plugin-based piano instrument I've tried to date. But quite to the contrary, the Kronos' pianos sound wonderful and are eminently playable, thus the Kronos has fulfilled another item on my studio wish list: great sampled piano sounds. Hookup to my studio rig is simple enough, too: for MIDI, a USB cable from the Kronos to my USB hub. And for audio, I have the choice to use the balanced analog outs into my mixer, or for direct digital transfer, an optical cable directly into my interface.
And the geek in me loves the technology behind the Kronos pianos, too: 8 velocity-switched layers of non-looping samples which stream from the internal SSD drive. All tolled, these features comprise the SGX-1 Premium Piano, just one of nine "sound engines" hosted within the Kronos.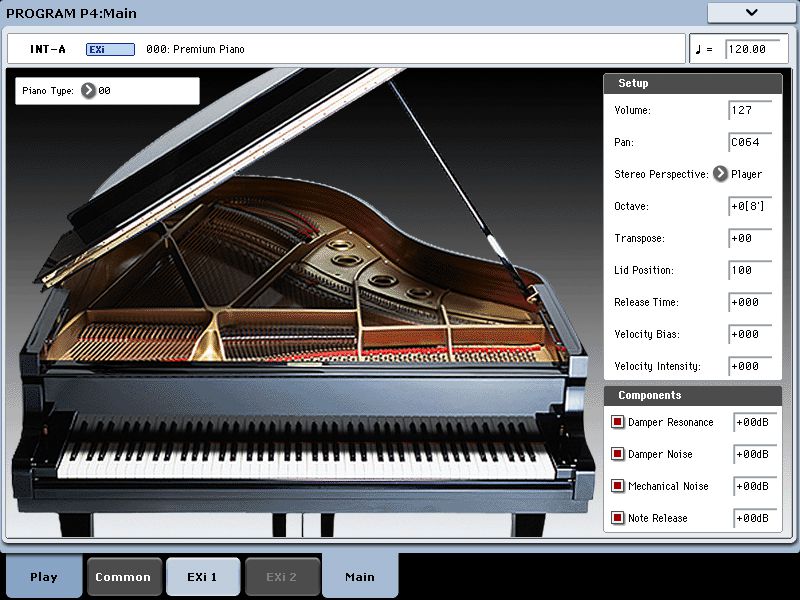 View of an SGX-1 piano program as seen on the built-in touch screen.
Loco Motiv-ation
The others eight sound engines offer a ridiculously wide palette of instrument sounds generated by a variety of digital technologies. There's a proprietary electric piano model (for Rhodes and Wurlitzers), a Hammond B3 tone-wheel organ emulation, a ROMpler synth instrument (sample-based synth with thousands of presets), a patchcord programmable FM synth, and a full-fledged physical modelling synth, (a personal favorite). Together with the piano model, we're up to six sound engines, and when you add in the three analog synth models — Polysix, MS-20, and AL-1 (a sophisticated virtual analog synth) — we arrive at nine.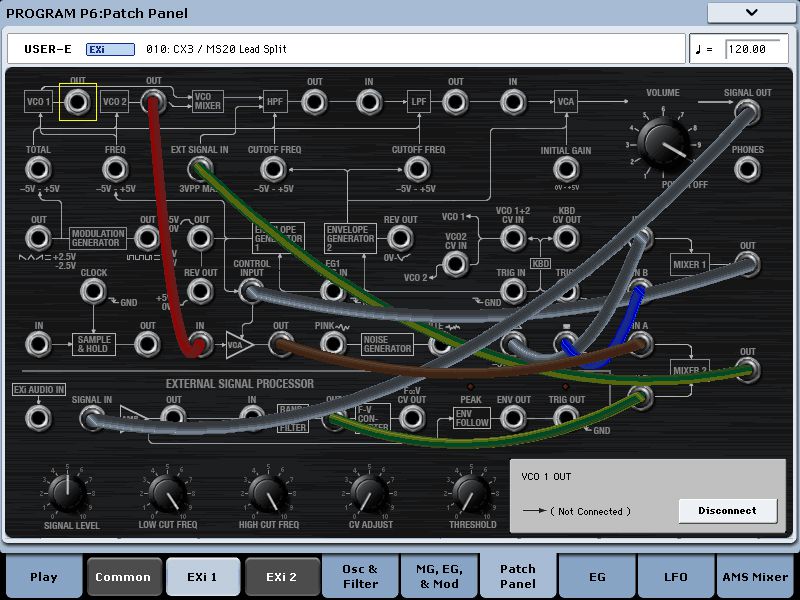 Touchscreen view of the MS-20's patch panel.
Three Synth Engines or One?
When the Kronos was first introduced, some of the early Internet buzz expressed concern over whether Korg's heavily-touted selling point of "9 [distinctly different] sound engines" was being truthfully represented in light of the presence of three analog synth models. Well, you just have to laugh at this kind of nonsense, don't you? Anyone who knows anything about analog synths understands that each one has a unique sonic character, and just the same way that a guitarist will choose a Telecaster over a Les Paul, a synthesist might choose a Korg over a Moog when they're after a certain kind of sound.
Thus, with the Kronos we have three distinctly different-sounding analog synths: the single oscillator Polysix with its built-in arpeggiator and classic chorus effect; the more advanced, slightly quirky, semi-modular MS-20 with its two oscillators, unique-sounding high and lowpass filters, and iconic patch panel for routing and processing control voltages using virtual patchcords (and true to the original design of this legacy synth, the MS-20 also features an envelope follower for deriving control voltages from audio sources). And the triumvirate of synths is made complete with…
AL-1 (Virtual Analog Synth)
Although Korg doesn't market it as such, it's my viewpoint that AL-1 combines the best of virtual synth technology and old-school modular design, though sans patch cords. Similar to the oscillators of Rob Papen's Predator and Camel Audio's Alchemy, AL-1 can produce the sound of multiple, detuned sawtooth waves from a single oscillator, great for generating very phat sounds in a hurry. AL-1's dual filters can be routed in series or parallel, and includes a highly useful multimode filter.
Synthesists will really dig in to its tremendous number of envelope generators, keyboard tracking generators, and LFO's (with speeds that range from "stop" on up into the audio range), two step sequencers, and what Korg calls "AMS Mixers" for adding, multiplying, offsetting, reshaping, gating, or smoothing modulation sources. And there's no shortage of modulation destinations for all that stuff either! Of course, there's no law saying that you have to utilize all of these resources when programming new sounds, but if programming complexity is what you're looking for, this synth definitely delivers.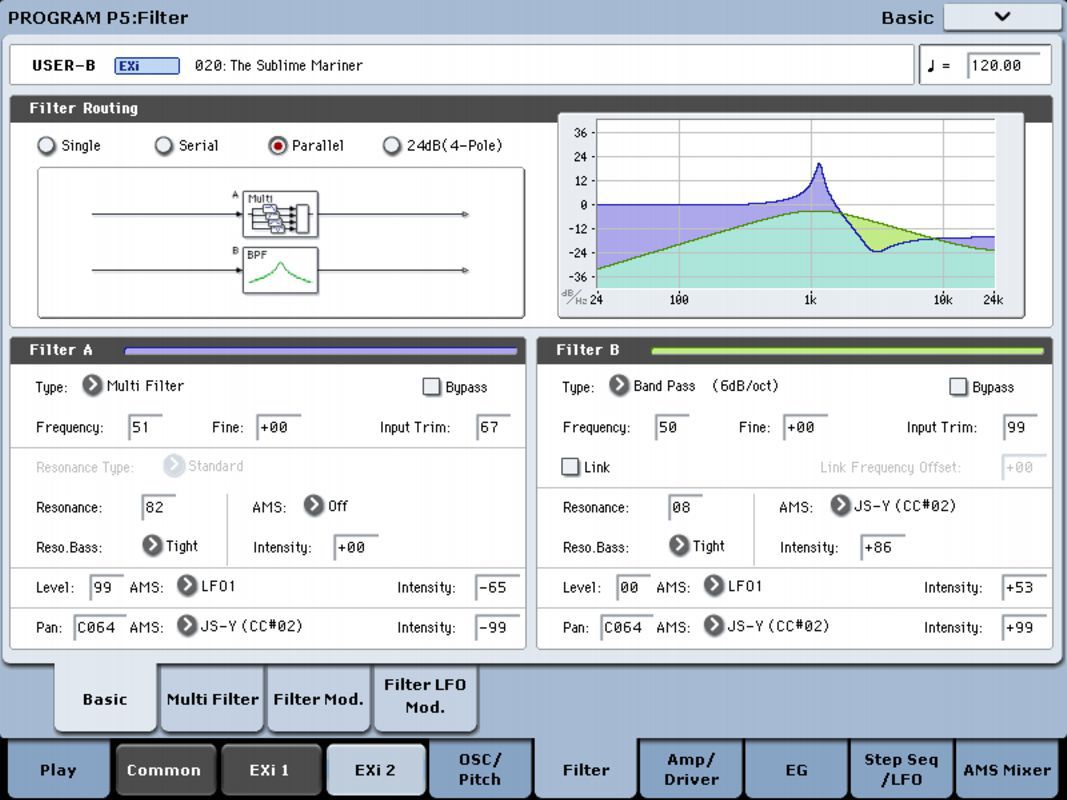 A view of the AL-1's dual filters showing the overlapping frequency response of the multimode and bandpass filters.
MOD-7 (Frequency Modulation Synth)
I can't help but think that "MOD-7" would be a great title for the first in a series of Ocean's 11 style movies, with Samuel L. Jackson in the lead role. But while I work on pitching that script, I'll tell you about the FM synth model in the Kronos of the same name.
Similar to the Yamaha DX-7 (the first commercially available FM synth to which comparisons are almost impossible to avoid), MOD-7 has six "operators" — individual oscillators which can be configured as either a carrier or a modulator. Compared to the DX-7's sine wave-only oscillators, MOD-7's oscillators offer multiple waveform choices, including waveshaping and ring modulation functions. And samples can be used either as modulators or used as-is for creating layered sounds within a single program.
While the DX-7 offered 32 fixed configurations of carrier/modulator combinations called algorithms, MOD-7 lets you roll your own custom algorithms by connecting oscillators any way you like via virtual patch cords on the touchscreen. And with 10 envelope generators, four LFO's, two step sequencers, and dual filters, FM synthesis has indeed come a long way.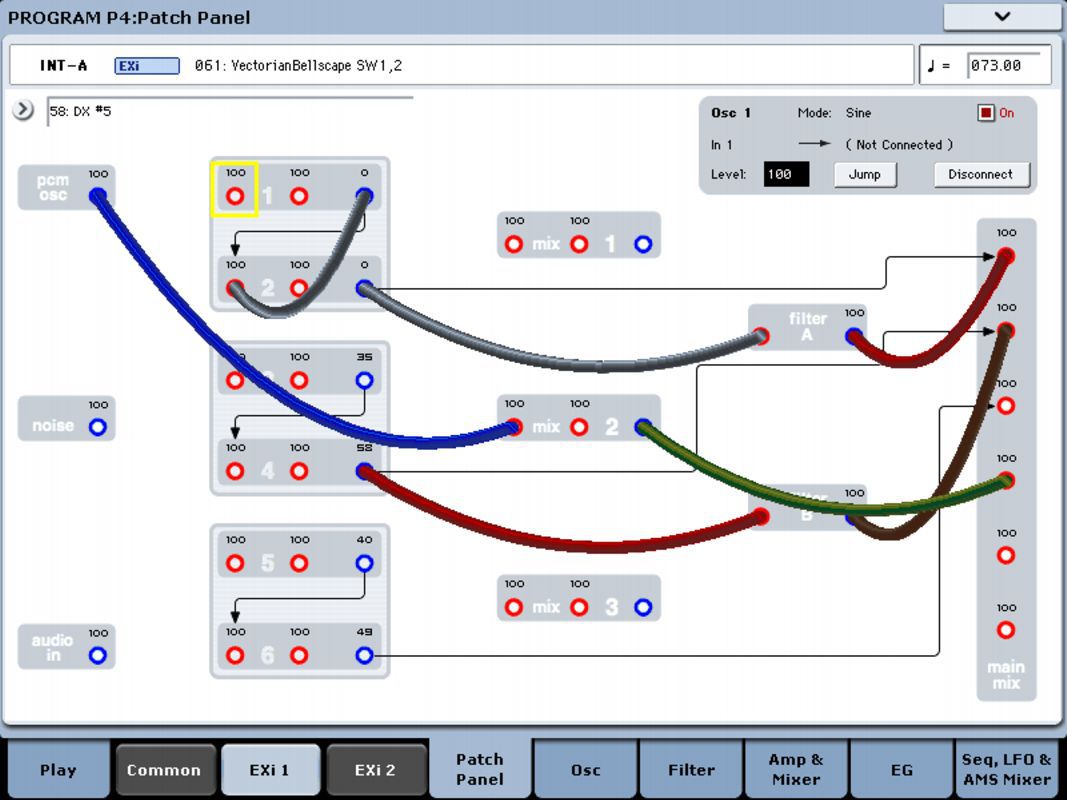 MOD-7's patch panel.
STR-1 (Physical Modelling)
For my money, this is the most intriguing of the Kronos' sound engines. Unlike analog synths which use oscillators to produce sound, physical modelling generates sound by "exciting" a virtual string or metal bar into motion. The sonic products of this process range from highly detailed and accurate-sounding simulations of acoustic string and percussion instruments, to entirely new, "impossible" acoustic instruments and other-worldly evolving textures (think: one-note movie score).
Excitation sources for the string/bar include a variety of "plucks" (impulses), a noise generator, or samples; these can be chosen from the thousands that ship with the Kronos, those you import via USB memory stick, or samples you make right on the Kronos itself using its built-in sampler. And if you're new to physical modelling, it's easy enough to read descriptions and programming tips for such parameters as Nonlinearity, Dispersion, and Excitation Position right on the Kronos' touch screen. Read on!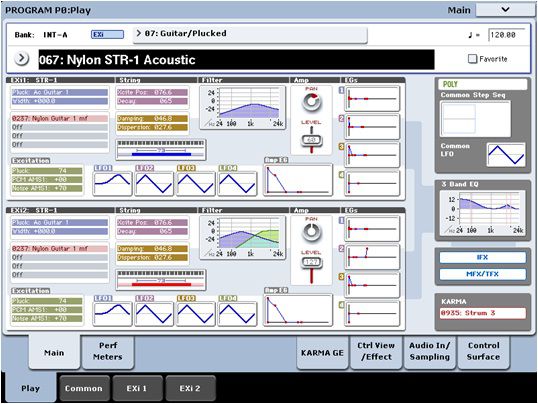 STR-1's main screen, showing two STR-1 sounds layered within a single program.
Help Me!
Although the Kronos ships with a DVD that includes a PDF version of the operation guide, it's also available for viewing right on the touchscreen by hitting the dedicated front-panel Help button. And the most recent version of the manual gets installed in the Kronos with the v1.6.0 update mentioned above. In fact, recently I've been on a tear creating a bunch of new STR-1 sounds, and even though I'm pretty familiar with how it works, there have been times where I've consulted the manual to refresh my memory: "tell me again, what's the difference between the Fret Number and Fret Position parameters?" Having on-board help for just such occasions is more than just convenient; it's a really classy touch in synthesizer design.
How Does It All Stack Up?
Let's put it this way… trophy keyboard as it is for me, or not, if I didn't like the way it sounds I wouldn't have one in my studio. And there it is! But it's not just going to sit around looking pretty. When it comes to orchestral music, including big band arrangements, certain of the Kronos' sax, brass, and woodwind sounds don't have any equals (or equivalents) in my collection of sample libraries. And for synth sounds, using the Kronos is a no-brainer.
From a performance perspective, the Kronos' sliders, switches, knobs, and other controls have given me greater capability for realtime manipulation of synth sounds than I previously had, and these controls can be used both for Kronos sounds as well as those coming from my DAW's plugins. And when it comes to having the means for creating truly unique sounds, the STR-1 and MOD-7 engines have quickly become my "secret weapons" of choice.