Fact: Grooveboxes are fun. All those knobs, faders and flashing lights can amuse most of us for hours but recently there seem to be less and less of them about. The clever people at Korg have managed to inject new life into their good old Electribe by releasing an iPad version, meaning you can get your sticky fingers all over it.

Groove Is in the Heart
I always loved the Electribe. Perhaps it wasn't the most fully-featured Beatbox out there but it certainly was one of the most fun to use. There was something very immediate about its interface and programming system.
The iPad version (1.5.1 at the time of this writing) is somehow even easier to get your head around. Even an absolute beginner can start to construct some kind of beat using it and experienced Electribe users are simply going to love it.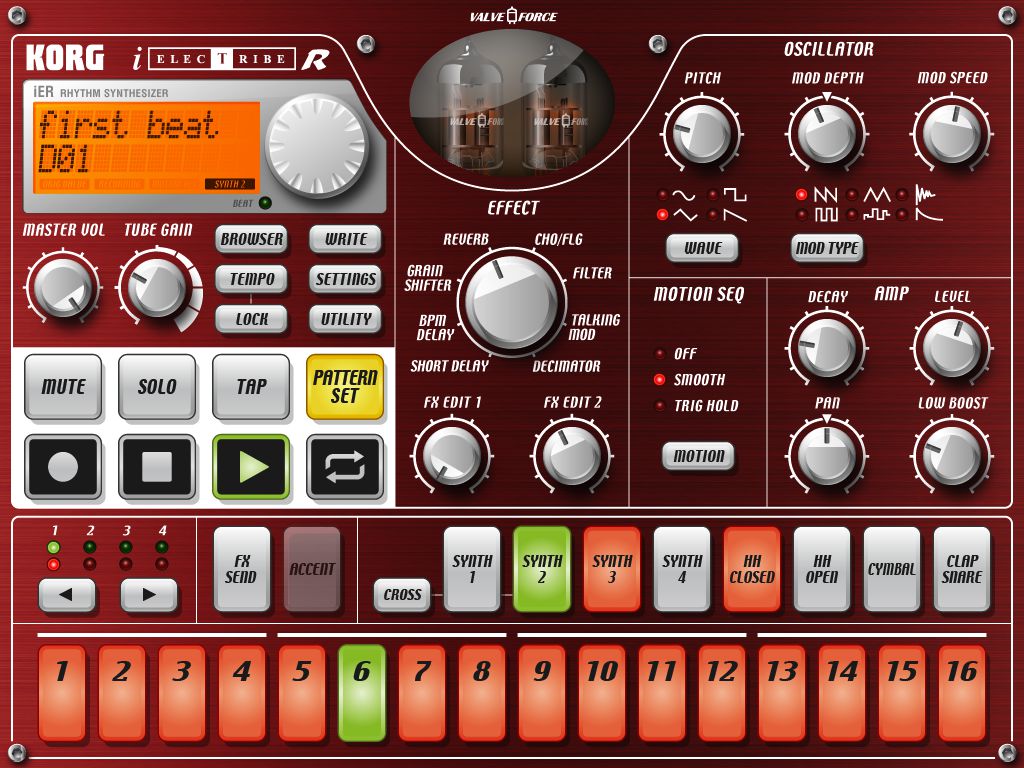 The Korg iElectribe.
A lot of the iElectribe's success comes from the iPad's multi-touch interface. Scrolling through presets has now become a dream and recording knob movement with two or three fingers at a time is not just challenging but also really enjoyable.
Make Some Noise
The first thing you should do when this is installed onto your iPad is head straight for the play button! You'll get sound either through the built-in speakers or attached headphones and the output is very respectable. Although I don't have a hardware unit handy, if my memory serves me correctly this is a picture-perfect emulation.
Tap on the 'Browser' button (upper left) and you'll be pleasantly surprised by the sheer number of patterns that drop down. These are all named by genre and it may have been a little more interesting to have individual names in the genre category but I guess you can't have everything and this is in line with the original Electribe OS.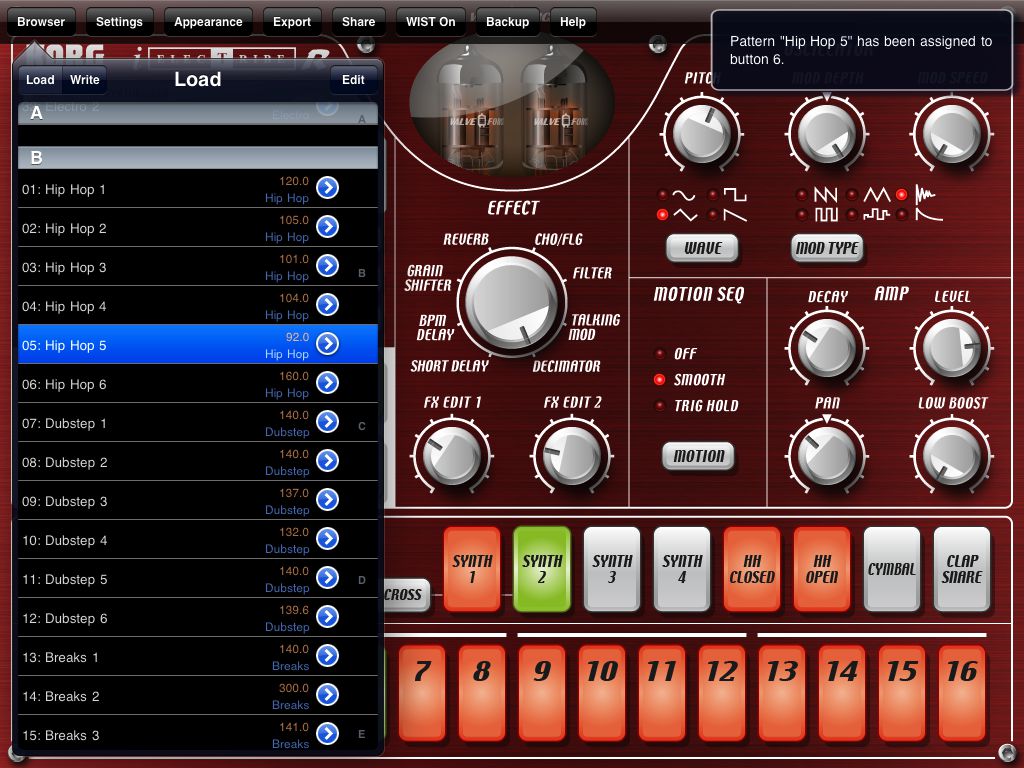 Scrolling through presets is really easy, thanks to multi-touch on the iPad.
When flicking through the various patterns you should be pretty happy with the load times. I am testing on a 64 GB Wi-Fi iPad 2, so I am not sure about performance on the first generation iPad.
A few example patterns from the iElectribe:
Guided Tour

The vast majority of iElectribe's controls and settings are available on the main page. This means you can start to make beats and patterns without delving into complex menus and tables.
The controls are nicely grouped into logical sections as well, so we see transport and patch access in the top left, sequencer and pattern controls in the lower section, synthesis at top right and finally, effect processing right in the centre.
The transport area is very straight-forward with nice oversized controls and once started, the step sequencer is a joy to program. With an obvious tip of the hat to retro drum machines, the Electribe system has always been very intuitive.
Programming a step for any of the 8 built-in sounds is simply a case of selecting it and inputting in on the 32-part illuminated grid in the lower section of the interface. If you are making a new pattern I would opt for one of the 'Init' patches in the library, this way you'll only start with a 4/4 kick drum!
Auditioning the sounds for editing is also a breeze, simply hit one of the dedicated buttons and start to tweak some of the synthesis options. Instead of the more traditional resonant filters, Korg uses single oscillators that can have their pitch modulated. Both oscillator and modulator have selectable wave shapes.
This may sound a bit mundane but trust me: with a few minutes of tweaking you can get some pretty crazy sounds out of this thing. When you also consider that simply hitting record and repeating your favorite movements will actually capture them, you start to realize the hidden depths of the iElectribe.
The Effects Department

The only real downside of the iElectribe system for me is the effects processing. Don't get me wrong, it is good. The individual effects themselves work very well but you can only have one effect at a time. You can then choose which sounds get sent to this master or global effects unit.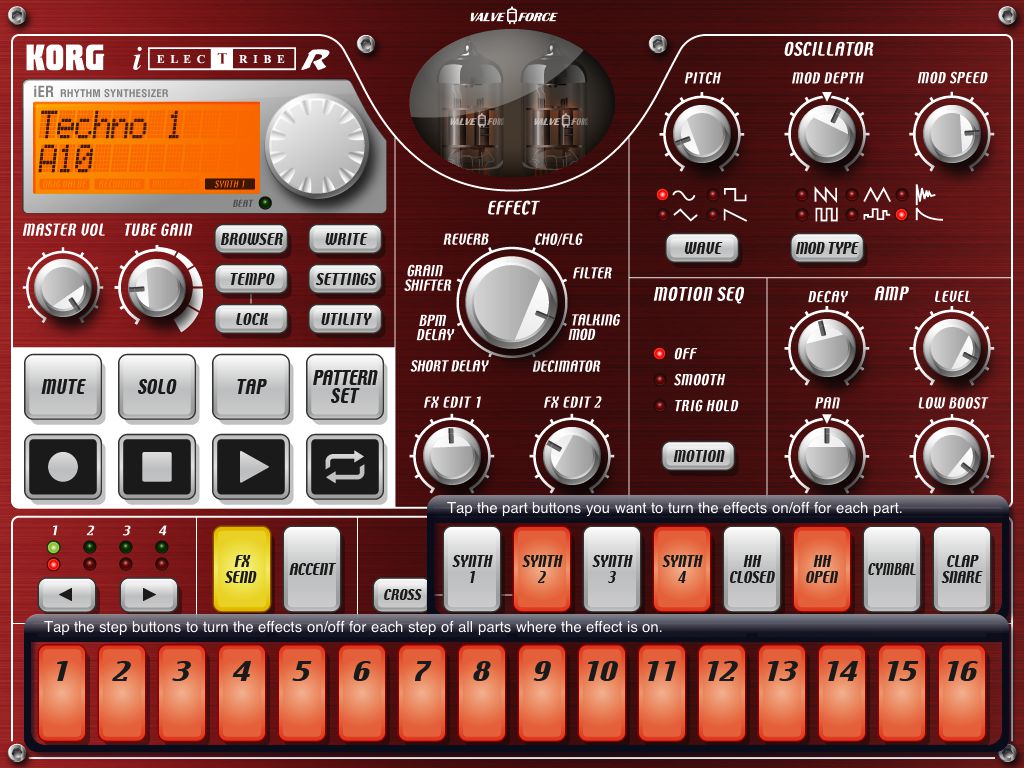 The effects 'sends' in action.
It does work well for some things and of course you can automate the sends and other parameters. Since there is a such a good choice of effects (8 total), it would have been nice to be able to apply these to a number of sounds; I guess what I'm asking for is a multi-effects unit!
Final Thoughts
Overall I'd have to say this is an excellent product. I'm not entirely convinced this will become a working part of many people's studio set ups, but there's no denying it's a lot of fun. Having said that, you can use the optional iPad camera connection kit to connect iElectribe to your Mac via MIDI.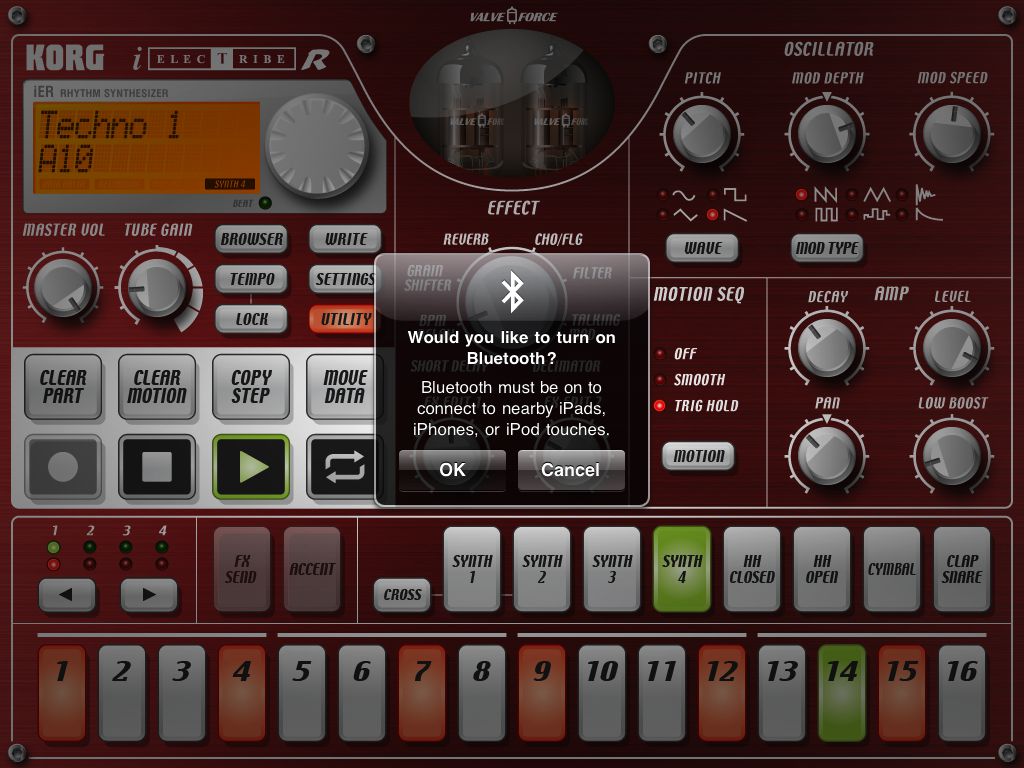 You can connect to other Korg-equipped iOS devices via Bluetooth.
Combine all this with the fact there are more than a few iPad-specific features such as interface customization, file sharing, wireless syncing with iOS devices as well as SoundCloud sharing and you've got yourself a winner.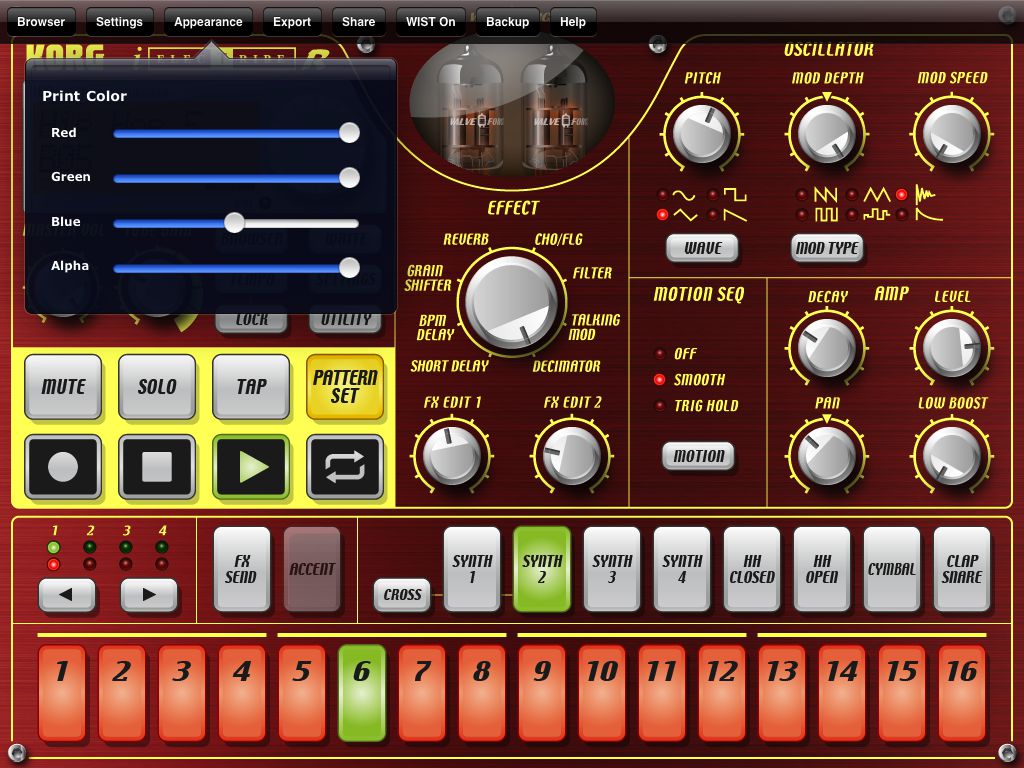 Try customizing the interface to your own taste.
It's worth noting that when I reviewed this I didn't experience one single bug or crash, so "Hats off" to Korg for making sure this is a solid, mature product. Long live the iElectribe!
Also, look out for the new Gorillaz version of the iElectribe, it's jam-packed with Gorillaz samples from the new album and sports a Gorillaz-inspired interface.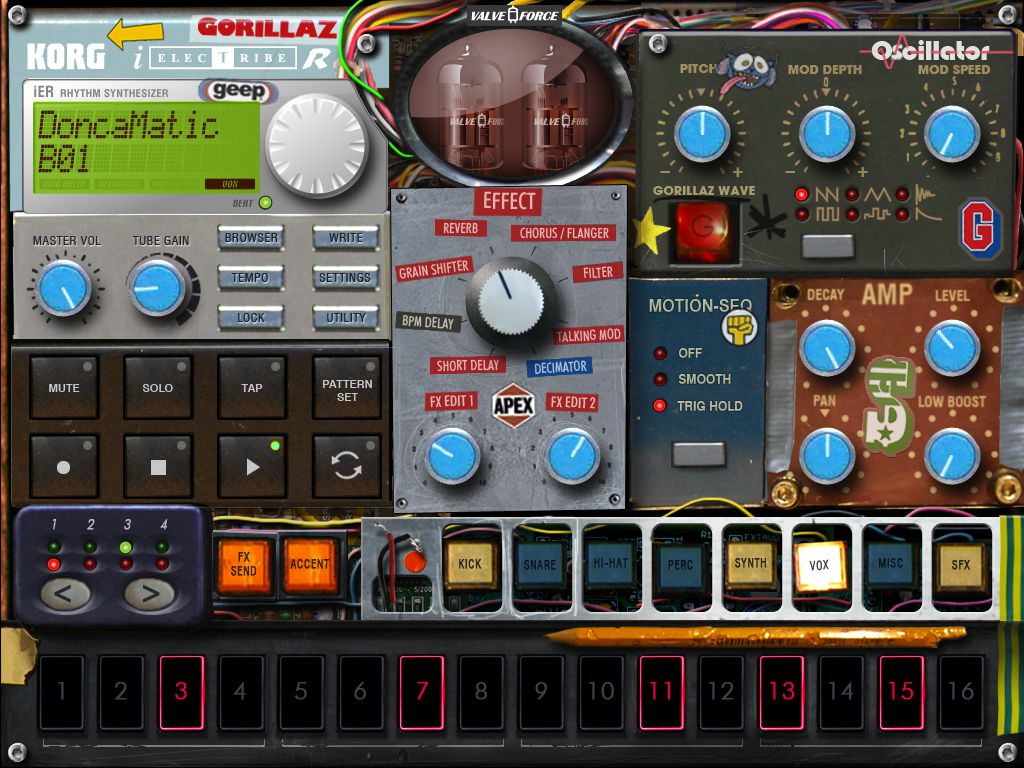 The new Gorillaz iElectribe is available now.
For more information on the iElectribe visit the Korg site. You can download iElectribe via iTunes.