Korg has been in the App Store, let's face it, since there was an App Store. And, as a long time Korg fan, I've been quite lucky to experience some amazing times with amazing apps like the amazing iMS-20 app, and the Korg iM1. Initially, when they first showed up with the first iElectribe, let's face it, there were some limitations that were around then, that aren't around now. So, when I heard there was a new iteration of the iElectribe that would even work on my iPhone, I got excited.
Initial Impressions
Polish doesn't even begin to describe my initial delight as I sat down and actually went along, without trying to skip the tutorials. Amazingly, and with a flow that I've only really seen in video games like some of the Splinter Cell games, that integrate the game story in to the tutorial section. The tutorial is quick and really helps by letting you choose how you interact with the rotaries, and then guides you to a few of the buttons beginners will want to know about (like the play button) and even has you partially program a pattern before leaving you on your own.
In Action...
Modeled off of the hardware drum machine, the ER-1, also from Korg, the iElectribe for iPhone behaves and reacts exactly the same way hardware would, with some exceptions. These exceptions include WIST, where you can sync via Bluetooth to other WIST capable apps residing on other iPads, iPhones, and so on.
I also really like the way that Korg handled the Shift button, a common toggle on many of the Korg Devices that allows one the ability to access secondary parameters. Thankfully, you don't have to hold the Shift button, and press the secondary button. Instead, the Shift button works as a toggle, which is cool, because there are some really cool editing functions tied up there. I was particularly excited to see Move Part as an option. A lot of the current drum machines appearing as hardware and software, lately, seem to miss the ability to let you slide a pattern over slightly. I was also glad to see that this function can affect more than one drum at a time, within the pattern.
I also love the fact that patterns can extend beyond a mere 16 steps. In fact, 64 steps are possible in length for patterns. And, because you can Copy 16 steps at a time, to another bank of steps, it's really easy to build patterns of such length, without spending a lot of time putting it together.
Sound
Sound editing is also very intuitive and a lot of fun. The first four drums are labeled synth, but by default, these drums act as kick, snare, tom, and agogo-ish patch. All of the drums can be edited using the OSC and AMP sections. For example: I am able to modify the decay of my crash, which is a sampled part, and even modify the pitch, turning it in to a hi-hat.
When you couple in the extremely nice effects that have been included, you find yourself with a drum machine/sound module capable of producing some sick sounds. When you put this feature together with the ability to record knob movements, you've just realized your new drum machine, possibly for a while.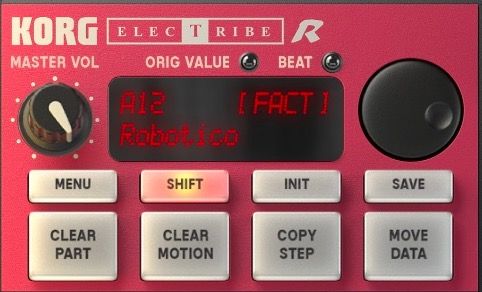 iElectribe display with pattern and menu controls.
Regardless of editing, the drums sound good and can also be triggered via MIDI, through a drum pad, or keyboard controller (if you have the camera conversion kit, for your iPhone and a MIDI interface of some sort, or cord). This means that your phone can actually become a Korg sound module, while still allowing you to answer texts from your friends.
Conclusion
I had a great time rocking out with the iElectribe. I quickly found myself sending audio loops to iTunes sharing, so I could crack into some fresh loops, with tasty automation and cool glitchy effects, and just having my phone tag along as a sound module within my rig. Sadly, there's no mention anywhere of the ability to be able to sync via MIDI, so syncing the pattern sequencer with your computer may be a little bit of a trick. Regardless, at the end of the day, iElectribe for iPhone is a solid addition to a very proud line of instruments.