Every year NAMM throws up some wonderful music tech surprises and of course this year proved no different. One such example would seem to be the latest iOS offering from Korg, Korg Gadget.
Korg Gadget is an all-in-one music production app with a sequencer, mixer and fifteen (yes that's right, fifteen) synthesizers and drum modules to help you make a complete track within the app. It is also AudioCopy and WIST compatible, should you wish to combine your work with other synths or sequencers on your iPad. Korg says Audiobus will be supported in a future release. The aforementioned fifteen synths / drum machines on offer, (which Korg have labeled Gadgets) each have their own take on the sound sculpting process reflecting a large range of hardware instruments of old. So, let's see how Korg Gadget performs in real life and whether or not it reflects yet another step forward in the world of iOS music production.
Studio Layout
In terms of putting your track together, Korg have created an interface and workflow that even a complete novice will understand. The main screen allows users to add tracks, scenes and clips to make up their song. Tracks can be added horizontally across the interface and are used to host one gadget each. The limit to how many tracks you can add is dependent on the power of your iPad (for example, the iPad Air with its A7 chip can host up to twenty tracks). Once the plus symbol on the track's fader is pressed, you are then brought to the Gadget menu where you can choose which synth or drum module to add. To help you in this process, there is a brief overview of what to expect from each one in the menu.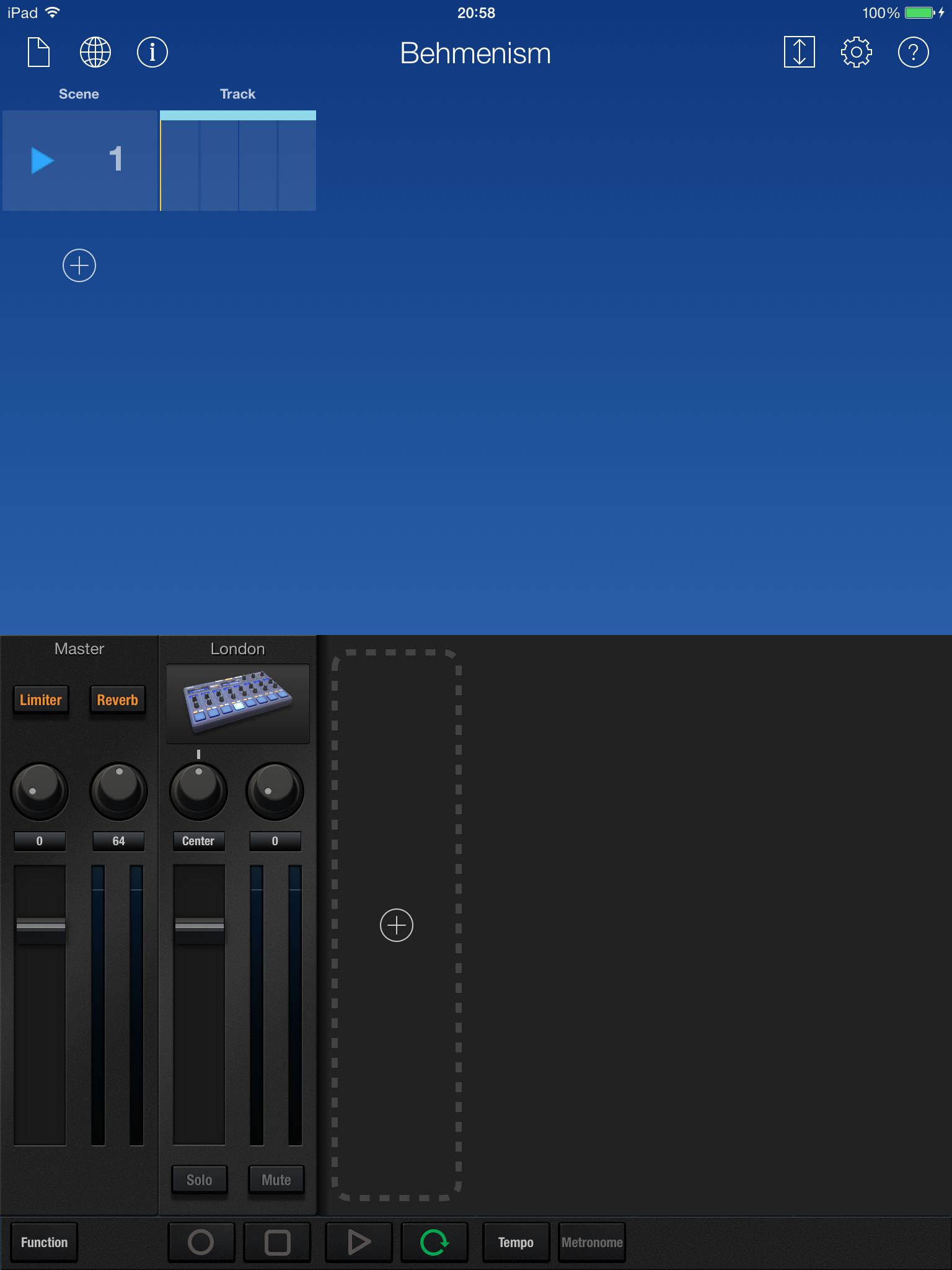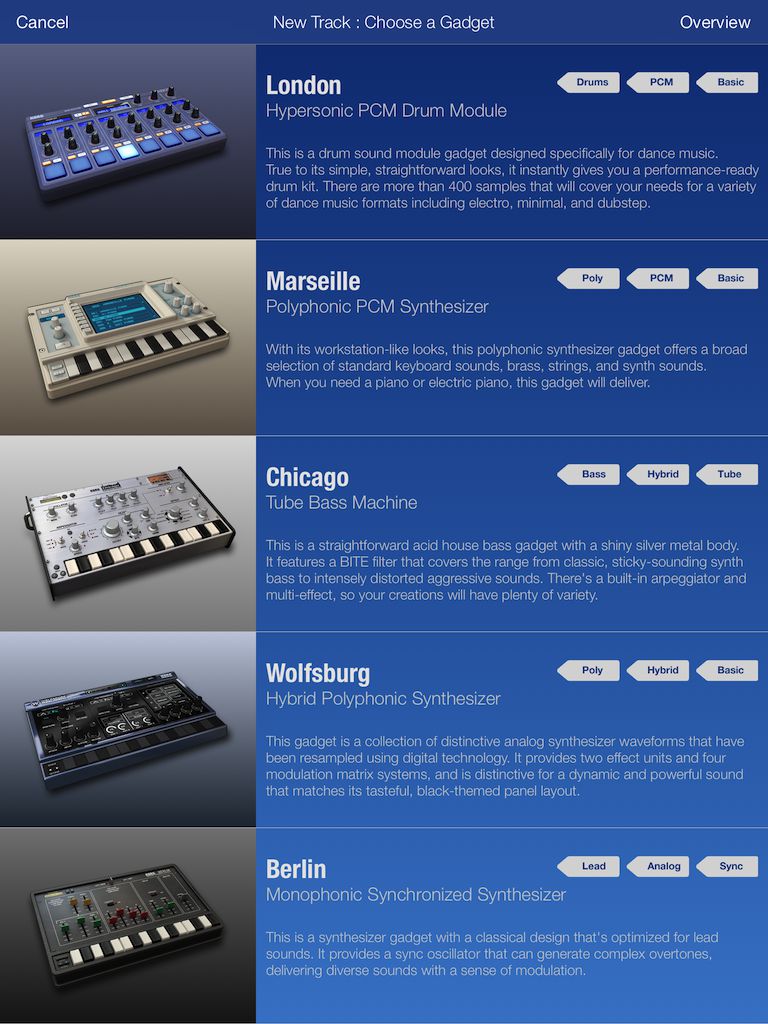 Scenes, on the other hand, are added vertically and represent the different musical sections of a song (e.g., intro, chorus, build). You can add as many scenes as your iPads processor can handle with each one limited to a maximum length of eight bars. The data within each track in a scene is referred to as a clip. This generous helping of scenes and tracks gives you plenty of scope to build complex tunes while the layout makes the arranging process very straightforward.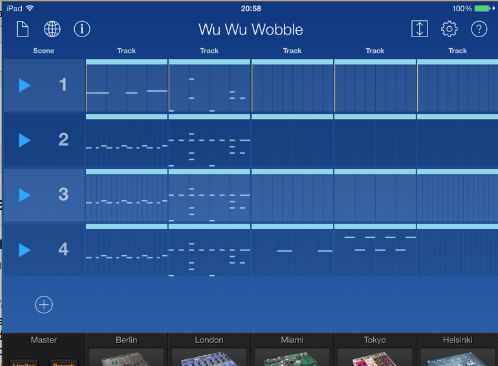 As you might expect there is also a mixer section on the main interface too, where you can set the volume level and pan of both the master and individual tracks. There are also master effects in the shape of a limiter and reverb with knobs to adjust the dry / wet level. Furthermore, the reverb has a send control on the individual tracks that also have their own solo and mute buttons.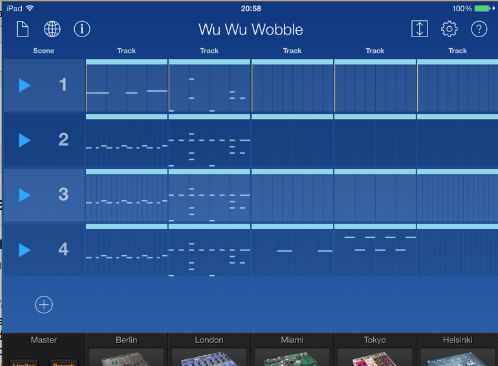 Finally, on the very bottom of the screen is the transport bar with record, stop, play, loop, tempo set and metronome buttons. To the left is the very handy function button where you can adjust the time signature and length of each clip in your song. You can also copy and paste the data from a particular clip to another.

Edit Screen
The Edit Screen is where Korg Gadget really gets interesting as it is where you can input and edit note information for each clip. You can also program patches for whatever gadget you have on the particular track. Let's take a closer look.
To access The Edit Screen, tap the Gadget graphic on a track. You are presented with both a MIDI clip editor type window at the top and the programmable Gadget at the bottom. Once you have created your patch or used one of the many presets available, you can input notes either by drawing them or playing them in. To draw notes, tap the Draw icon at the top left of the screen. Tap the position in the editing grid where you want to place the note. You can move the note to another position by pressing down on the note and dragging. You can also resize it by touching the right side of the note and dragging accordingly.
On the other hand, if you're one of those people who prefers live jamming over penciling in your notes then you are in luck. Simply activate the Record and Play button in the transport bar and play in your notes using the synths keyboard or an iPad compatible hardware controller. The Quantize button gives you the option to have your notes snap to the grid, which is then replaced (after recording) by the Undo button should you wish to start over. Another helpful feature is the Scale option whereby you can choose what musical key to play in, meaning any note played not belonging to that key is automatically transposed to a note that is.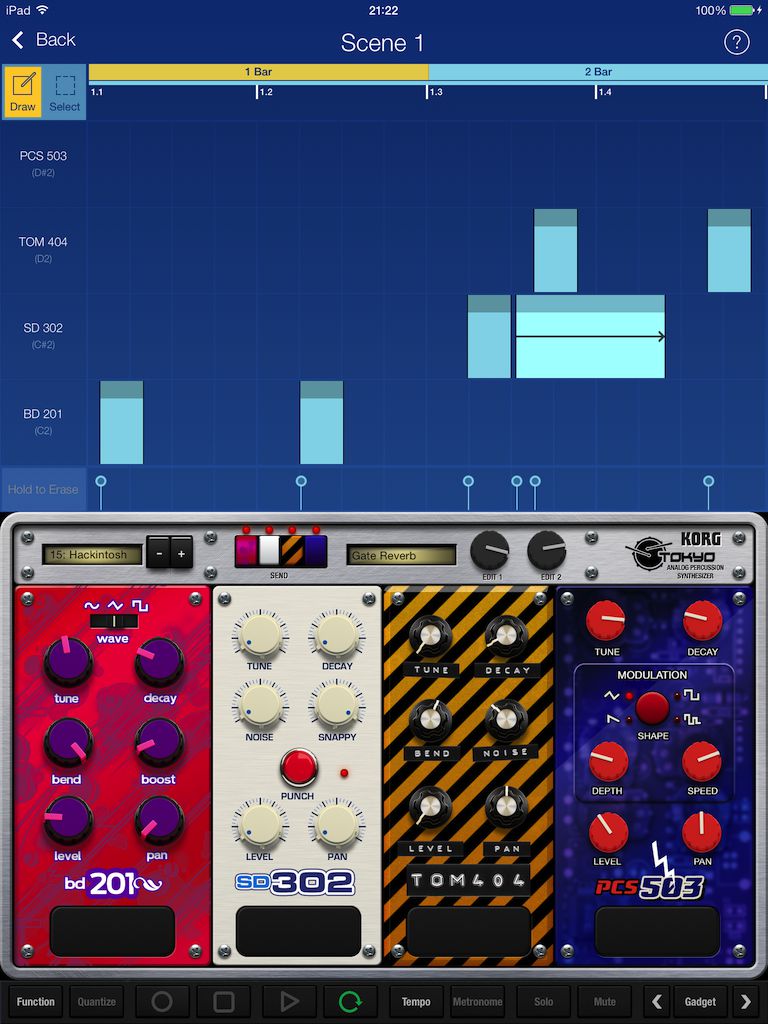 Possibly the best feature of Korg Gadget is that the recording function allows you to do more than just input note data. It will also record every change to any parameter within a synth, which can then be edited afterwards underneath the clip editor. The ability to draw in automation for each control is a necessity when producing music, so thankfully Gadget also delivers in this regard.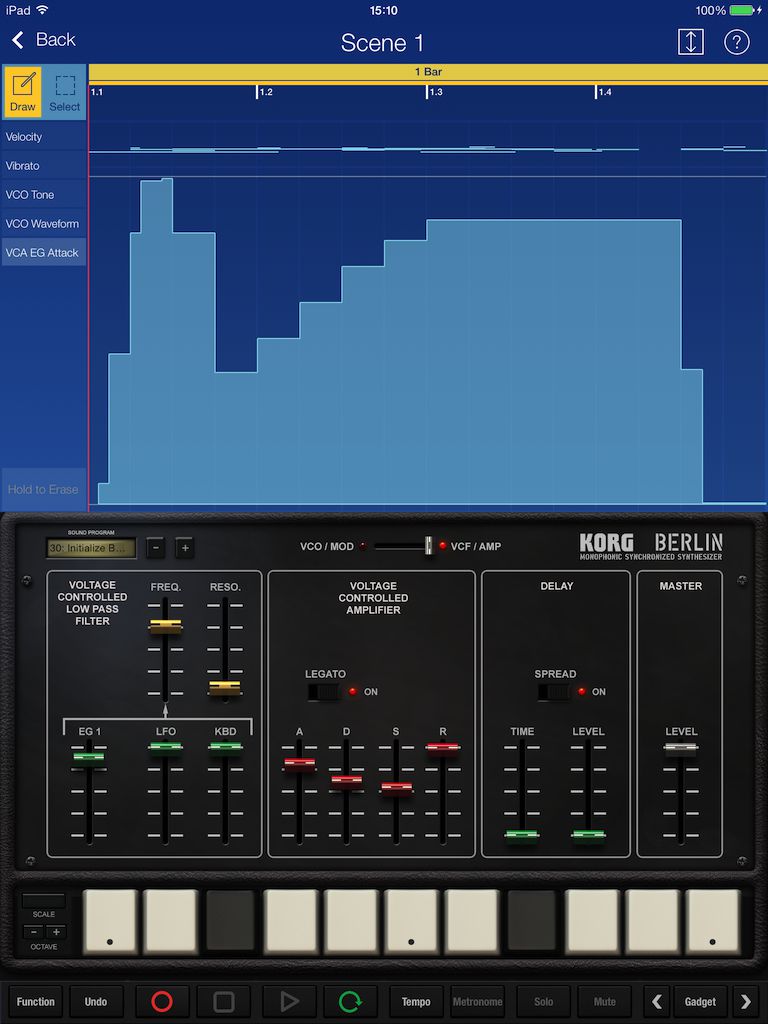 Gadgets
Now that we have looked at the arranging, recording and editing aspects of Korg Gadget, let's have a look at some of the Gadgets themselves and see if they are a match for the leading iOS synth apps on the market. It should be pointed out that although Korg have bundled in fifteen different synths / drum modules (all named after cities for some reason) not one of them seem watered down and all offer plenty of programming options with plenty of presets and/or samples included.
Berlin, for example, is a 'Monophonic Synchronized Synthesizer' that looks like it is modelled on a classic hardware synth. Although it is mainly designed for lead sounds, it can produce some pretty nasty basses too. It has 30 preset patches ranging from leads and arps to basses. In terms of programming your own sounds, Berlin offers a voltage controlled oscillator with four different waveforms to choose from. This oscillator can be modulated by either an envelope generator or LFO. There is also a low pass filter and amplitude envelope to boot.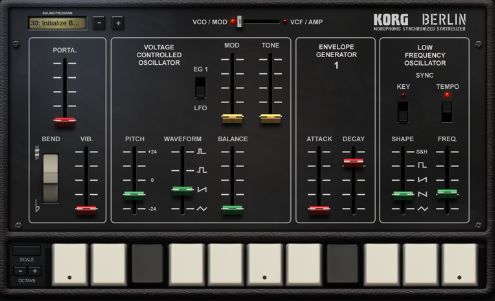 If you're an 8-bit enthusiast, then the Kingston synth will be right up your street. It looks like the top half of an arcade machine and comes with twenty-one 8-bit type presets. Kingston offers five waveforms if you choose to build your patch from scratch with a very cool JUMP and RUN function to further distort your sound. There are also eleven FX to sink your teeth into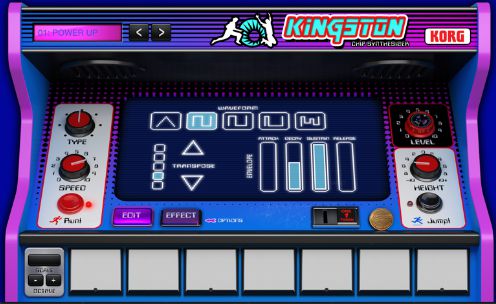 Among the fifteen Gadgets there are also three drum samplers / modules that give you all the tools needed to create epic and original drum tracks. One of these is called London, which comes pre loaded with four hundred samples and eight drum slots. There are also three different windows within the module, one for editing the samples, another for adding FX and finally a mixer for setting volume and pan levels etc.
The rest of the Gadgets are equally as unique and fun to use. The fact there is so much to choose from will no doubt add to your productions and keep you occupied for hours on end.
Sharing
Korg have also added a feature called Gadget Cloud whereby SoundCloud members can upload their tracks to share with other Gadget Cloud users. If you are not so keen in making your masterpiece public just yet, then Korg also give you the option of adding the track to your own Dropbox account.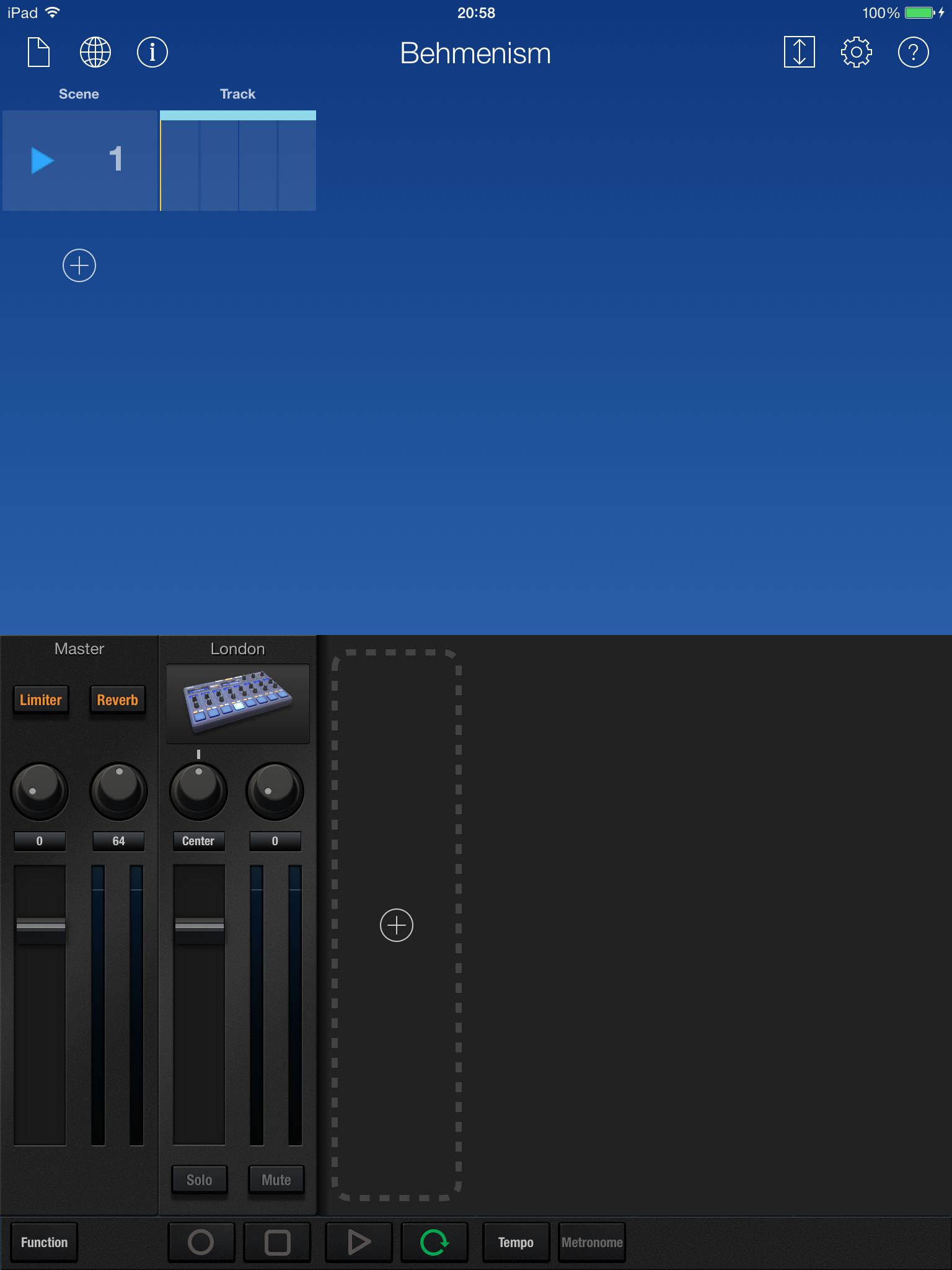 Should you wish to use the app along with your DAW, then you will be delighted to know that Gadget is also CoreMIDI compatible, granting you deep MIDI integration between both.
Conclusion
Although Korg Gadget probably won't replace your desktop/laptop DAW just yet, it does highlight how far the iOS platform has come in its music making capabilities. Its clean, straightforward interface shouldn't obscure the fact that almost limitless creative potential is on offer here. Above all, it is extremely fun to use and may well get in the way of other important aspects of your life, namely eating and sleeping!
Price: $28.99 (for a limited time only)
Pros: Fantastic interface, 15 excellent sounding Gadgets with plenty of programming potential, plenty of ways to export and share your work.
Cons: No general Undo button, audio tracks and the ability to import your samples would be nice in future versions.
Web: http://www.korg.com/us/products/software/korg_gadget_for_ipad/