Not content to rest on their laurels after the pretty awesome Korg Gadget and (in my opinion) even awesomer Korg Module, the good folks at Korg have seen fit to release an app version of the ever-popular recreation of the ARP Odyssey synth. The Odyssei app is available now for iOS devices (phone as well as iPad!) and I spent the last few weeks checking it out.
More Than One
The first thing you should know about the Odyssei app is that you actually get three synths for the price of one (or, a fraction of one if you already own an iOS device!). All three revisions of the synth are available, including faithful reproductions of the filters and portamento behaviors of each synth. The Rev1 and Rev2 designs are available as in-app purchases, but it's really just amazing how great a synth sound you get for such a modest price. For less than $30, you can literally own three generations of synth history.
Authentic Code
I was so impressed by the thick and fat sounds that were coming out of my iPad that I had to do a little digging to see how Korg pulled it off. This instrument is clearly more than a simple sample library. Korg utilizes their own component modeling technology (similar to the tech used in amp modelers and desktop analog modeling synths) to create a lightweight app that sounds really fantastic. Korg touts that even the source code of the app contains actual component values and their corresponding voltages. This helps the app behave and process audio in the exact same way as the original hardware.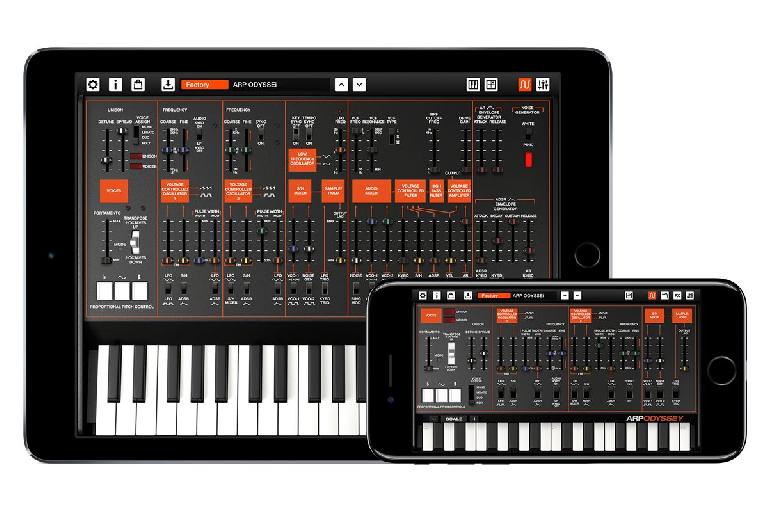 Little Enhancements
What really sold me on Arp Odyssei is the batch of tiny workflow enhancements that accompany it's 'voyage into digital'. Things like the drive circuit function (not available on the original), a chord playing voice design, a detailed step-sequencer-like arpeggiator, and an X/Y modulation pad which you can assign to a wealth of parameters. You can even use the X/Y modulation pad to trigger your oscillators instead of the traditional keyboard setup, giving the synth a bit of a 'modular' feel.
The presets are incredibly simple to load up, and the banks are nice and large. One of my biggest pet peeves with iOS reproductions of synths is how small the text can be, and in this case that's not an issue. The menus are all nice and large, and they drop down/retract up out of sight when not in use.
The Sound
The sound of Odyssei is truly inspiring. It's big, bold, and sounds fairly fantastic even out of the iPad speakers. I paired it up with my Plugkey iOS audio/MIDI interface and felt absolutely no guilt for not having bought a hardware Odyssey synth when they came out. The FX engine provided is very useful, encompassing distortion effects, modulation effects, and spatial effects.
The Verdict
It's an Arp Odyssey for $20. Are you insane? Why are you even still reading this? If you own an iOS device and you like synths, download this. Now.
Price: $19.99
Pros: Faithful reproductions, lightweight and efficient, a true joy to play and program, an instrument and a learning experience, spectacular sounds, superior design.
Cons: Absolutely none. If Korg wants to keep resurrecting classic synths in this manner, that'd be fantastic.