Native Instruments has released the updated version of its flagship MIDI controller / virtual instrument aggregator and by the list of features, it seems they took direct aim at quite a bit of user feedback. I was excited by the announcement, and even more excited to get the updated unit into my hands as I'm an avid user of the 88 key original keyboard.
Hello, What's New?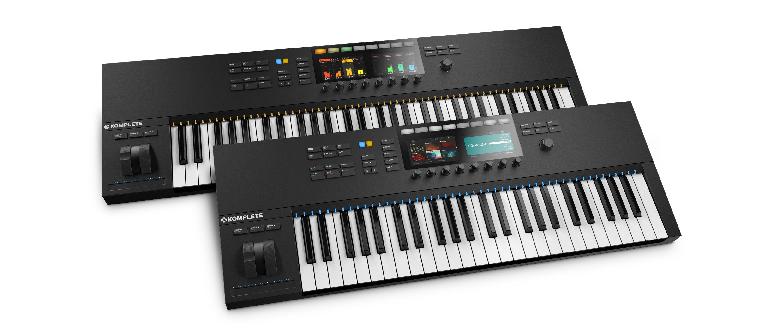 Let's run down what's new about mark 2 first! There are 2 high-res color screens added, giving you quite a bit more visual feedback. More dedicated buttons have been added, as well as a cleverly designed rotary encoder that doubles as a four-direction joystick. Physical modulation and pitch wheels have been added (thank goodness), and a touch strip with horizontal orientation is located just below them. Finally, DAW control has finally arrived in a truly usable form. Combined with the new screens, the DAW control allows for transport, mixing, undo/redo, and even rudimentary editing!
But Does it Blend?
I'm always suspicious of whether or not DAW control on a MIDI device will actually be useful. In many cases, I find it adds time to work out what track you're trying to edit, get the controls mapped, and deal with 'soft' buttons not showing you what their actual function is. Luckily, Komplete Kontrol addresses this in a pretty fantastic way with MK2. Support for GarageBand and Logic is seamless, and works right 'out of the box' without any configuration or additional software. Ableton Live requires a bit of configuration, and other DAWs may also require some setup - but when it's on, this thing is ON.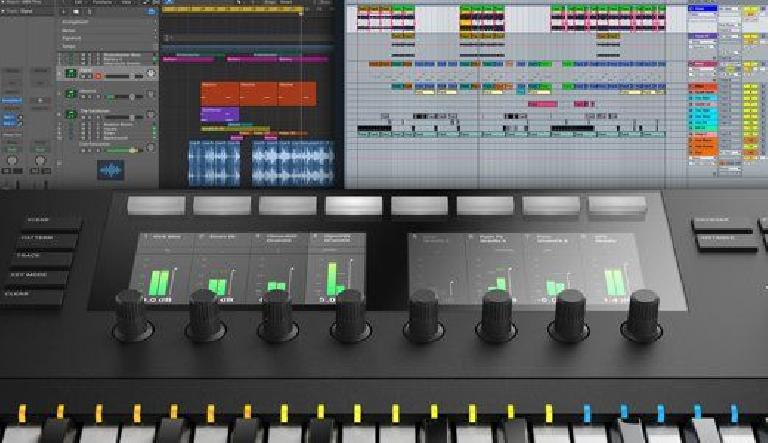 I was able to record a track, adjust the volume of tracks with the soft knobs, even get scrub transport working with the rotary knob (something that is a REAL challenge for many dedicated control surfaces). The high-res screens make it easy to see what track you're working with, what each knob will do, and even provide volume meters for the current bank of tracks. You can even quantize, undo, and redo with physical buttons on the hardware, as well as enable cycle recording! You can absolutely keep your hands on your instrument much more with Komplete Kontrol MK2.
The hardware modulation and pitch wheels are quite welcome, as many users weren't a fan of ditching them for touch strips in the previous iteration. I'm also pleased that NI didn't abandon touch strips entirely, one is included just below the wheels. It's the best of both worlds.
Perhaps my favorite new addition is that Komplete Kontrol MK2 is USB BUS POWERED! This was a huge miss (in my opinion) for the previous model, and most keyboardists that I know and work with consider USB bus power to be an absolute must for any MIDI controller. Who wants to fight with a wall wart in a live/MainStage situation with their keyboard?
Conclusion

The Komplete Kontrol MK2 is an absolutely wonderful update in just about every way. The accompanying software is far more developed, the hardware has more physical control options, the displays are wonderful and extremely useful, and the USB bus power makes an incredibly powerful controller more convenient and mobile friendly. The included Komplete 11 Select sound set is diverse, useful, and sounds great. This is an absolutely worthy upgrade across the board.
Price: $599 / $699 for the 49 / 61 note version respectively
Pros: High res screens. Wonderfully convenient DAW control, more dedicated physical controllers, physical mod/pitch wheels, USB bus power, excellent build and keybed, great bundled factory sounds
Cons: Only available in 49 or 61 note variants at this time, although if history tells us, the 88 key model is lurking around the corner