The developer of a thousand hearts has returned with another major tool in their already extremely comprehensive collection of audio effects. Carve EQ, a 31-band EQ with built-in spectral analysis and a Match tool that makes it both addictive and useful. In this review, I'd like to tell you about Kilohearts Carve EQ.
Build It Up
The kilohearts new combined installer made my heart skip. I was able to jump in and install some of my older licenses that I didn't have on my new machine. Score! Khs One, anyone? And the timing couldn't be better. I'm currently mastering a collection of music for a live performance. So an EQ with A/B comparison functionality and reference matching couldn't come at a better time. Especially if you consider all of the internal profiles created from the special images of many different genres of music, all the way down to individual instrument, that are already stored in Carve EQ. I couldn't help but drop the 'I Kissed A Girl' over my distorted drums, just to see what it would sound like.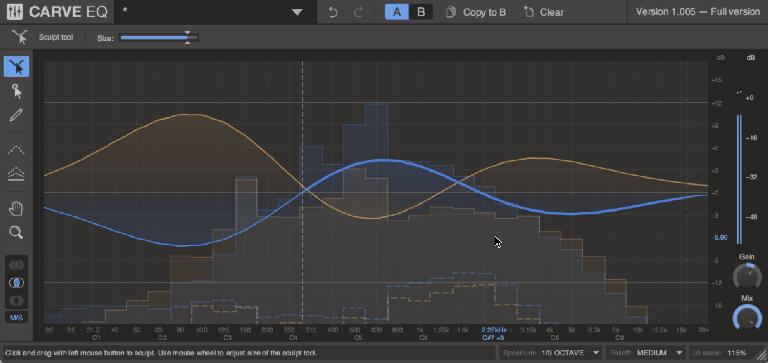 Not only was the preset pleasing to the ear, it was also highly educational as to what a Grammy award winning EQ curve looks like. And straight up revelatory in terms of what a Grammy award winning EQ curve sounds like.
Step By Step
The Match and Reference Tool become a big part of what you spend your time with in Carve EQ. It's addictive to use the 'Create Profile from File' to bring in WAV versions of songs on your computer. I made profiles from favorite songs of mine, like 'Here Comes the Rain Again', by the Eurythmics, just to see what the EQ profile of the classic tune would do to my song.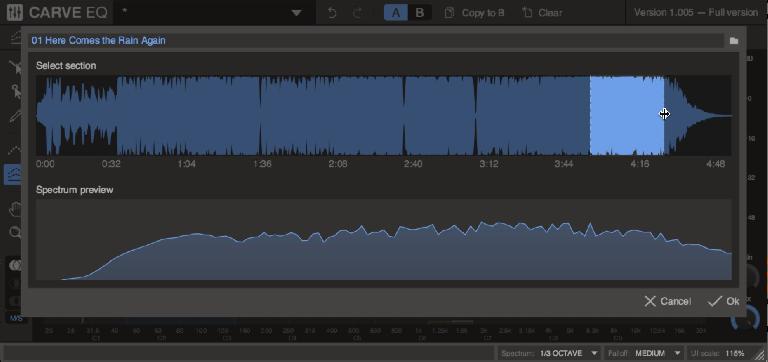 Here Comes the Rain from Eurythimics, homemade profile applied.
So In Love, from OMD, homemade profile applied.
No Carve EQ at all.
Watching Carve EQ create a profile for the current input, applying a profile, and then watching as Carve EQ comes up with an EQ curve that applies the other profile is more than a little impressive. I went on to bring in an Orchestral Maneuvers In the Dark track, "So In Love", and just had a great time hearing how 80s mastering can be reapplied to a modern piece, and take on some of those classic characteristics.
A Good Tool
The spectral imaging of Carve EQ actually became a bigger deal to me than the EQ in some scenarios. Initially, frequency is shown in 1/3 Octaves, displaying, fascinatingly, note values directly above frequency. Falloff can be adjusted so that you can watch as the spectral image dies out a little slower, at the slowest speed, making it easy to track troubled areas within a source.
Presets?
Sadly, there weren't a whole lot of presets to sort through in terms of hearing what Carve EQ is capable of. However, there are tons of factory created profiles. And having the profiles broken down by genre is genius. It makes it fun to jump around and hear how different profiles can affect your mixes. I do wish there were some profiles for individual instruments, like vocal profiles, guitar profiles, etc. The focus currently seems to be more on mastering. Maybe in an expansion? I only mention it because I used it well on some vocal tracks, and would've loved to have had some factory created vocal profiles. I'm just saying…
Conclusion
I really liked Carve EQ. There were a few irritations with it. For example: You can only use WAV files to create a profile from. AIFs and MP3s do not work. I had to convert MP3s in iTunes over to WAV. Then I was able to create a profile, and so on. But in terms of sound and what it does, especially, at the price ($79), it's very much worth taking a look at.
Price: $79
Pros: 31 Band EQ with L/R and and MID/Side modes, built-in spectral analysis that displays in 1/3 Octaves, Octaves. Using Sidechain, created and factory EQ profiles on current mixes is amazing and sounds cool.
Cons: Can't use AIF or MP3 when using 'Create Profile from File' function in the Match tool. Hardly any presets.