You ever have one of those moments, where you're looking around for something very specific, then suddenly, it lands in your lap? This is very much the experience I had with the kHs ONE from Kilohearts. For months, I'd really been missing my Roland JP-8000 and my Juno-106. These synthesizers were dear to me for many reasons, mainly because they just had 'that sound'.
You know what I'm talking about! That special warmth in the lower frequencies, that strange little curve just around 1 kHz, where the envelope causes the filter to snap, when making basses. And, oh yes, the gentle, dreamy unison and detuning. The patches just flowed like warm chocolate mixed with angel dust.
And...? Well, kHs ONE has that sound. When I stumbled upon this wonderful, little synthesizer, it was quite by accident. As a matter of fact, I was supposed to be looking at something else, for work! But, you know how it is... You see something interesting and you just 'have to give it a look'. So, what did I find?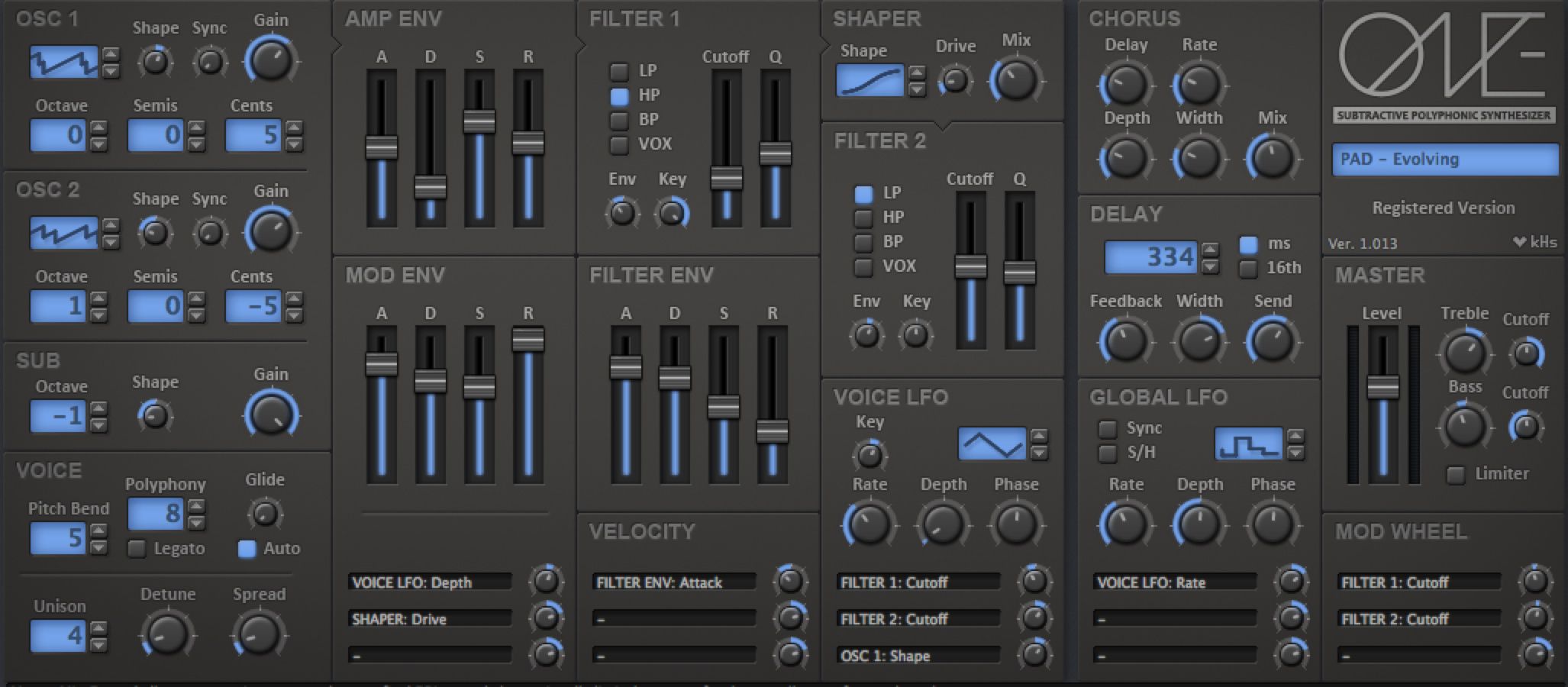 The kHs ONE Interface.
Playing with kHs ONE
Initially, when I first started working with the kHs ONE, I was in Ableton Live. There was a little weirdness there at first in being able to access the presets that come along with the synth. What I discovered was that the built-in patch menu, which is nicely put together, does not appear to work when using the the kHs ONE as an AU. However, as a VST plug-in, it works fine.
In Logic, you actually can access all the manufacturer patches with the normal preset, drop-down menu that you use for all of the Logic instruments. Just go under 'Factory Presets' and it works fine. Ableton was just a little funky this way. Though, it is already explained in their documentation.
Beyond this, once I got in to the presets, and got some examples of what the synthesizer is capable of, I was very impressed. The sound designer(s) were obviously Roland fans, as well. Or, it's just the mood evoked by the synth inherently.
Once I'd gotten my palette whetted with the presets, I started to dig in and see what I could accomplish, doing a little sound design on my own. Because of the simple, straightforward layout, I had no problem working my way around. I deeply respect many instrument designers that are trying new approaches to synth layout, but the classics, in most cases, are hard to beat.
I quickly began to notice that thickness was not a problem, as the whole 'Super Saw' thing, can be easily reproduced through the excellent Unison section of kHs ONE, and that there is a very flexible bit of route-ability with the clever 'Modulation Matrix' styled drop-down menus for the Global LFO, Mod Envelope, Voice LFO, etc. A very Access Virus styled way of doing things, which was most welcome. With very little effort, I was making some really nice, pads, hoover-ish patches, basses and leads.
Conclusion
Bottom line: kHs one is priced $99 dollars. There's no arpeggiator, and just two fully programmable oscillators, two filters. Really, it stays within very classic guidelines.
That being said, after I heard how robust it really is, I could easily see myself saving up a little money and purchasing it. As I said earlier, if you're an old Roland fan, or even an Ensoniq fan, it really does have that sound.
I have told several people about this synth since I began working with it, and will continue to blow my horn for it. Check out the demo, and see for yourself. I'm now watching the Kilohearts developers very, very closely.
Special Offer for MPVHub Readers: Buy kHs ONE, get Faturator for FREE!