Amp simulation, amp modeling and amp profiling are increasingly becoming the hottest topic in the guitar world. Finding a way to get your signature sound from the studio out on the stage without breaking your back is finally a reality. The Kemper Profiler takes a new approach on guitar amp simulation and allows the user to 'profile' their favorite guitar setup on their own'"offering an unlimited amount of guitar rig combinations. How does it sound? Quite spectacular, actually!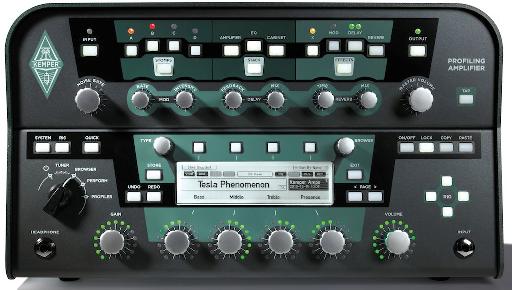 Out of the Box
First and foremost, before we get into the technology and specs, let's get this one right out of the way. The Kemper Profiler sounds fantastic. The presets are extremely playable, and the built-in setups are an endless source of inspiration. Even 2 months into owning my Kemper Profiler, I find myself spending hours just sifting through the factory preset rigs and playing endless riffs with different setups. It's uncanny how clear and full of life the Kemper presets sound. It truly emulates the sound of a perfectly mic'd up amplifier in a studio. Basically, you've got your 'downtown sound' in a box!
You CAN Take It With You
The most revolutionary feature of the Kemper Profiler is arguably its profiling system. Instead of being content with whatever amps Kemper chose to model at the factory, we are now able to put the Profiler into our signal chain and capture the sound of a rig. It's as simple as setting up a mic in front of the cabinet, just as you would playing a large venue live or in a recording situation. The Kemper does the rest. It will run a series of test signals through your amp, allow you to tweak the settings by strumming a bit, and presto - you're done! You can even A/B the resulting sound by switching between your Kemper / Sound System and original amp chain with the Kemper bypassed.