Em um verdadeiro mar de opções para instrumentos piano virtual que pode ser difícil para qualquer um deles para ser ouvido acima do barulho. Eu não muitas vezes se animado sobre um novo instrumento virtual de piano (VI) como as diferenças entre eles podem ser muito leve. Felizmente, Kawai-EX Pro de Acousticsamples tem feito um trabalho maravilhoso de estabelecer um novo padrão na amostragem piano. Há um monte de amor sobre Kawai-EX Prolets dar uma olhada.

The Sound
Eu normalmente dar uma olhada nas características, interface de usuário ea aparência de um produto antes de mergulhar nos sons que produz. Para Kawai-EX Pro, no entanto, o som do piano toma o centro do palco. Sua meticulosamente amostradas, eo algoritmo que eles estão usando para fazer a transição entre as camadas ajuda a realmente ligar o som deste instrumento para a sua sensação. É a primeira VI piano em um longo período de tempo que Ive realmente se perdido em usar e me vi jogando no meu controlador de teclado para a pura alegria. Eu achei que eu não estava distraído por instrumento camada velocidade excessivamente óbvio transitionsthis apenas joga como o piano real foram amostrados em (a 9 pés Kawai-EX piano de cauda que viveu no Kennedy Center, em Washington DC).
A escolha do piano é um tema extremamente subjetivo, e pode variar de música para música. Um piano que soa agradável em em uma faixa solo pode não necessariamente cortar através de uma mistura de rock, e um piano que você está usando em um mix de rock pode soar demasiado triplamente e agressivo por conta própria. Dito isto, Kawai-EX Pro é o meu piano novo de escolha para qualquer pista onde o piano é o foco da música. Canções de jazz, trilhas classicamente influenciado e canções pop todos veio à vida com este instrumento.
As especificações
Kawai-EX Pro relógios em torno de 12 GB em seu disco rígido. Este é um tamanho bastante econômica para um instrumento desta qualidade. Há 4.932 amostras espalhados entre três posições de microfone que são selecionáveis ​​pelo usuário. Sustain amostras recebidas um pouco de amor especial com 5 camadas de velocidade para a sustentar, tanto pedal e pedalar para baixo. Os suspeitos do costume de ressonância, sustentar ruídos de pedal e ruídos importantes estão todos aqui e funcionam perfeitamente.
Na prática, Kawai-EX Pro foi maravilhosamente eficiente. Ele só usou-se a cerca de 200 MB ou mais de memória RAM e comeu-se cerca de 10% de energia da CPU em um tamanho do buffer de 128 no meu mais velho MacBook Pro. Isso se traduz em uma sensação maravilhosamente ágil sem lag ou problemas de spiking CPU. Kawai-EX Pro pode ser hospedado dentro de motus maravilhoso MachFive 3 amostrador ou o poderoso (e gratuito!) IUV Workstation 2.
The Look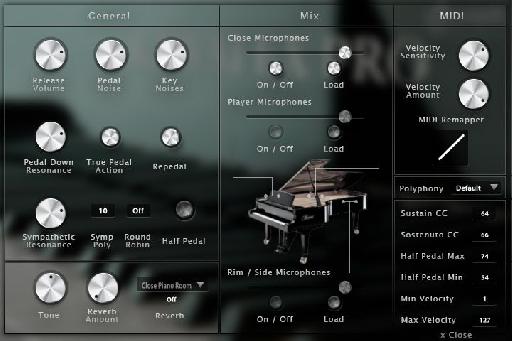 A interface de usuário é bem desenhado e fácil de ajustar em tempo real.
A interface é agradável e fácil de ajustar em tempo real. Acessando posições de microfone, ajustes de ressonância, e tom de voz era muito clara e concisa. A estética da interface do usuário presta muito bem para a sensação elegante deste instrumento com apenas a quantidade certa de elementos gráficos de piano-like. Eu era capaz de fazer ajustes na curva de velocidade, posições de microfone e polifonia de forma rápida e facilmente.
Conclusão
Se você executar ou gravar música em que o piano é frente e centro este produto é um acéfalo. É mais eficiente do que a maioria e soa fantástico. Ele realmente brilha em faixas inspiradas clássica e jazz, mas qualquer produção onde deseja que o piano para ter o foco vai ser melhorada usando Kawai-EX Pro.
Prós:
Extremamente eficiente CPU.
Pegada de disco rígido de baixo.
Amostras de baixa velocidade são particularmente detalhado

Contras:
Preço:
Web: