Dans une véritable mer de possibilités d'instruments de piano virtuel, il peut être difficile pour un seul d'entre eux de se faire entendre dans le vacarme. Je ne souvent s'énerver à propos d'un nouvel instrument virtuel de piano (VI) que les différences entre eux peuvent être très légère. Heureusement, Kawai-EX Pro de Acousticsamples a fait un travail merveilleux de définir une nouvelle norme dans le piano échantillonnage. Theres beaucoup d'aimer sur Kawai-EX Prolets jeter un oeil.

The Sound
Je prends généralement un regard sur les caractéristiques, l'interface utilisateur et l'apparence d'un produit avant de plonger dans les sons qu'il produit. Pour Kawai-EX Pro, mais le son de ce piano occupe une place centrale. Son méticuleusement échantillonnés, et l'algorithme qu'ils utilisent à la transition entre les couches permet de relier vraiment le son de cet instrument à son toucher. Son piano première VI dans un temps long qui Ive fait perdu dans l'aide et me suis retrouvé à jouer sur mon contrôleur de clavier pour le pur plaisir. J'ai trouvé que je n'étais pas distrait par l'instrument de couche de vitesse trop évidente joue comme le vrai piano, il a été prélevé sur (un 9 pied Kawai-EX piano à queue qui a vécu dans le Kennedy Center à Washington DC).
Choix de piano est un sujet très subjective, et il peut varier d'une chanson à. Un piano qui sonne bien sur sur une piste en solo n'est pas nécessairement couper à travers un mélange de rock, et un piano que vous utilisez sur un mélange de rock peut sembler trop triplement et agressif sur son propre. Cela étant dit, Kawai-EX Pro est mon nouveau piano de choix pour n'importe quelle piste où le piano est au centre de la chanson. chansons de jazz, titres influencés classique et des chansons pop sont tous venus à la vie avec cet instrument.
Les Caractéristiques
Kawai-EX horloges Pro à autour de 12 Go sur votre disque dur. Il s'agit d'une taille assez économique pour un instrument de cette qualité. Il ya 4932 échantillons réparties entre trois positions de microphones qui sont sélectionnables par l'utilisateur. Des échantillons de maintien reçu un peu d'amour particulière avec 5 couches de vélocité pour le soutenir à la fois sur la pédale et pédale vers le bas. Les suspects habituels de résonance, soutenir les bruits de pédales et bruits de clés sont tous là et fonctionnent de façon transparente.
Dans la pratique, Kawai-EX Pro était merveilleusement efficace. Il ne sert jusqu'à environ 200 Mo ou plus de RAM et mangé environ 10% de la puissance du processeur à une mémoire tampon de 128 sur mon MacBook Pro plus. Cela se traduit par une sensation merveilleusement sensible sans lag ou des questions de dopage de la CPU. Kawai-EX Pro peut être hébergé à l'intérieur de MOTU MachFive 3 merveilleux échantillonneur ou le puissant (et gratuit!) UVI Workstation 2.
The Look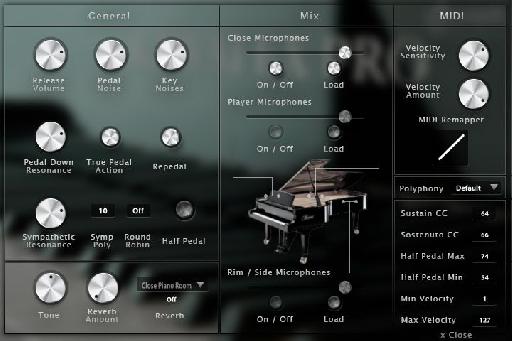 L'interface utilisateur est bien conçu et facile à ajuster à la volée.
L'interface utilisateur est agréable et facile à ajuster à la volée. Accès positions de micros, des ajustements résonance, et le ton était très claire et concise. L'esthétique de l'interface prête bien à l'ambiance chic de cet instrument avec juste la bonne quantité d'éléments graphiques type piano. J'ai pu faire des ajustements à la courbe de vitesse, positions de micros et polyphonie rapidement et facilement.
Conclusion
Si vous effectuez ou enregistrer de la musique où le piano est au centre de ce produit est une évidence. Son plus efficace que la plupart des sons et fantastique. Il brille vraiment sur les pistes classiques et de jazz inspirés, mais toute la production où vous voulez le piano d'avoir l'accent sera améliorée par l'utilisation Kawai-EX Pro.
Plus:
Extrêmement efficace CPU.
Faible encombrement disque dur.
Les échantillons de faible vitesse sont particulièrement détaillées

Inconvénients:
Prix:
Web: