"TERRA is designed to be your deep and easy to use sonic weapon. Its straight but flexible structure will let you work in total confidence, setting things up to reach many different kinds of sounds!" – K-Devices
I was amped, no pun intended, when I found a copy of the Max for Live MIDI instrument TERRA by K-Devices in my inbox this morning. I had already seen some pictures and read some descriptions so I was eager to hear what it could do in Ableton Live.
TERRA is described as being "deep" and "easy" to use. I had it going for around 3 hours and did in fact generate a wide range and large quantity of interesting, unique, and beautiful sounds. From synth leads to evolving pads to dark rhythmic percussive loops. This device is definitely deep! But what about the "easy" part?
TERRA is an incredibly versatile Max device. With that versatility comes complexity. With that complexity can come confusion to users who are not accustomed to FM synthesis and everything that comes along with it. However, that shouldn't stop you from wanting to get this device. After you have tackled the basics that complexity will come in handy!
K-Devices has taken the time to write helpful details for all of TERRA's parameters which can be displayed in Live's Info Box. This will go a long way to helping novices better understand what everything is and what it does.
There are many top-quality presets that come with the pack with more to be expected in the form of free updates. Going through these and making note of what parameters have been tweaked to generate each different sound, or even trying to reverse-engineer the sound completely, is a great place to start if you are a beginner.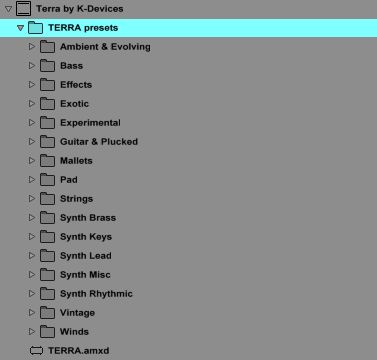 Terra Preset Library.
One extremely cool and unique feature about TERRA is the modulation section. Four is already a great number of modulation assignability, but TERRA has the ability to map 2 parameters to each for a total of eight targets!!
Inside each of the four modulators, you can choose between the step sequencer, or LFO, ADSR or DAHR envelopes. You can apply the amount of modulation to each of the 8 targets independently of one another. You can even change the time resolution for each of the 4 modulators; sync rate or time rate to generate some truly unique and interesting soundscapes. People familiar with NI Massive will feel right at home!
Another great thing about TERRA's modulation abilities is that when a parameter is being modulated it is marked with not only the color of the modulator doing the modulation, but the symbol of which type of modulation too! This makes things much clearer from a visual perspective.
There is even more there in the modulation section, but let's move on to the effects!
There are 3 onboard effect modules. Inside each you will find 14 effect options and I will say that they are programmed very well and sound phenomenal. You also can change the signal routing between the OSCs and the FX.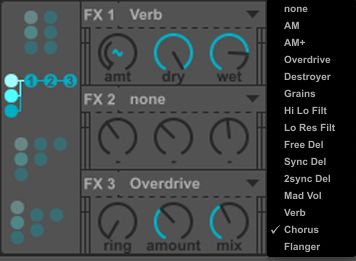 Terra FX Panel.
The last panel is the Unison panel. Which allows you to have control of up to 8 voices independently of each other. You can modify each voice's amplitude and pitch ratio. The good people at K-Devices were also clever enough to add a couple randomizer buttons which can really help with inspiration!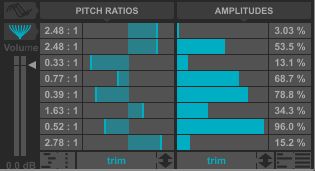 Terra FX Panel.
In summation I would say that this is a serious device for serious sound designers and definitely worth the asking price of €49.00.
Price: €49.00
Pros: Versatile, Modulation Options, Unison Controls, HQ Effects, Info View Hints, Many Presets.
Cons: Requires a bit of know-how, or time to familiarize, Can be heavy on CPU at times.