If you have an Internist or General Practitioner as your primary doctor who is knowledgeable and caring, then you are lucky. But sometimes still, you need a specialist, right?
Sample libraries are like that for me. I have a couple of complete woodwind libraries that work well and blend well with their companion libraries. But I have not found a solo clarinet for the kind of emotional and non-bombastic writing that I mostly get hired to compose and frankly that I like more. You know, one with a beautiful woody tone, lots of control, and easy to play.
Until now, that is.
What is it?
The John Diamanti Fox is a solo clarinet Native Instruments Kontakt instrument that requires the full version of Kontakt. It has three mic postions (close, mid, and far) and three legato articulations, each with three dynamic layers, and with four round robins for the shorter staccato articulations. It also has major and minor trills, a glissando in the upper octave of its three octave range. All the articulations have keyswitching assignments that you can easily change and create your own (more on that later.) It also has some nice FX and a number of presets. Finally, it has a "Dynamic Control Engine" with scripting that uses scripting to make articulation transitions smoothly.
The Interface
As you can see in Pic 1, on the Overview page you see the articulations with their keyswitch notes, Service Keys for "no harm, no foul' if you mess up, and real-time volume indicators that show you which samples are playing as well as the articulations. You can also enable and disable the mic positions and turn the reverb up higher or down lower.
There are five other pages you can choose however, which I will explain a little later.
Playing the Clarinet
There is not a lot you need to know right off the bat. The Modwheel CC1 controls volume and on the "Vibrato Standard" patch, it also controls a moderate amount of vibrato. Classical clarinetists do not generally use vibrato much, but I frequently have asked them to in scores because it sounds a little more emotional. Staccato patches, however do not respond to the modwheel, they rely on velocity. Which means when you return to a legato pitch if you do not have the modwheel set appropriately or have not automated a level in your DAW, you can get a little bit of shock in the volume level decrease. Alternatively, you can change the staccatos to respond to the modwheel in the Behavior page to deal with that issue.
The pitchbend wheel helps with accenting notes and creating crescendos and even a clever long decrescendo. Some of the articulations are "momentary" keyswitch that you use in tandem with a legato keyswitch like Growl (Instant), and the major and minor trills. That means that if you e.g. press C#1 for the non-vibrato legato, then play a note and while holding it you then press a second keyswitch note for a trill, you hear the trill until you let go of the keyswitch note. This takes a little bit of practice to get used to, but not inordinately so.
You can reassign the keyswitch notes in the Overview page by simply clicking on the articulation. You will then get a prompt to play the key you want. I might take each down an octave to begin at C0.
The Dynamics and Compensator Pages
In the settings in the dynamics page, the default is squarely in the middle between Natural and Auto-Gain, with a good description of the two behaviors. See Pic 2.
Personally I find that I prefer going far more to the Natural but that is subjective.
As I said earlier, volume on the legato patches is determined by the modwheel but I actually might want to use CC11 Expression. To further attenuate it regardless of the changing samples controlled by the modwheel. In Pic 3, you can see that I have checked "use also CC11 for volume" and set the modwheel dynamic range to its lowest possible setting, -3 dB. This combination more closely mirrors how I control some of my most frequently used libraries and also eliminates the staccato to legato issue.
I see no reason to ever change the dynamics smooth time as it works quite nicely by default, but you can by dragging the mouse up or down on the ms setting. I do wish with these kinds of settings that you could double-click and type in a number, but that is nitpicking.
As for the Compensator window that you see in Pic 4, I think probably one would be wise to follow the Hippocratic Oath and "First do no harm" so I would simply, in the words of Paul McCartney, "Let It Be."
The Preferences Page
Here you can remap the various controllers to different CCs, change the engine's accuracy, ranging from perfect to low, and lower the GUI response time, which (negligibly) affects CPU performance, and the tuning, although you will want to make sure that you do not have a conflict in Kontakt itself by already having changed it there if you choose to change this.
Where it gets really interesting, however, is with the Humanize Tuning option.
Real woodwind players tend to play a little under the pitch when starting at a low volume and sometimes going just a little sharp at higher volumes. You can mimic this by moving the Humanize Tuning slider as I have done in Pic 5.
This can be quite effective for jazzy pieces or Klezmer when used in moderation.
The Sound Page
The first thing I always do with any sampled instrument is to turn off the reverb, so that I am making sure that it is not masking samples that are not so hotsy-totsy in my view. That is not the case here. The samples are really good. See Pic 6.
You can also audition the different mic positions here by turning them on and off to find what you like best. There are also high pass and low pass filter checkboxes for each mic position.
Then there are four of presets, plus slots for user presets, as you see in Pic 7.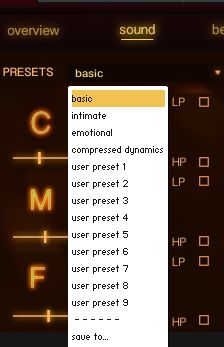 Pic 7
In Pic 8. I have chosen the Emotional preset which adds a Silkener (EQ), Saturation, Reverb, and Limiter.
I would turn off the reverb so that I can use my own choices and save it as my own preset for emotional writing.
The Behavior Page
I have saved the best for last. It is actually two pages in one.
In Pic 9, you see the first page within this page.
Here you can customize each articulation, to control values for the max time for responsiveness of the legato, the duration and the time to return to sustain.
You can control what the various pitchbend wheel movements do, and in the middle column you can choose the legato options for each. So in Pic 9 if the pitchbend wheel is up (and the modwheel is in the middle roughly to hear it better) you will hear an accented attack, going to a detache' legato and finishing with a staccato. If it is in the middle, you get a tongued attack going to a Legato Expressive with no third setting. With the pitch wheel down, you get a crescendo going to a glissando (in the upper octave), going to a decrescendo. But ALL of them can be customized, as I am doing in Pic 10.
The decrescendo is quite unusual and lovely. With the pitchbend wheel down if you play a note and release it, you get a long, slow, decrescendo. It is very dramatic.
Here is also where you can change the staccatos to be controlled by the modwheel rather than velocity, which fixes the problem I referred to earlier. See Pic 11.
Initially I had one complaint. When I played an expressive legato slowly, it sounded great, but then when I played faster, there was a noticeable lag and I could not play in time. I emailed Paolo, Mr. Fluffy himself, and he provided me with the solution.
Notice in Pic 12 that you can create a new articulation.
At his suggestion, I made the changes that you see annotated in Pic 13, named it Vibrato Detache' and assigned it to a keyswitch and voila! I now had a more nimble legato to switch to for faster legato passages. Brilliant!
But wait, there's more ☺ There is the second page within a page that you see in Pic 14.
Here if you prefer you can assign elements of the articulations to velocity, or speed or the modwheel instead of keyswitching.
In Pic 15, I have set it so that when I play velocity lower than 64, I get a half tone trill while higher than 64 I get a regular sustain.
Now that is control!
Also there is a scripted legato, presumably LFO, called Synth vibrato. While obviously, it is less realistic than recorded vibrato, it gives toy and extra measure of control that you may find useful in certain musical situations.
Usually I would include some audio examples, but James Clark did such a good job on this walk-through that instead, here is the link.
https://www.youtube.com/watch?v=VaFtFpMzDTI
Conclusions
I don't know what other to say than I love it and that if you also do, you might consider picking up the previously released Stefania Maratti Solo Flute. It has the same lovely tone and level of control.
Requirements
Full version of Kontakt 5.5.1, Mac OSX 10,5, Windows XP or newer for these. 4 GB system RAM and 6 GB of hard drive space.
Price: $79 US.
Pros: Beautifully recorded, lovely tone, Very playable with an easy learning curve and great level of control.
Cons: Can't double-click to type in values. Momentary keyswitch implementation takes a little getting used to.
Webpage: http://fluffyaudio.com/shop/johndiamantifox-soloclarinet/